Bellflower First Time DUI Conviction (VC 23152) Expunged
In October 2015, our client, then 24 years old, entered into a no contest plea bargain in the Bellflower Courthouse to resolve a misdemeanor DUI charge. His blood alcohol content (BAC) in the DUI case was 0.14%.
Nearly five years later, he contacted our office to ask about having the conviction expunged.
He discussed the underlying DUI with Greg Hill, explaining that he had entered into the plea bargain with the help of a public defender. Now 29 years old, he explained that he was working as a works as a finance manager at a heavy civil construction company that oversees large state and federal highway projects. In 2013, he began working for the company as a temporary assistant and was now a full-time manager.
For several months, he applied and interviewed for advancement positions, but when his company completed a background check and learned of his DUI conviction, he was told his conviction prevented him from driving the required company vehicle. He was distraught that this conviction from five years ago was preventing him from further advancements within his company. He wanted to work his way up the corporate ladder with the construction company, but this conviction was preventing him from reaching his goal.
He also said that he was anxious that if he started searching for other employment opportunities, he was afraid the potential employers would complete background checks and deny him positions based on his conviction. This was having a devastating impact on his professional life. He felt locked into a job where he had no future and could not transition elsewhere because of the DUI.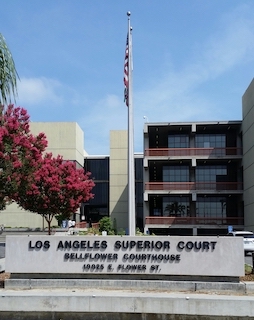 Bellflower Courthouse
More importantly perhaps, he was getting married and he and his fiancé wanted to purchase a house together. He thought it would be difficult, if not impossible, to secure the loan with this conviction on his record. He did not want his fiancé to pay for his past mistakes. The conviction, in other words, was having a crippling impact on his career and beginning his married life on stable footing.
Greg then explained how an expungement, in contrast to sealing a record, does not erase, delete or remove the record of showing he was at one time charged with DUI. However, expungement (also called relief under Penal Code § 1203.4) would replace his last plea from guilty or no contest with "not guilty" and show the case dismissed.
More importantly, for employment purposes, with certain exceptions, Greg explained that the client could enjoy the legal fiction that he was never convicted of DUI in 2015 in the Bellflower Courthouse. He could lawfully answer NO to an employment questionnaire asking if he had ever been convicted of a felony or a misdemeanor (assuming he had no other convictions, which was true). In certain states and as a matter of policy in certain companies, an employer cannot consider an expunged conviction in making hiring or promotion decisions (although this is difficult to enforce).
The client then retained Greg Hill & Associates and we sent the client a list of about ten questions to answer concerning his employment issues with a conviction, any "Good Guy" activities (volunteering, i.e.) that we could tell the judge about and asking for a photo or two of him and his family or photocopies of any awards or commendations he may have earned at work.

We would add such photos or award photocopies to the petition and explain how the client was otherwise eager to earn more money or be promoted, but the conviction was holding him or her back.
Our office then filed the petition for dismissal (CR-180 form) with a supplemental memorandum with a declaration from the client about his difficulties having such a conviction.
Our office also served the district attorney's office.
About two months later, the judge in Bellflower assigned to our client's case signed the order of dismissal (expungement) in chambers, without even a hearing. Our client was very happy with this.
For more information about expungement, please click on the following articles: