Bellflower, 13-Year-Old Case, Health & Safety Code § 11350
In 2007, our client was driving through Bellflower, looking to meet a buyer (of drugs) when he pulled over to make a call on his cell phone. It was early evening, but in a rough area north of the 91 Freeway. Almost immediately after our client came to a stop, a Lakewood Sheriffs officer pulled up right behind our client.
Our client could see the car behind him was the police. Our client age 28, was struggling with an addiction to multiple types of drugs (and had begun selling drugs to finance his own habit), so when the officer approached the driver's side window, our client anticipated harassment.
Our client was asked to exit his vehicle and the officer immediately handcuffed him. He then instructed our client to sit on the curb along the street's edge. Our client had been through this before.
The officer then began searching the client's vehicle. The officer found about 50 grams of cocaine, another 120 grams of meth and a small quantity of heroin. The officer seemed proud of himself, our client recalled even in 2020 when asked about the facts of the case.
The officer also found lunch baggies, a notebook with pay-owe sheets and a small digital scale.
Our client was then hauled into the Lakewood Sheriffs' station, where he was booked for alleged violations of Health and Safety Code §§ 11351.7 (possession of heroin or cocaine for sales – this code section no longer exits), 11352 (possession of heroin or cocaine for sales), 11378 (possession of methamphetamine for sales) and 11379 (transportation of a controlled substance without a prescription for sales).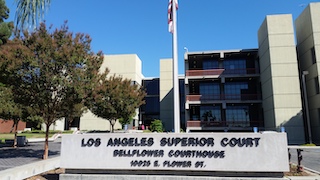 Bellflower Courthouse
Our client was then prosecuted in the Bellflower Superior Court, where a kind prosecutor offered our client Prop 36, which is really for possession of a controlled substance only (not sales). The client eagerly accepted Prop 36, but as is not uncommon with those struggling with addiction, he picked up another possession case.
His DEJ was then revoked in 2008 and a bench warrant was issued for his arrest.
The bench warrant remained outstanding until 2016, when our client was picked up on a traffic stop in Orange County. He was then brought back to the Bellflower court, where the judge permitted our client to plead to a violation of Health & Safety Code § 11350, then a felony (prior to the enactment of Prop 47), and be placed on just one year of formal probation on the condition that he enroll in a residential treatment program and successfully complete at least a 90 day program.
To the client's credit, he did this and successfully completed probation.
The client then moved to Eugene, Oregon, where he started a used car dealership employing mostly recovering addicts. He found the work extremely fulfilling, helping others in need of stability and in search of others who understood addiction. The client also volunteered to speak at various youth groups about the dangers of drugs.
However, having a felony on his record from this particular case prevented him from doing business outside the United States and for some countries, he could not even travel there to buy used cars to then import to the United States.
The client then read about Proposition 47 and how a violation of Health & Safety Code § 11350 was eligible for reclassification to a misdemeanor if the applicant did not have a conviction for a crime that required him to register under Penal Code § 290 (sex offender registration), a conviction for a "super strike" (the most serious strikes, as defined at Penal Code § 667(e)(2)(c)(iv)) or reducing the conviction to a misdemeanor would not pose a danger to pose to public safety.

The client then called Greg Hill & Associates and spoke to Greg Hill. The client explained his prior case and his current status in life. Greg had spent a great deal of time in Eugene for track meets over the last few decades, so Greg and the client immediately got along talking about Eugene.
Greg Hill & Associates then filed a Petition for Reclassification of a Felony and a Misdemeanor under Prop 47 (Penal Code § 1170.18). The petition included a declaration from the client explaining why he sought the reduction of the felony to a misdemeanor.
Greg Hill then filed the petition in the Bellflower Superior Court, served it on the District Attorney's office and received a hearing date.
Greg then appeared on the client's behalf at the hearing and the judge granted the motion, much to the relief of our client, who can now travel outside the U.S. to grow his business. He was very happy.

For more information about Prop 47 issues, please click on the following articles: