Are You Required to Give a DNA Sample in Orange County?
A plea bargain offered in almost every criminal case in Orange County includes a demand that defendant provides a DNA sample. Why is this included? After all, in Los Angeles County, Riverside County, San Bernardino County and Ventura County, prosecutors do not require this except if otherwise required if a felony under a 2004 law.
In a Nutshell: Orange County's controversial requirement that every defendant, whether in a misdemeanor or felony, "voluntarily" provide DNA is patterned after the practices of law enforcement in Sweden that then Head DA Tony Rackuackas decided to emulate for Orange County.

According to Orange County District Attorney Tony Rackauckas, the program is patterned after a program in Sweden. Rackauckas was there on vacation and met with some local prosecutors, who described to him their "secret weapon" on combatting crime. This "secret weapon" was a local area DNA database that voluntarily collected DNA data for everyone convicted of a crime.
Then in 2007, there was a highly-publicized murder of a single mother with a baby at home. She was stabbed one time by an unknown suspect with such force that her body was stuck to the floorboard of her house by the knife. The suspect got away initially, but the crime was solved by using the DNA database. The database led to an arrest of a person, his confession and a conviction for murder.
Rackauckas wanted the same thing for Orange County. So he petitioned for and obtained funding to set up procedures and a laboratory to create an Orange County only database to solve old "cold case" crimes, but also to create a database for matches in yet future unsolved crimes.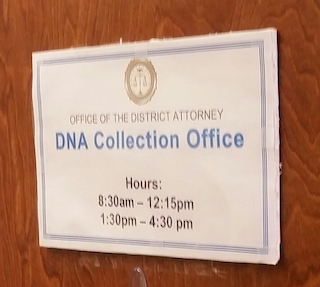 OC DNA Collection Office
No other county in California has such a DNA database and DNA samples are not required, unless required under a 2004 law applicable to those arrested for or convicted of felonies.
Rackauckas, however, does not limit his DNA database to just felons. He wants DNA from every single person convicted of any misdemeanor and has instructed his lowest level district attorneys to advise defendants and defense counsel that giving a DNA sample is not negotiable. Anyone who refuses to agree to a plea bargain that includes giving DNA has only one alternative – take the case to trial, which can be expensive and risky.
This hard-line approach has created many unhappy defendants who feel their privacy rights are being trampled. Many constitutional scholars have criticized the program over the years on other grounds. They point out that such a requirement interferes with one's right to assert one's innocence. In response, Rackauckas' district attorneys will order to dismiss a count of the complaint if one agrees to give a DNA sample. The problem with this is the count that is being dismissed is usually duplicative (for example, in a DUI, the prosecutor will charge a violation of Vehicle Code § 23152(a) and 23152(b), which are not exactly duplicative, but practically speaking often are), the count is alleged just for DNA sample purposes and other times, the count has no merit anyways.
Rackauckas has cleverly tried to escape the critics by requiring anyone giving a DNA sample to state on video that they are providing their DNA voluntarily. In other words, it is not genuine consent. The people giving DNA may face serious time in jail if they opt for trial, so instead, they are coerced into a plea bargain that includes giving a DNA sample.
Over the years, the program has survived and emboldened Rackauckas. Now a DNA sample is required for dismissal of a case under PC1000 or other forms of pre-plea and post-plea diversion.
Now DNA is collected in every Orange County courthouse (Fullerton, Santa Ana, Westminster and Newport Beach). A $75 fee is collected with each DNA sample, too. The sample is collected using a cotton swab that collects saliva by rubbing it inside the cheek.
There is one case that Rackauckas can point to with pride as being like the highly-publicized Swedish case, but which took place in Orange County using Rackauckas' DNA database. Raul Moreno-Perez was convicted of DUI, but due to his DNA sample, he was tied to an unsolved kidnapping and rape case of two women more than ten years earlier. He was then convicted.
We applaud the DNA database idea, but we do have grave concerns about its misuse and its security. Could someone's DNA profile land in the mischievous hands of drug companies that may then target certain people using genetic profiles for monetary gain? Worse yet, could our government identify people whose DNA suggests they are predisposed to commit crimes?
For more information about DNA issues, please click on the following articles:
U.S. Supreme Court Rules It Is Permissible to Take DNA Samples from Those Accused of a Serious Crime
Contact us.