Are Miranda Warnings Required During a Pretext Call?
Pretext calls are perhaps one of the best police tools to eliciting a confession from an unsuspecting person of interest. In such a call, which can be used in a variety of cases, but most often are used in sex offense cases, police will arrange to have a victim or spouse of the suspect call the suspect. The police then record the call. The victim or spouse may ask the suspect, "Why did you do it?" and the suspect, believing the call is confidential, will apologize and explain. This recorded confession is then used to convict the suspect.
About This Article Briefly: There is a mildly coherent argument that Miranda warnings should be given in a pretext call, similar to the argument that a jailhouse informant should do so as well, but both such arguments meet the same fate, as the following case summary explains.

A suspect who does so confess, in mistaken reliance upon the call being confidential, often is outraged. The suspect feels tricked by not only the victim or his spouse, but also by the police. Our clients have described such calls as dirty tricks and even police misconduct.
One "victim" of such a ploy, Eduardo Orozco, was suspected of killing his six-month old daughter when he was alone watching her. He was not called over the phone, but his confession was similar to one given in a pretext call. It was orchestrated by police in a similar manner.
Mr. Orozco was arrested and taken to the police station, where he gave police a plausible explanation for his daughter's death. He then repeatedly asked for an attorney after giving this innocent explanation, which police suspected may not have been true.
Police then arranged for Orozco to meet with his wife, Nathaly Martinez, in a police interview room. It was not clear from the record if Orozco or the police suggested such a meeting. However, police spoke to Mr. Martinez before the meeting and carefully instructed her to try to elicit a confession from him. One told her, "You are the mother of Mia, so you have a right to know." So when she met with him in the room, she closed the door and pretended to be able to talk to him without anyone hearing the two talk.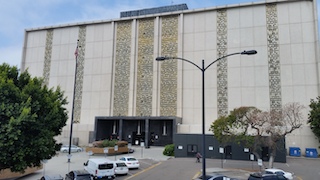 Norwalk Courthouse
After they talked for a few minutes, police entered the room (after apparently monitoring the conversation and not hearing a confession yet) and warned both, "This may be the last time you see each other. We may have to take you both to jail for child neglect."
Mr. Orozco then confessed to his wife to killing his infant daughter, Mia, while he was babysitting her while his wife was at work. He explained that he killed her by hitting her so hard that he killed her. Mia suffered seven broken ribs, 29 bruises, a punctured lung and a lacerated liver.
The confession was recorded and admitted into evidence to convict him in the Norwalk Superior Court (Los Angeles County), Judge John Torribio presiding.

Mr. Orozco appealed his conviction to the Second Appellate District in Los Angeles. His appeal posed the question of whether one's right to counsel is violated if one repeatedly requests counsel, but is not given counsel, and then gives a confession to someone the suspect is not aware is acting as an agent of law enforcement. Is such a confession inadmissible because the government did not offer counsel as required under Miranda v. Arizona (1966) 384 U.S. 436? Similarly, does continued questioning by police after the suspect invokes his right to counsel violate Miranda make the confession inadmissible? Is there a due process violation in admitting such a confession?
The trial court, when faced with such arguments to exclude the confession, answered no to each confession and admitted the confession.
On appeal to the Second Appellate District, the appellate court affirmed the trial court on February 28, 2019. The appellate court distilled down the issue to whether any Fifth Amendment right against self-incrimination was violated as depending upon whether Mr. Orozco believed his wife was acting as an agent of the police. Since he did not believe she was acting on their direction or under their control, his admission to her was admissible. In other words, it was not a custodial interrogation, as required under Miranda. Therefore, the confession was admissible and the conviction was affirmed.
The citation for the Second Appellate District Court ruling discussed above is People v. Eduardo Orozco (2d App. Dist., 2019) 32 Cal.App.5th 802.

For more information about pretext calls and
Miranda
rights, please click on the following articles:
Contact us.