Are Criminal Threats Lesser-Included Offense of Stalking?
As is not uncommon, a couple may break up and get back together later. Sometimes, as we have seen in our business, the male or the female will even go to court and obtain a civil restraining order against the other one, but then get back together.
Summary in 50 Words or Less: Stalking is not a lesser-included offense of criminal threats, as each of the elements of stalking are not included within the elements of criminal threats.

The following case summary epitomized all of this, with more drama than usual. Mario Cruz, Jr., and Jane Doe were boyfriend and girlfriend in Riverside County, starting in 2015. The two broke up and Jane obtained a civil restraining order to keep Mr. Cruz away. The two then got back together again and repeated the cycle three times, with Mario even being convicted three times of violating each restraining order.
Finally, in April, 2016, Jane decided (again) that she wanted to permanently end her relationship with Mr. Cruz. After that date, she tried to avoid him. She did not answer his calls or reply to his text messages, which were violations of the then-standing civil and criminal protective orders in effect. Mr. Cruz sent text messages to Jane calling her a "bitch," a "whore," and a "sex maniac," claiming she was "fucking" Mr. Cruz's uncle and saying she would "see what's coming to her" and would "regret it for the rest of her life."
On June 20, 2016, Jane saw Mr. Cruz as she was arriving for work at Home Depot, where she had been working for about six months. Jane told Mr. Cruz to leave or she would call the police. Mr. Cruz then followed Jane into the store, yelled at her and threatened to vandalize her car unless she agreed to get back together with him.

She ignored him, so Mr. Cruz went out to Jane's car. One of Jane's co-workers then got Jane's keys and ran out to Jane's car to move it closer to the front of the store. As the co-worker was moving the car, Mr. Cruz threw a boulder, about the size of a bowling ball, through the car's windshield, narrowing missing the co-worker. Mr. Cruz then shattered the rear window and a side window of the car, too, with boulders he took out of his backpack.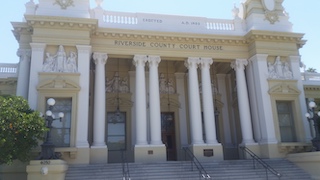 Riverside Superior Court
A bystander intervened and tried to de-escalate the situation, but Mr. Cruz took out another boulder and told the bystander to get away or he would kill the person. Police then arrived and arrested Mr. Cruz.
A jury then found Mr. Cruz guilty of one count of felony stalking, one count of felony vandalism, four counts of violating a criminal protective order by a credible threat of violence within seven years of suffering a prior conviction for violating a criminal protective order, and two counts of making a criminal threat. The judge found defendant had one prior prison sentence, so at that time (prior to SB 136 being passed into law on January 1, 2020), his sentence was enhanced by one year. The judge then sentenced Mr. Cruz to a total prison term of six years and four months.
Mr. Cruz appealed the verdict and the sentence on several grounds to the Fourth Appellate District, but this article will limits its scope to his argument that his criminal threats convictions should be reversed because criminal threats is a lesser-included offense of stalking and a person cannot be convicted of both a greater offense and a lesser-included offense.
He also claimed that the stalking and criminal threats convictions are separate statements of the same offense and therefore his convictions for both violate the double jeopardy clause of the Fifth Amendment.
The Fourth Appellate District Court of Appeal began its analysis of this argument by noting that "[i]t is generally permissible to convict a defendant of multiple charges arising from a single act or course of conduct (Penal Code § 954; People v. Ortega (1998) 19 Cal.4th 686, 692)." However, "a judicially created exception to this rule prohibits multiple convictions based on necessarily included offenses." People v. Delgado (2017) 2 Cal.5th 544, 570.
However, "[i]n deciding whether multiple convictions are proper, a court should consider only the statutory elements." People v. Reed (2006) 38 Cal.4th 1224, 1229. Under the "Elements Test," if the statutory elements of the greater offense include all the statutory elements of the lesser offense, the latter is necessarily included in the former." Reed., p. 1227.
However, in comparing stalking to criminal threats, the Fourth Appellate District observed that the "credible threat" element of stalking differs from the threat element of making a criminal threat. Stalking requires the defendant to willfully make a "credible threat" with the intent to place the victim in reasonable fear for the victim's safety or for the safety of the victim's immediate family. Penal Code § 646.9(a), CALCRIM No. 1031.
Making a criminal threat, on the other hand, required the defendant to "willfully threaten to commit a crime which will result in death or great bodily injury to another person . . ." Penal Code § 422, CALCRIM 1300.

Stalking also requires the defendant to "willfully, maliciously, and repeatedly follow or willfully and maliciously harass" the victim, but a criminal threat does not require the defendant to repeatedly follow or harass the victim.

Thus, a defendant can commit stalking without making a criminal threat. If defendant threatens the victim with the intent to place the victim in reasonable fear for either the victim's safety or the safety of the victim's immediate family, but the threat does not include a threat of great bodily harm or death, and the defendant satisfies the other elements of stalking, then the defendant commits stalking, but does not commit a criminal threat.
Consequently, Mr. Cruz's appeal was denied.

The citation for the Second Appellate District Court ruling discussed above is People v. Gregory Steven Garcia (2nd App. Dist., 2020) 46 Cal. App. 5th 786, 259 Cal. Rptr. 3d 848.

For more information about stalking and criminal threats, please click on the following articles: