What Is Stalking (PC § 646.9)? The Defenses? Punishment?
Stalking can be a terrifying offense for the victim and a confusing allegation to a suspect, but let there be no doubt about it, police and prosecutors take this charge quite seriously.
The Reader's Digest Version: Stalking is a two-part crime involving repeated following and/or willfully and maliciously harassing another person and making a credible criminal threat to that person. It can be charged as misdemeanor or a felony, with up to four years in state prison possible before any sentencing enhancements apply.

Although movies (i.e. "Fatal Attraction") and television tend to dramatize the offense, it is still an anxiety-causing crime. Stalking is defined as "willfully, maliciously, and repeatedly following or willfully and maliciously harassing another person and who makes a credible threat with the intent to place that person in reasonable fear for his or her safety, or the safety of his or her immediate family."
It is a two-part crime. Not only must the suspect willfully, maliciously and repeatedly follow or harass another person, but the suspect must also make a credible threat with the intent to cause the other person to experience reasonable fear for his or her safety or the safety of that person's immediate family.
"Harass" is defined as engaging in a knowing and willful course of conduct "directed at a specific person that seriously alarms, annoys, torments, or terrorizes the person, and that serves no legitimate purpose." In this regard, a bill collector cannot be convicted of stalking. Course of conduct is defined as two or more acts showing a continuity of purpose.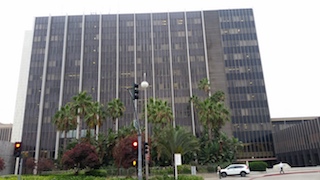 Santa Ana Courthouse
The defenses to the offense are often tough to argue because the crime is usually committed in conjunction with an underlying criminal threats case, a domestic violence matter, a protective order (civil or criminal) or even a sexual harassment civil lawsuit. In other words, there is a motive that is clear and so the intent of the suspect is easier for a jury or prosecutor to argue.
However, one can certainly defend the case by arguing that the client had no malicious or willful intent and that the following or harassment is being misinterpreted. Often, the alleged victim will be overly sensitive, almost paranoid, about the suspect and may contact the police on the slightest feeling of anxiety.
Second, one can argue that the perceived threat was not a threat and the fear that the alleged victim claims is unreasonable.
Stalking is a "wobbler," meaning it can be punished either as a misdemeanor or a felony. If punishable as a misdemeanor, there is a one-year maximum county jail term, while as a felony, there is a minimum two years in state prison to a maximum of four years in state prison.
A few other unusual things about stalking cases that arise every so often: if the prosecutor knows he or she cannot proceed to trial within the normal time limits because of a conflicting case, the prosecutor must ask if defendant will waive time under § 1382. If defendant agrees to waive time, the prosecutor then must obtain the court's consent to a continuance (P.C. § 1050(b)).
If the defendant will not waive time, the prosecution usually must reassign the case or risk dismissal.
Bafey v. Superior Court
(1977) 71 Cal. App. 3d 952, 957, 139 Cal.Rptr. 689. There is an exception for cases involving offenses listed in Penal Code § 11165.1(a) (various sexual assault offense), 11165.6 (child abuse or neglect), 187 (murder), 646.9 (stalking), 999 b – 999 h (career criminal), and 1370 (domestic violence), in which the assigned prosecutor has another trial prelim or motion to suppress in progress (1050(g)). Then the prosecutor must still obtain the court's consent to a continuance based on this exception that applies to a stalking case.
Additionally, no decisions define stalking for purposes of deportation, but 646.9 has been held to be a crime of violence. It is an aggravated felony, if a sentence is imposed of one year or more.
Matter of Malta
(BIA 2004) 23 I & N Dec. 656.
A person who has been previously convicted of stalking and who disobeys a court order (P.C. § (66 (a) (4)) by willfully contacting a victim by phone, mail, or directly, is subject to one year in jail or a $5,000 fine, or both. P.C. § 166 (b)(1).
If the suspect has a prior conviction for criminal threats, domestic violence or intentional violation of a domestic violence order (Penal Code § 273.6), the crime is a wobbler. When punished as a misdemeanor, the sentence can be up to a year in county jail, but when sentenced as a felony, it can be up to five years in state prison.
When there is a temporary restraining order, injunction or other court order in place and the defendant violates such an order, the case is a felony with a minimum sentence of two years in state prison and a maximum sentence of four years.
For more information about stalking, please click on the following articles:
Contact us.