Alhambra, Possession of Brass Knuckles, Judicial Diversion
Our client, age 25, was dropping off his girlfriend back at her house in Alhambra on East Live Oak Avenue. In the area where she lives, one side of the street is marked "No Parking" and the curb is painted red. Our client's girlfriend lived on that side of the street and our client parked momentarily on that "wrong" side of the road.

Our client explained to police who stopped that his girlfriend had some items in a suitcase in the trunk of our client's car, so our client put the car in park and went back to the trunk to help unload the suitcase for his girlfriend.
Police were not too concerned with the reason why our client parked for about a minute on the wrong side of the road. Instead, they were focused on our client's "fanny pack" that he carried over one shoulder and across his chest, like a small backpack worn on his chest.
Police recognized such use of a fanny pack, worn across one's chest, as a common method to carry a weapon or drugs for quick access and asked our client to step out of his car. The client then allegedly told officers that he was feeling very nervous and "not good about things." This allegedly raised the officer's suspicions, as the client slowly got out of his car.
When our client did so, police asked him to spread his legs and face the side of his cars so police could frisk him "for officer safety" in the parking violation. Police arguably committed an illegal detention, made worse by their feeling something hard in the fanny pack and asking our client to open the fanny pack.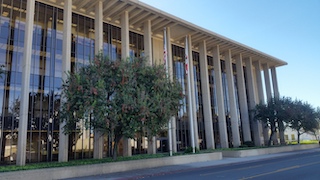 Alhambra Courthouse
Officers then found a pair of brass knuckles with extremely sharp "knuckles" that could easily pierce another's skin, as well as a small amount of methamphetamine.
Our client was then arrested and taken to the Alhambra Police Department, where he was booked and released after signing a promise to appear in the Alhambra Superior Court in about three months.
The client then called Greg Hill & Associates and explained what had happened. The client was adamant that the police had no reason to search him and his fanny pack for a parking violation.
Greg agreed if the facts in the police report stated what the client described, but Greg cautioned that the police report, whether true or false, may contain a description of events that arguably gave officers reasonable suspicion to do a pat down search.

Greg appeased the client's concerns, however, by explaining that such a case would be handled by the Alhambra District Attorney's Office, which was covered by George Gascon's special directives, Special Directive 20-07 in particular, so the client would not be charged with possession of methamphetamine at all.

However, Greg predicted, the client would be charged with possession of brass knuckles, a violation of Penal Code § 21810. This charge, however, was subject to the new judicial diversion law effective January 1, 2021 at Penal Code §§ 1001.95 to 1001.97, so the client could earn a dismissal by perhaps doing a few days of community service.
The client and Greg then agreed that Greg would seek judicial diversion for the client and if the judge assigned five days or fewer days of community service as a term of judicial diversion, Greg would not file a motion to suppress the brass knuckles as the fruit of an unlawful detention. However, if the terms of judicial diversion involved more than five days of judicial diversion, Greg would file such a motion, which if granted, would mean dismissal of the case because the evidence to support the charge would be suppressed.
Greg then went to court on the client's behalf for the arraignment and read the police report, which, as Greg warned, did contain a narrative from police explaining how our client gave them reasonable suspicion to detain him and search him, as described above.
Greg then made a written motion for imposition of judicial diversion and the judge granted this, assigning him five days of community service "for a dismissal" in six months.

Quite luckily, the case resolved as Greg and the client discussed almost exactly with the client happy to perform five days of community service in exchange for a dismissal.
For more information about the issues in this case, please click on the following articles: