Alhambra, Battery, Early End of Probation & Expungement
Our clients, an older Chinese couple in their mid-sixties and their daughter in her early thirties, had each entered plea bargains to a single count of battery. The underlying incident involved a scuffle at a restaurant wherein two Chinese families fought over the right to sit at a certain table, each accusing the other of cutting in line. Each family had thought the other was disrespectful to the other and a verbal confrontation escalated into a physical one with each family throwing plates and punches at each other, as well as hair pulling.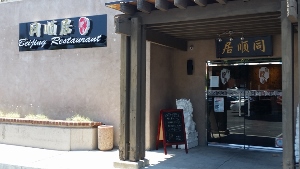 Local Asian Restaurant

Pursuant to the terms of the plea bargain, each client had a certain fine to pay to the Alhambra Superior Court, a certain amount of community service to complete and a certain amount of anger management classes to take. Each client was sentenced to thirty-six months of community service.
In 40 Words or Less, What Happened?: Judge ends probation early for our three clients in Alhambra, convicted of battery arising out of a fight in a Chinese restaurant. The judge then granted expungement of each client's conviction and vacated any restitution hearing.

Our older male client was worried about the effect of being on probation, albeit informal or summary probation, would have on his business, since his new customers could perform a background check on him before entering into a contract with him. Our older female client volunteered at her granddaughter's school and had similar concerns because of increasing public interest in doing background checks on all folks who work with children. Our early-thirties client was a school teacher with a teaching credential that was up for renewal with the State of California, so having a conviction for battery was a big concern.
Each client wanted to end probation early to preserve and protect their job security. They had completed just over half of the term of thirty-six months of summary probation.
Each also wanted the convictions expunged from their record so they could have a clean slate. It merits mention to the reader here that expungement does not remove any mention of the case, erase it or delete it. However, a judge's order granting a petition under Penal Code § 1203.4 does change the client's plea back to not guilty and the case is dismissed.
Greg Hill & Associates prepared a lengthy motion for modification of probation under Penal Code § 1203.3 for each client. Each motion included a declaration from each client with exhibits showing their community involvement and overall good character. The exhibits also included proof of having paid the fees and fines ordered under the plea bargain, as well as certificates of completion of the anger management classes and community service.
Greg Hill & Associates also prepared lengthy petitions for dismissal of each complaint against each client (expungement) under Penal Code § 1203.4, with similar declarations to show the judge that expungement is the "right thing to do" for such otherwise law-abiding, respective and contributing members of society.
The District Attorney opposed each motion, arguing that the terms of the plea bargain ought to control the disposition of the case and there was more than a year still remaining on summary probation to complete. In other words, the People were entitled to having each client on probation for the full thirty-six months, not just half the period. The District Attorney also argued that the victims of the fight had a right to restitution and a restitution hearing had not yet taken place, so the relief sought was premature and thus improper.
The judge rejected the District Attorney's position, saying that the District Attorney's office did not have veto power over modification of a plea bargain, as Penal Code § 1203.3 allowed the judge the discretion to modify the terms as he or she deemed appropriate. He added that since the District Attorney's office had not set a restitution hearing yet, they had waived their right to such a hearing. The judge then granted all six motions.
Our clients were quite happy, as they were able to end probation and walk out of the courthouse knowing they would have a clean record again no longer showing any conviction.
For more information about the issues in this case summary, click on the following articles:
Watch our video about expungement by clicking
here
.
Contact us.