Airport Courthouse, Expungement of Two Felony Convictions
In 2008, when our client was just 18 years old, he was a bit wild. In the span of six months, he was arrested, charged and convicted of two felonies in two different cases. Both cases were brought in the Airport Courthouse, where both convictions were reached.
One was for a violation of Health & Safety Code § 11370.1, possession of a controlled substance (heroin) while also in the possession of a loaded, operable firearm, but it was a negotiated plea with other charges of violating Penal Code § 246.3 (discharging a firearm or BB gun in a grossly negligent manner).

The second one was for possession of a firearm by a convicted felon, (Penal Code § 12021(a)(1)), but it was a plea "down" from original charges that involved grand theft of a firearm (Penal Code § 487(d)(2)). For the second conviction, our client agreed to a one-year residential drug treatment program at Beil T'Shuvah on Venice Boulevard in Los Angeles.
Fast forward to late 2020 and our client was 31 years old and doing quite well. He was a father of a little girl and the the owner of a $38 million company, as well as a separate investment company. In 2018 alone, he paid over $240,000 in income taxes. He was traveling quite a bit and having two felonies on his record (neither were wobblers) was preventing him from getting a Global Entry pass and TSA Precheck clearance. His ex-wife was also seeking to increase her child support payments by parading such convictions into family law court to suggest he had poor character.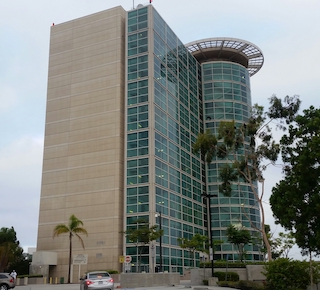 Airport Courthouse
The client then contacted our office and described his wild, younger years and the two convictions that he suffered. He first asked if either or both could be reduced to a misdemeanor and Greg said no, sadly, no. Both were "straight felonies." However, if he successfully completed probation, he could petition the court to vacate his guilty or no contest plea and return the plea to not guilty – and have the case dismissed ("expungement").
Greg explained the limitations of expungement and how it was generally understood to be a primarily employment benefit insofar as the client, after a petition for dismissal was granted, could legally answer "no" when asked if he had ever been convicted of a felony in the particular case, or any case in our client's situation if both petitions were granted.
Greg explained the exceptions to the right to answer "no" in response to a conviction question, which involved running for public office, operating a state lottery, applying for a professional license from the state and applying for employment with a government agency.

Greg then advised the client that he needed to "pull" the dockets on each case to verify that the client did in fact successfully complete probation. Greg explained that in about ten percent of the potential expungement cases, Greg will review the docket and discover that the client still needs to file a proof of completion of a class or pay an outstanding fine to be eligible for expungement.
Greg then "pulled" the docket for each of the client's cases and found he was indeed eligible for petitioning for dismissal under Penal Code § 1203.4 in each case, although the client did violate probation several times, having probation revoked, only to have it reinstated again each time. The client, after all, was struggling mightily with an addiction to several controlled substances and it was a bumpy road.
Greg's office then e-mailed the client a list of about ten questions for the client to answer. The answers to the questions would explain the "why" for the judge of why the client is seeking expungement and provides a little background information for the judge reviewing the petition.
The client then answered all the questions and Greg's office prepared each petition, having the client sign his declaration attached to the petition.
Greg then went to the Airport Courthouse and filed each petition, paying the $120 filing fee required with each and served the Airport District Attorney's office with their copy of the petition.
The court then set a hearing date for each one and, coincidentally, both hearings were set with the same judge on the same date. The judge was the same judge who presided over each case when they were active, as well as the numerous probation violations nearly ten years ago.
Greg then appeared at the hearing and the judge commented that she remembered our client like the two cases were just yesterday. This was remarkable, given the hundreds, if not thousands of cases which pass through her court every year. The judge granted both petitions for dismissal, wishing our client well.
Our client was quite happy with this good news.
For more information about expungement, please click on the following articles: