1990 Case, Five Perjury Counts, GTA, Dismissed in 2021
In early 2021, at the height of the Covid-19 pandemic, our office received a phone call from a 65-year-old woman in Northern California with a bench warrant out of the Clara Shortridge Foltz criminal courts building.
She explained that she just learned about this because a detective had called her up at home and explained that it involved grand theft auto from an event in 1989. The detective told her that the case was still open and she needed to come to court in Los Angeles immediately.
Instead, she called our office. Greg then asked her some questions about the case and the client explained that she had purchased a car in Los Angeles and then drove it to Oakland to live with her mom, who was at the time 64 and beset with health problems. Our client was going to Oakland to be her mom's caregiver. When she got to Oakland, she realized she could not make the first monthly payment on the car loan, so she called the dealership in Los Angeles and asked what she could do. She told us they instructed her to return the car to a local dealer and put the keys under the mat. Our client did so the next day at 6:00 a.m. and believed "everything was taken care of."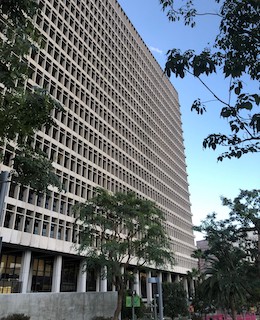 CCB Courthouse
Greg then investigated the client's case and found that the client was not only charged with grand theft auto, but four counts of felony perjury (Penal Code § 118) and two more counts of submitting a false financial statement (Penal Code § 532(a)(1)). It merits mention that if probation is not granted as a sentence for grand theft auto, the judge must sentence defendant to two, three or four years in state prison. Felony perjury, if probation is not granted, is a two-year, three year or four-year state prison sentence. Submitting a false financial statement, if probation is not allowed, carries with it a minimum state prison sentence of sixteen months, a mid-term of two years and a maximum sentence of three years in state prison.
In other words, if probation were not granted and our client was convicted of all counts, she faced a total of twenty-six years in state prison because each of the alleged crimes were separated by months in when they were allegedly committed. In other words, the sentences would run consecutive, not concurrent, because they were separate crimes. The minimum sentence, if probation were not granted, would be twelve years and eight months in state prison.
Greg asked the client what the other charges involved and the client said she did not know.
Greg then prepared a Penal Code § 977(b)(2) consent and waiver form for the client to sign and have notarized so Greg could appear on the felony case to have the bench warrant recalled without the client needing to appear in court. The client told Greg that she had severe diabetes, needed both knees replaced, had a bad back and was still caring for her mom, who was now 95 years old and still suffering from the same severe health problems from 32 years earlier.
The client then had the 977(b)(2) consent and waiver of her personal appearance in court signed and notarized. She also photocopied her driver's license and included that with the signed consent and waiver, agreeing to let Greg appear on her behalf without her present.
Greg then appeared in the Clara Shortridge Foltz criminal courts building and requested that the judge permit him to appear on behalf of the client under Penal Code § 977(b)(2), as the case was a felony and, under normal circumstances, defendant would be required to appear in person. However, most likely due to social distancing interests, the judge permitted Greg to appear under Penal Code § 977(b)(2) and the bench warrant from 1991 was quashed.
Greg was then able to look over the police report and the complaint in the case, which revealed our client allegedly took a second automobile and never returned it (leading to the grand theft charge). Moreover, she had attempted to acquire two additional cars using false financial statements (leading to the two charges for filing false financial documents). She had also attempted to obtain a driver's license using a false name on four separate dates, which constituted perjury because in each application, she had stated under oath to the DMV that she had not previously applied for a driver's license. It appeared that the fraudulent driver's license was then used to acquire automobiles.

As Greg read the police report, he became concerned that the prosecuting agency would consider this client a serious white-collar criminal and may even believe that there were other fraudulent acquisitions of automobiles that were not realized what were attributable to her, using fake driver's licenses that the DMV did issue by mistake.
However, in discussing the case facts with the assigned prosecutor over the next two court appearances, the prosecutor decided to simply dismiss the case, saving our client a minimum of 12 years and eight months in state prison (to be served at a maximum of 50%) or a maximum of 26 years in state prison (also to be served at a maximum of 50%). The client was happy, as she realized how lucky she was.
For more information about identify theft / fraud issues, please click on the following articles: