I'm a Victim of Identity Theft – How Can I Fix This Mess?
Our office receives calls about once a month from someone who is cited for driving on a suspended license, arrested for a probation violation or receives a letter from the court concerning a case that he or she had nothing to do with.
The person may have a family member (sadly) who used his or her driver's license and received a DUI, had the driver's license suspended as a consequence, was convicted and then violated probation, resulting in a bench warrant. Everything, however, is attributed to our client, who only finds out about this when his or her boss advises that if the warrant is not set aside, his or her employment will end.
The Reader's Digest Version: There are several ways to fix a conviction attributed to the wrong person due to identity theft, but the common goal should be to file and have the judge grant a Certificate of Identity Theft and Finding of Factual Innocence (form CR-150). For the various ways to undo this mess, read the article below.
An innocent person thus has a criminal conviction for something he or she never did. It is more common than one may think.
To untangle this mess, our office often will appear with the defendant in court and request the booking photograph from the underlying crime. This photograph may reveal that our client is not the defendant at all, however, such a photograph often is not helpful because the family member who stole our client's identity did so because of the resemblance that indeed fooled the police. If, however, the photograph of defendant and our client differ, we can ask the judge to dismiss the alleged probation violation, driving on a suspended license case, etc., and to sign a Certificate of Identity Theft and Finding of Factual Innocence (form CR-150).
If he booking photo looks similar to the client, i.e. because it is a blood relative, the client may need more documentation to reach a dismissal. This may take the form of a declaration explaining how the client could not or did not commit the crime due to an alibi, often with supporting declarations from witnesses to the alibi. This may be someone from work stating that you were at work the crime was committed, or you were out of town at the time, etc.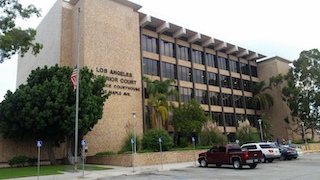 Torrance Courthouse
But this dismissal does not remove the conviction that may infect our client's employment opportunities, ability to rent property, volunteer for their children's activities and perhaps gain admission to college, if one is of that age.
More steps must be taken. We recommend one petition the court for a finding of factual innocence under Penal Code § 851.8 based on a finding of identity theft (form CR-150). This normally must be done within two years of the arrest at issue, but it can be done later if the client only learns of the issue later and brings the petition to the court's attention quickly.
Winning a petition for factual innocence is usually very difficult, but when identity theft is the issue, it is far easier.
If the petition is granted, one then should send the signed order to the California Criminal Identity Theft Registry, which is maintained by the California Department of Justice (DOJ). Sending the order is not enough, however, as there are other documents that must be mailed as well, such as one's"
1. Live Scan fingerprints and printout (Google "Live Scan" and submit to one at a location near you, which costs about $40); and
2. The Identity Theft Registry application form;
When one has these documents assembled, one should mail it to:
State of California
Department of Justice
BCIA/Command Center Rm G210
P. O. Box 903417
Sacramento, CA 94203-4170
Attn: ID Theft Registry
In submitting to a Live Scan, one should inspect the report to see if there are additional convictions attributed to the client that are also due to the mischief of another using the client's identity and if so, a petition for factual innocence (PFI) should be filed in such other courts as well.
For more information about fraud issues, please click on the following articles:
Contact us.