Dine and Dash Can Be Charged As Felony Petty Theft?
On Friday, May 25, 2012, Kenneth Charles Rader enjoyed a meal at an Outback Steakhouse with two friends. The restaurant was in the City of Industry alongside the 60 Freeway and near a large indoor shopping mall.
Synopsis: Dine and Dash? Defrauding an Innkeeper (Penal Code § 537) Can Also Be Charged as Felony Petty Theft.

Mr. Rader paid the $102 bill with five counterfeit $20 bills and two genuine one dollar bills. Rader left the money on the table with the bill and walked out with his friends.
The waitress picking up the money immediately recognized that the $20 bills were counterfeit and alerted her manager. The manager and she then tried to stop Rader from leaving. They saw Rader walking into the nearby mall and notified police.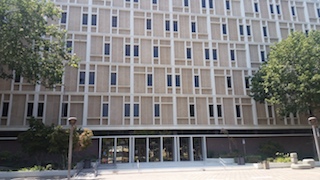 Pomona Courthouse
When police stopped Rader, he apparently knew exactly why police were interested in him, as he blurted out, "I did not pay the bill." When asked to identify his two friends that he ate with and may have tendered the counterfeit money, he refused. He was then arrested.
The District Attorney's office in the Pomona Superior Court charged Rader with second degree burglary (Penal Code § 459), two counts of felony theft (Penal Code §§ 484(a) and 666) due to his having a prior strike conviction, and two counts of forgery (Penal Code §§ 472 and 476). Rader was convicted of all counts.
The Pomona judge hearing the case sentenced Rader to five years and four months in state prison. The sentence was enhanced because Rader had a prior robbery in 1978, a joyriding conviction from 1993, a 2004 conviction for receiving stolen property and a 2011 conviction for second degree burglary.
Rader appealed his convictions. He argued that he could not be convicted of two counts of petty theft, rather than just one, for using counterfeit bills on a single occasion to pay for a single meal. Consequently, either the conviction for count 2 or count 3 had to be vacated.
The Second Appellate District, in
People v. Kenneth Charles Rader
(2014 DJDAR 9622) agreed. The appellate court noted that when a single theft occurs at the same time as part of one transaction, only one conviction can be returned. In
People v. Nor Woods
(1951) 37 Cal.2d 584, 586-587, a used car dealer was convicted of two grand theft counts. The used car dealer took both a 1946 Ford and some cash in exchange for a 1949 Ford. The 1946 Ford was taken as a trade- in for the newer 1949 model. The used car dealer than failed to deliver the new 1949 Ford or return the 1946 Ford and the money to the victim.
The California Supreme Court held that under these circumstances only a single theft had occurred.
Nor Woods
,
supra
, at 586-587. More than sixty years later, in
People v. Correa
(2012) 54 Cal.4th 331,339-40, the California Supreme Court cited to
Nor Woods
with approval. Thus, the appellate court in
Rader
dismissed the conviction as to count 3.
More importantly, Rader appealed his conviction for violating Penal Code § 484, carrying with it a four year sentence due to his prior convictions qualifying under § 666. Rader claimed his conduct more closely fit defrauding an innkeeper under § 537(a), which specifically prohibits obtaining food or services at a restaurant without paying, rather than the more general 484 statute.
Rader relied upon
In re Williamson
(1954) 43 Cal. 2d 651,654 and
People v. Fiene
(1964) 226 Cal.App.2d 305, 306 in this regard. In
Williamson
, the California Supreme Court held:
"It is the general rule that where the general statute standing alone would include the same matter as the special act, and thus conflict with it, the special act will be considered an exception to the general statute whether it was passed before or after the general enactment."
In
Fiene
, defendant was convicted of violating former section 667 of the Penal Code (petty theft with a prior felony conviction). Defendant had exited a restaurant without paying his bill, like Rader. The appellate court said defendant had to be prosecuted under Penal Code § 537 and not § 667. However, no California case, at least in a reported decision since, has followed
Fiene
.
Turning to Rader's case, the Second Appellate District decided not to follow
Williamson
and
Fiene
because it found there was really no conflict between 537 and 484 with the 666 enhancement. Penal Code § 537 and § 484, with 666, are different from a sentencing aspect and therefore, the prosecutor's discretion in choosing to prosecute under § 484 and 666 should be given deference. Moreover, defendant never alleged a conflict in the allegations at the trial court level.
Thus, the Appellate Court ruled that Rader could properly be charged and convicted of violating § 484 and 666, rather than 537.
The citation for the Second Appellate District Court ruling discussed above is People v. Kenneth Charles Rader (2d App. Dist., 2014) 228 Cal.App.4th 184, 175 Cal. Rptr. 3d. 65. It merits mention, lastly, that Proposition 47 eliminated felony petty theft as a felony. Now all petty theft is charged only as a misdemeanor.
For more information about defrauding an innkeeper and petty theft, click on the following articles:
Court Rules Change in Petty Theft Limit Is Retroactive, Turning Certain Grand Theft Convictions into Petty Theft
Contact
Greg Hill & Associates