You Want to File a Motion to Change the Prosecutor?
It is not uncommon for our office to hear a client comment that he or she believes the prosecutor "has a personal hatred for me," or something similar that suggests the prosecutor shows unusual zeal. A family member may also echo this observation and ask if there is a way to change the prosecutor assigned to the case.
When we hear such comments, we ask for details. Usually, the prosecutor is not doing anything wrong or unusual and the client's observation is more a commentary on the adversarial and stark reality of criminal cases in general.
The Gist of this Article: A Motion to Recuse a Prosecutor under Penal Code § 1424(a)(1) must show there is an actual or apparent conflict of interest caused by factors extraneous to the prosecutor's official duties such that defendant will not received a fair trial. The prosecutor most likely will deny such a conflict of interest exists.

Occasionally, what the client or his / her family tells us crosses a threshold, triggering consideration of filing a motion to recuse a prosecutor under Penal Code § 1424(a)(1) and the California Constitution, Article 1, § 7. It must be clear from the outset that such a motion is exceedingly difficult to prevail on. Such a motion may be to remove one prosecutor from the case or the entire prosecutor's office in the county. If such a motion is granted, a substitute prosecutor, i.e. another deputy district attorney is brought in or a special prosecutor if the entire office is recused. Penal Code § 1424.
What is required to file and win such a motion? In a nutshell, the defense must show that there exists an actual or apparent conflict of interest caused by factors extraneous to the prosecutor's official duty that there is a real, not merely apparent, possibility defendant will not receive a fair trial.
People v. Eubanks
(1996) 14 Cal.4th 580, 592, 59 Cal.Rptr.2d 200; see also
People v. Petrisca
(2006) 138 Cal.App.4th 189, 196, 41 Cal.Rptr.3d 182 (conflict must be so grave that is unlikely defendant will receive a fair trial).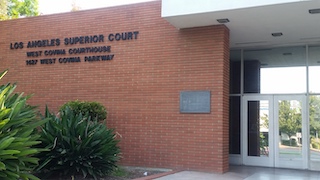 West Covina Courthouse
Such a motion should be brought as soon as possible, even before the preliminary hearing. It must be served on the prosecutor and the Attorney General at least ten court days before the hearing.
In such a motion, defendant has a two-part burden of proof. First, he or she must show there is a conflict by showing circumstances that demonstrate "a reasonable possibility that the DA's office may not exercise its discretionary function in an evenhanded manner."
People v. Conner
(1983) 34 Cal.3d 141, 148, 193 Cal.Rptr. 148.
Second, defendant must show that the conflict is "so grave as to render fair treatment of the defendant(s) in all stages of the criminal proceedings unlikely."
Eubanks, supra
, at 601; see also
People v. Snow
(2003) 30 Cal.4th 43, 86, 132 Cal.Rptr.2d 271.
So what are some examples of when might recusal was granted? In
People v. Superior Court
(
Humberto S.
) (2006) 145 Cal.App.4th 32, 51 Cal.Rptr.3d 356, the trial court granted recusal of certain Los Angeles County District Attorneys after defendant showed they had tampered with evidence by making significant efforts to prevent disclosure of the alleged victim's medical and psychotherapy records by the minor charged with sexual abuse.
In
People v. Vasquez
(2006) 39 Cal.4th 47, 55, 45 Cal.Rptr.3d 372, the California Supreme Court held that the trial court should have granted the defense motion to recuse the entire district attorney's office because the record showed a reasonable possibility that the prosecutor was not exercising her discretionary functions in an evenhanded manner. The motion explained how defendant's stepfather was a prosecutor in the office and his mother was an administrator in the office. The defense argued that the prosecutor was overzealous to avoid the appearance of impropriety.
There are other examples, of course, of when such a motion has been granted. If one is keen to file such a motion, it is best to research the issue and prior cases to base the motion on a prior case when such a motion was granted on facts like those in one's own case.
For more information about prosecutorial misconduct or conflict of interest, please click on the following articles:
Prosecutor's Decision to Dismiss Two African – American's Jurors During Penalty Phase of Death Sentence Case Not Racially Motivated
Trial Court May Not Increase Bail from $90,000 to $1 Million Based on Confidential Information That Prosecutor Provides to Judge in Private Meeting
Contact us.