Will the Judge and / or Jury Be Told I Am an Illegal Alien?
Whenever our office represents someone accused of a crime, we like to know if the person is a U.S. citizen because certain convictions have serious immigration consequences. This information certainly affects our approach in defending the client and how plea bargain negotiating is conducted.
The Gist of this Article: While there is no case directly on point as to whether one's immigration status is generally admissible, we would want to file a moiton in limine to exclude the mention of this or any documentation showing this because the prejudicial effect would outweigh any probative value in most fact patterns.

Plea bargaining is usually the end of our consideration of the client's immigration status because probably 95% of criminal cases resolve through plea bargaining. Another two or three percent resolve through a motion that dismisses the case (i.e. a motion to suppress evidence, a 995 motion, a
Kellett
motion, a
Serna
motion, a
Pitchess
motion, a motion for discovery or many others) and the remaining one to two percent proceed to a jury trial or bench trial.
In this last category, trial, we are mindful that if a jury knows our client is an illegal alien, the jury could find it more likely that he or she would commit a crime because, after all, the person is in the United States illegally anyways.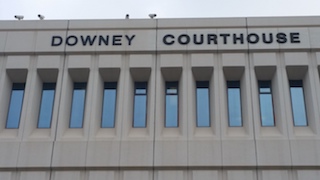 Downey Courthouse
Moreover if the person is going to be deported, why wouldn't he or she disregard the laws here before leaving if the person disregarded the law daily in staying here illegally anyways? Consequently, we are sensitive to the unfair prejudice that can easily result to our client if jurors are aware our client is in the United States illegally.
Likewise, we appreciate how a judge, often conservative in view or pessimistic about criminal conduct in general as a reflection of a defendant's character, may sentence our client more harshly if he or she knows our client has been living in the United States illegally. The judge may expect such a person to be more careful about obeying the laws, rather than defiantly violating the law. It is thus understood that a judge would want to deter others who follow the same path.
The same judicial attitude toward an illegal alien client could precede sentencing in how the judge rules on issues of evidence admissibility, assertion of privileges, requests for continuances and other situations when a judge must exercise his or her discretion.
As an aside, we do not find that most prosecutors read into a defendant's immigration status. Most prosecutors are more concerned with simply handling the overwhelming workload in a responsible manner and do not have the luxury of time to look deeply into an individual's personal history beyond his or her criminal history. The prosecutor is focused on whether the elements of the crime are factually supported, whether legal defenses apply and how defense counsel seeks to resolve the case.
A jury and a judge will look more at the defendant as an individual. Therefore, if the case is headed for trial, we will file a motion in limine to exclude direct evidence, prosecutor comments, witness testimony or any other evidence that informs the jury, including during jury selection, that our client is an illegal alien.
What exactly is a motion in limine? It is a pre-trial, non-statutory proceeding recognized in California for the purpose of obtaining a court order instructing opposing counsel not to mention certain facts, introduce certain evidence, or make certain arguments in the jury's presence without the court's permission. Sacramento and San Joaquin Drainage District ex rel.
State Reclamation Board v. Reed
, (1973) 215 Cal.App.2d 60, 68. The advantage of such a motion is to "avoid the obviously futile attempt to 'unring the bell' before the jury."
Hyatt v.
Sierra Boat Company
(1978) 79 Cal.App.3d 325.
Once a jury hears that our client is an illegal alien, it is like ringing a bell that everyone hears. It is impossible to erase that information, "unringing the bell," and difficult for jurors to follow an instruction to not consider such information. In fact, if the judge were to issue such an instruction to the jury not to consider a person's immigration status, the instruction itself draws even more attention to the issue.
The Court has the inherent power to grant a motion in limine to exclude "any kind of evidence which could be objected to at trial, either as irrelevant or subject to discretionary exclusion as unduly prejudicial."
Clemens v. American
Warranty Corp.
(1987) 193 Cal.App.3d 444, 451; Peat,
Marwick, Mitchell & Co. v. Superior Court
(1988) 200 Cal.App.3d 272, 288.
Evidence Code § 352 allows the court to exclude evidence where there is a substantial danger that the probative value will be outweighed by the danger of undue prejudice.
People v. Cardenas
(1982) 31 Cal.3d 897, 904. Evidence Code Section 352 and leading cases that have approved of the exclusion of evidence intended principally to arouse the passions of the jury or inflame juror emotions. See
People v. Carter
(1957) 48 Cal.2d 737, 751;
People v. Burns
(1952) 109 Cal.App.2d 524, 541-42.
Evidence Code § 402 allows the court to hear and determine the question of the admissibility of evidence outside the presence or hearing of the jury.
Mize v. Atchinson, Topeka & Santa Fe Ry. Co.
(1975) 46 Cal.App.3d 436, 448.
Our motion in limine on this issue cites to each of these provisions and follows up with a recent case,
Velasquez v. Centrome
(2015 DJDAR 1362). While
Velasquez
is a civil case, not a criminal case, it remains significant because in this case, the Court of Appeal recognized the "very real" and "very strong" prejudicial effect of evidence that a party was an illegal alien.
For more information about the issues in this article, click on the following articles:
Plea Withdrawn and Judgment Vacated When Mexican Citizen Not Advised of Adverse Immigration Consequences of His Plea.
Immigration Consequences of a Plea to Misdemeanor Criminal Threats Are Not Grounds to Vacate a Judgment.
Contact us.