Will Sentences Improve with Elimination of Money Bail?
While politicians have praised Senate Bill 10, the much-publicized new law to eliminate money bail, as a major step toward "treating rich and poor alike," the new law will create more problems than it solves once it becomes effective on October 19, 2019.
It is touted as eliminating money bail on all misdemeanors and that anyone arrested on a misdemeanor will be immediately released. While it is true that money bail is eliminated in all cases, not everyone arrested on a misdemeanor will be released immediately. There are thirteen exceptions to this general policy. These exceptions are listed in the articles linked at the bottom of this page.

The Reader's Digest Version: We strongly believe that elimination of money bail will promote plea bargains of expediency that may be quite unfair to defendants who cannot post bail, but who eagerly accept unfair terms to leave jail and return to their jobs and families.

While these thirteen exceptions do address those people who may not reappear in court if released on a mere promise to do so or who may statistically represent a threat to public safety if released, this new law will nonetheless dramatically increase the number of folks with outstanding bench warrants. This is simply because many of those who promise to show up for court never will and a judge will issue a bench warrant for that person's arrest.

There can be many consequences of having a bench warrant. First, police immediately can arrest the individual and then take the person into custody to see the judge who issued the warrant. Consequently, the individual may spend a few nights in jail and miss work, while his family and employer await his or her return. This can cause the person to be fired and if the person is the primary wage earner for the family, great disruption for the family.

Second, employers can find out about the existence of the warrant on periodic background checks and order the employee to resolve the warrant or risk being let go, as the employer does not want the employee to suddenly miss work. Consequently, such employees will be caught in bit of a Catch-22 (of their own creation) of losing their job or risking a conviction that might involve time in custody anyways.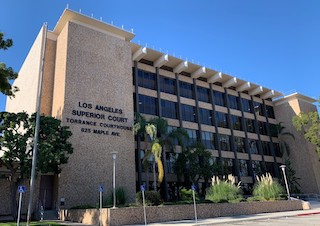 Torrance Courthouse
We feel this may cause many plea bargains (sentences) of expediency that may not be fair, but which defendants enter into to preserve their job.
Third, most significantly, the individual may flee police, endangering others in a car chase, or fight the police, possibly endangering the police and others. This response would be to avoid jail, losing one's job or simply the stigma of having a criminal record.
Releasing most people charged with a misdemeanor can also endanger others. Someone arrested will be free to return home or to track down the 911 caller to "even the score" and possibly kill or more seriously injure the caller. A similar scenario could play out for anyone arrested for a misdemeanor who is then released to intimidate witnesses, "get even" with the reporting party, or destroy evidence. In some misdemeanor offenses, the suspect could immediately return to the same troubling behavior.
It merits mention that, in contrast to five years ago, there are significantly more common felonies that are now misdemeanors due to Propositions 47 (reclassifying lower level theft and drug felonies as misdemeanors) and 64 (adult use of marijuana).
The unintended consequence of this, or response to this possible consequence, is that many misdemeanors that are wobblers, we anticipate, will simply be charged as felonies in order to prevent immediate release.

Those who are charged with felonies will undergo a Pretrial Assessment Services (PAS) investigation, just as those charged with misdemeanors who are not released because one of the 13 exceptions apply.
The PAS investigation is supposed to be completed within 24 hours of booking. Its purpose is to make a recommendation for pretrial release, based on one's history of failing to appear, one's criminal history and the basis charges pending.
If one is being held for a felony, the PAS investigation will look at four additional exceptions to immediate release that concern whether the accused inflicted great bodily injury (GBI) or used a firearm or other weapon in the alleged crime.
The PAS report will then categorize detainees as low risk, medium risk or high risk. Some who are low risk and that no exception applies may be released on their own recognizance (OR). All others will be held for a PAS Prearraignment Review hearing.
The PAS Prearraignment Review hearing is where a judge will evaluate the risk to public safety and the likelihood of the detainee to return to court if released.

While all this is being done, life outside the jail continues and pressure mounts on the detainee to return home to work or to attend to other responsibilities in life. The detainee will become increasingly more agreeable to accepting a plea bargain (sentence) that is unfair to him or her if it allows immediate release.
In predicting how judges will conduct a PAS Prearraignment Review hearing, we recognize that judges are merely people, too. Judges regularly make mistakes and appreciate their own weaknesses and limitations, too. Therefore, we expect judges to err on the side of caution more than on the side of releasing a suspect. After all, no judge wants to be identified as the one who released a suspect that later re-commits a crime.

Consequently, we think judges will more often keep a suspected felon in custody, which will promote plea bargains of expediency so suspected felons can return to work (if the plea involves probation). Such plea bargains may not allow due diligence by the defense, i.e. the use of private investigators, chemical retesting of evidence and thorough review of even the police report. Law and motion practice by attorneys may decrease and plea bargains (sentences) will in general be less fair.
For more information about bail issues, please click on the following articles:
Contact us.