When's a Police Detention Illegal Under the Fourth Amendment?
On December 28, 2010, police officers were driving by a house in Riverside County and saw a man in a driveway pulling copper wire out of an air conditioner. They approached him and detained him, as he had admitted that he did not live in the house. When asked who lived in the house, he said "Rick." The possible thief did not know the owner's last name, fueling the officer's suspicion of theft.
Why This Article Matters: Police may detain a person in his or her home only if the officer has probable cause, which requires specific and articulable suspicion of a crime having occurred or in progress, plus exigent circumstances.

Police then suspected that a residential burglary was in progress, so one officer went to the house, leaned in a partially opened door, announced that they were police officers and commanded anyone in the home to come to the door.
Richard Lujano was asleep in a bedroom in the house, which he owned. Lujano got out of bed and came into the officer's view. The officer ordered Lujano to turn around and walk backwards towards him. The officer then laid hands on Lujano, but did not handcuff him.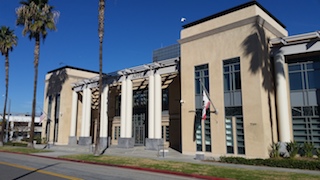 4th Appellate District Division 2 Riverside
The officer then asked Lujano for consent to search him and Lujano said "O.K." The officer then found a plastic baggie in Lujano's pocket, which contained methamphetamine. Lujano was then arrested.
Lujano then consented to a search of the home, as he was the owner of the home. The search of the house uncovered a 9mm. semi-automatic handgun, as well as a speed loader of a .38 caliber revolver. Police also recovered pepper spray and several extra-large sweat shirts.
The pepper spray and extra-large sweat shirts were seized as possible evidence of a liquor store robbery that had taken place nearby nine days later. In the robbery, store security video showed two men wearing extra-large black hooded sweat shirts, gloves and masks. One of the men used a hand gun. Two men used pepper spray to subdue the liquor store owned. One of the men looked to weigh about 300 pounds. The type of gun used was a .38 caliber, exactly what was found in Lujano's home.
The officers searching Lujano's home also concluded that Lujano was one of the liquor store robbers based on a match of Lujano's shoes with those in the store security video.
Lujano was then charged with possession of methamphetamine (Health & Safety Code § 11377 (a)); receiving stolen property (Penal Code § 416(a)); and possession of a firearm by a felon (former Penal Code § 12021 (a)(1). Lujano pled guilty and the judge sentenced him to 14 years and 4 months in state prison. The sentence included a ten year enhancement for using a firearm during the commission of a robbery (Penal Code § 12022.53(b) and § 1192.7(c)(8)).
During trial, Lujano unsuccessfully moved to suppress all evidence as obtained in an illegal search and seizure, in violation of the Fourth Amendment. The trial judge in Riverside County, Charles Koosed, denied the motion.
Lujano then appealed to the Fourth Appellate District. In
People v. Riccardo Lujano
(2014 DJDAR 11845), the appellate court reversed, but only reversed Lujano's conviction for robbery and the firearm enhancement. The court noted that it could not reverse the convictions subject to Lujano's plea bargain because he waived his right to appeal such convictions and failed to obtain a certificate of probable cause for appealing such charges.
In reaching its decision to grant the motion to suppress, the court of appeal began its analysis by stating that "warrantless arrests within the home are proscribed unless exigent circumstances exist."
In re Rudy F.
(2004) 117 Cal.App.45h 1124, 1132. The same proscription limiting warrantless arrests in the home has been extended to detentions that fall short of formal arrests.
People v. Williams
(1979) 93 Cal.App.3d 40, 57. Thus, the exception to the warrant requirement for investigative detentions for the purpose of investigating possible criminal activity, approved in
Terry v. Ohio
(1968) 392 U.S. 1, "does not apply to in-home searches and seizures."
U.S. v. Struckman
(9th Cir. 2010) 603 F.3d 731, 738.
For an arrest or detention in a home without a warrant in a home or dwelling, there must be both probable cause and the existence of exigent circumstances.
Struckman
, at 739.
In looking at the officer's contact with Lujano, there were no specific, articulable facts particular to Lujano suggesting he might be involved in a burglary. The man on the driveway said the owner of the home was named "Rick" and Lujano's first name was Rick. The officer never saw Lujano rifling through drawers in the home. Instead, Lujano obeyed every command of the officer. Lujano also said nothing to indicate there was a burglary in progress inside. There were no signs of a forced entry.
Lujano's consent to a search was then induced by an illegal detention, so the consent was invalid (People v. Lieb (1976) 16 Cal.3d 869, 877), meaning Lujano's motion to suppress should have been granted. Surely, Lujano was very happy with this, as it shaved at least ten years from his sentence.
The citation for the Fourth Appellate District Court ruling discussed above is People v. Richardo Lujano (4th App. Dist., 2014) 229 Cal.App.4th 175, 176 Cal.Rptr.3d 534.

For more information about the issues in this case, click on the following articles:
Contact us.