When is a Threat under PC 69 Not to be Believed?
Under Penal Code § 69(a), "[e]very person who attempts, by means of any threat or violence, to deter or prevent an executive officer from performing any duty imposed upon the officer by law . . . is punishable . . . by imprisonment under Penal Code 1170(h) (state prison in county jail) or in a county jail not exceeding one year . . ."

Brief Synopsis: Sometimes, a threat against an executive officer, under Penal Code § 69(a), is so extreme and unrealistic that no reasonable person would believe it and therefore, it is not a threat under California law, as the following case from San Luis Obispo Superior Court exemplifies.

A true threat is not speech protected under the First Amendment, but a threat made in jest, frustration or using hyperbole is protected under the First Amendment. Virginia v. Black (2003) 538 U.S. 343, 359; People v. Hines (1997) 15 Cal.4th 997, 1061. The latter type of speech cannot be believed as a true threat perhaps because it is just too crazy, based on hyperbole or the rambling of a crazy person.
It is within this context that the conviction of Anatoly Smolkin for violating Penal Code § 69(a) was reversed by the First Appellate District because his threat was just too unbelievable to be considered a true threat.
What exactly did he say?
Before getting to what Mr. Smolkin said, some background facts are helpful to understand the context of his "threat." Deputy District Attorney Andrew Horvath was employed by Solano County District Attorney Krishna Abrams. In mid-2016, he prosecuted Mr. Smolkin for parole violations. One of the violations was when he threatened to blow up a parole office building. He was found to be in violation of his parole and sentenced to 180 days in county jail.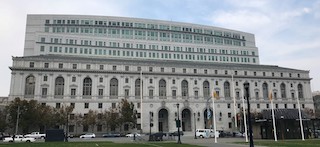 Court of Appeal First Appellate District San Francisco
On February 28, 2017, Horvath received a handwritten note from Smolkin that was addressed to Ms. Abrams. The letter stated that he was a member of Russian military intelligence and that Horvath had been "sentenced to death in Moscow for the crime of kidnapping a soldier of the armed forces of Russia."

The letter continued, "I am scheduled to be released from my current incarceration, 6 MAR 2017. I warn you, if charges are not dropped, all perjured restraining orders lifted, my parole cancelled, I will charge, but effectively sentence, the entire Solano County DA's office with kidnapping punishable by death by Russian military firing squad. Let me be crystal clear – I have no training in riflery or authorization to carry out an execution: what I am saying is that I have to report to parole on 7 MAR 2017, before 31 Dec 2017 your entire office will be arrested by Russian military police, tried in a rubber stamp trial for kidnapping, and sentenced to death by firing squad . . . my only part in the execution, as psyops officer, will be to livestream it on Facebook."

The letter also stated in small text in the margin, "It is clear to any rational person that I pose no threat to anybody."

The letter further stated at the end of the letter, "Once again, I am not authorized to, nor will I, take any actions that violate California laws – am threatening formal, official foreign military force & justice."

Deputy District Attorney Horvath stated that after reading the letter, he was concerned for his safety. As a result of the letter, he installed a security system to his home, warned his wife to be vigilant and told his children not to talk to strangers.

In July, 2018, the Solano County District Attorney filed an information charging Smolkin with threatening a state official (Penal Code § 76(a)) and resisting an executive officer under Penal Code § 69. The information also alleged a prior strike (Penal Code §§ 667(d) and 1170.12(b)) and a prior prison term (Penal Code § 667.5(b)). The case went to trial and the jury acquitted Smolkin of threatening a state official, but convicted him of resisting an executive officer. The trial court sentenced him to seven years in state prison, comprised of three years, doubled for the prior strike conviction, plus one year for the prison prior.
Smolkin appealed his conviction, arguing his conviction was unconstitutional because his threat was not a true threat. It was made in jest and out of frustration. No reasonable person would have understood his letter to be a true threat.
The First Appellate District Court of Appeal agreed. It characterized Smolkin's threat as "clearly delusional" because it contained nonsensical threats unlikely to come to fruition. Second, he threatened violence by third parties who were plainly not his associates. Lastly, no reasonable person would believe Smolkin had the ability to initiate violence against Horvath through the Russian military.
Accordingly, the conviction was reversed and Smolkin, most likely, was then released from prison.

We bring this summary of a reported decision to the reader's attention because, quite often, criminal threats are delusional and no reasonable person would believe the speaker had the ability to carry out the violence, or the speaker claims that a third party will initiate the violence. This is a good case to keep in mind as a defense when that type of fact pattern arises, both in a criminal threats (Penal Code § 422) or threat of violence on an executive officer (Penal Code § 69(a)) case.

The citation for the First Appellate District Court ruling discussed above is People v. Anatoly Smolkin (1st App. Dist., 2020) 49 Cal. App. 5th 183, 262 Cal. Rptr. 3d 696.

For more information about Penal Code 69 and First Amendment speech that is protected, please click on the following articles: