When Is a Pre-Trial Identification Unduly Suggestive?
The Reader's Digest Version: A victim's identification of defendant was unduly suggestive even if police only show the victim one photo to chose from because, in this case, the victim immediately identified the defendant once shown the photograph.

In National City, at the Rincon el Mar restaurant, there were many people watching the 2014 World Cup soccer match between Mexico and Brazil.
There was one group of customers, with ties to Tijuana, and another group with ties to National City. The game went on and the two groups eventually grew to dislike each other.
After the match, Rafael Gutierrez (from the Tijuana group) argued with Jesus Morin (from the National City group) in front of the restaurant. Rafael asked Morin if he had a problem with his brother. As Morin approached Rafael's brother, the brother punched Morin in the face, causing him to fall to the ground unconscious. Rafael and his brother continued to beat Morin on the ground while he was unconscious. Soon others started to fight nearby.
The fight stopped for a short time and then Salvador Oswald Chavez stabbed Eddie Lopez in the back with a knife. Another man named Gonzalez, a friend of Chavez, shot another person who died. Chavez and Gonzalez then got in a truck and left.
Police investigating the fight searched Chavez' house and found two knives and clothing matching what the victim claimed Chavez was wearing on the night of the fight. Chavez was then charged with assault with a deadly weapon (Penal Code § 245(a)(1)) as well as the murder and the use of a deadly weapon and inflicting great bodily injury.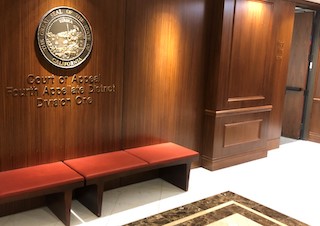 Fourth Appellate District Court of Appeal Division 1 San Diego
Before trial, Chavez filed a motion in limine to exclude evidence of Eddie Lopez's pretrial identification of him. Eddie Lopez apparently had described his attacked to police only as a "short, fat man" wearing a red T-shirt and blue jeans. Police then showed Lopez only one photograph (of Chavez) and Lopez identified Chavez as the attacker. The photo also showed him holding something in his hand that made it seem suggestive, Chavez argued. Chavez argued that Lopez's identification of him should be excluded because there were at least two people involved in the fight wearing red shirts and blue jeans.
The prosecution opposed the motion, saying that Lopez was able to identify and recognize many of the people involved in the fight before being shown the photograph of Chavez. The prosecution also noted that Lopez identified Chavez instantly, without any hesitation. The court denied the motion in limine.
At trial, Chavez presented the testimony of Scott Fraser, an eyewitness identification expert, who testified generally about how alcohol, memory convergence and stress could result in an eyewitness' faulty memory. The jury found Chavez guilty. The judge sentenced Chavez to an indeterminate term of 15 years to life in prison, plus a consecutive determinate term of two years (it is unclear from the appellate report exactly how this sentence was determined).
Chavez filed an appeal on multiple grounds. This article will limit its scope to summarizing the appellate court's ruling on Chavez's argument that the trial court erred in admitting an eyewitness' in-court identification of him that was the result of unduly suggestive pretrial procedure.
The Fourth Appellate District, in People v. Salvador Oswaldo Chavez (2018 DJDAR 2855), denied Chavez's appeal, finding that when Lopez identified Chavez, he said to the detective quickly, "That's him, that's the guy who stabbed me." The court found the identification was reliable under the totality of the circumstances, taking into account that Lopez' prior description of Chavez was fairly accurate. The court acknowledged that single-photograph lineups may be unduly suggestive and not the preferred identification procedure, here, detectives did not just show Lopez one photograph, but showed him a number of photographs first. Then Lopez spontaneously described his assailant to detectives.
We do not like this opinion one bit, as witness' memories certainly can be erroneous on important facts and given the fact that this fight was chaotic and at night, plus being stabbed is stressful. Detectives should have been more careful in how they presented photographs to Lopez.
The citation for the Fourth Appellate District Court ruling discussed above is People v. Salvador Oswaldo Chavez (4th App. Dist., 2018) 22 Cal.App.5th 663, 231 Cal. Rptr. 3d 20.

For more information about eyewitness issues, please click on the following articles:
Contact us.