When is a Dismissal via Civil Compromise Not Allowed?
As the reader of this article may already know, California Penal Code §§ 1377 to 1379 set forth procedures for permitting a judge to dismiss a misdemeanor case when he or she finds the victim of a misdemeanor offense has a civil remedy. See Holmes v. Barney's Club, Inc. (1980) 28 Cal.3d 603, 613, 170 Cal. Rptr. 42. A victim can include a person, county or corporate entity (a business). See People v. Smith (1975) 49 Cal.App.3d Supp 1, 122 Cal. Rptr. 374. When the case is dismissed based on a civil compromise, that is a bar to another prosecution for the same offense. Penal Code § 1378.
Why This Article Matters: Dismissal through civil compromise, besides only being applicable to misdemeanor matters, is not applicable to eight other types of cases, as this article describes below.

Some people regard a civil compromise as "buying one's way out of a criminal case," and in a sense, there is some truth to this observation. This may make our justice system smell corrupt or third-world in nature.
Therefore, to preserve the legitimacy and perhaps one would even say the integrity of our criminal laws, our legislature has identified certain types of misdemeanor cases that may not be resolved via civil compromise. They are:
Offenses committed against a police officer while the officer was executing or performing the duties of his or her office (Penal Code § 1377(a));
Offenses committed in the course of a riot (Penal Code § 1377(b)), i.e. injuries to others, vandalism, graffiti, trespassing, etc.;
Offenses wherein defendant acts with the intent to commit a felony (Penal Code § 1377(c));
Hit and run cases (Vehicle Code §§ 20001 – 20004), see People v. McWhinney (1988) 206 Cal.App.3d Supp. 8, 12 and People v. Lourdes Ortiz Dimacali (2019) 32 Cal.App.5th 822;
Offenses committed in violation of a court order as described in Penal Code § 273.6 (violation of a protective order or restraining order in civil court between family members, boyfriend/girlfriend, neighbors or employer/employee) or in § 273.65 (a protective order issued under the Welfare & Institutions Code regarding domestic violence issued in juvenile court, child custody orders issued in juvenile court or orders issued in a juvenile court for child custody or visitation rights) (Penal Code § 1377(d));
Offenses committed in a domestic violence matter by or on a family or household member or another person when the violation involves a person described in Family Code § 6211 (spouse, former spouse, cohabitant, or former cohabitant, a person with whom defendant has a dating or engagement relationship or a child in common or a presumption of being a parent, a child, or any other person with whom one has consanguinity) or Penal Code § 13700(b) (the same categories as defined under Family Code § 6211) (Penal Code § 1377(e)); or
Offenses committed against an elder in violation of Penal Code § 368 (financial, physical and /or mental elder or dependent adult abuse) or Welfare & Institutions Code § 15656 (describing abuse similar to that in Penal Code § 368) (Penal Code § 1377(f)); and

Offenses committed against or on a child as described in Penal Code § 647.6 ("Annoying or Molesting a Child Under 18," which can be a misdemeanor) or Penal Code § 11165.6 (child abuse or neglect) (Penal Code § 1377(f)).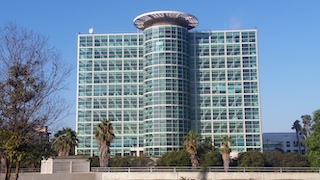 Airport Courthouse
A judge also may not reduce a felony to a misdemeanor and then find a civil compromise to dismiss the case without the prosecution's consent unless the judge finds that defendant had no felonious intent. People v. Moulton (1982) 131 Cal.App.3d Supp. 10; People v. Strub (1975) 49 Cal.App.3d Supp. 1.
The legislature also requires in the statute that the victim must appear in court and acknowledge that he or she has received satisfaction for the injury. Penal Code § 1378. However, some judges do not require the victim's presence as long as there is some proof of the agreement and payment, such as a declaration or an affidavit or the prosecutor's representation that he or she has spoke to the victim to verify the payment and his or her consent to the case being dismissed.

For more information about the issues mentioned in this article, please click on the following articles: