When Can a Sexually Violent Predator (SVP) Be Released?
In a Nutshell: A sexually violent predator faces a civil commitment after completing his or her prison sentence. The length of the civil commitment will depend upon when he or she is found not to pose a danger to the public if released.

Alvin Quarles was dubbed the "Bolder than Most" rapist by the media based on a series of shocking and violent rapes, residential burglaries and robberies committed in San Diego County during the 1980's. He was finally arrested and taken into custody on February 22, 1988.

The description of the crimes is probably not relevant here other than for the point that his aggressiveness and outrageous behavior is remarkable even by criminal standards.
About a year later, he pled guilty to four counts of rape while armed with a knife, six counts of residential burglary and two counts of robbery. The San Diego County Superior Court hearing the consolidated matter sentenced him to 50 years to life in state prison.
Before Quarles was to be released from prison in 2014, the People filed a petition to have him civilly committed as a Sexually Violent Predator (SVP) within the meaning of the Sexually Violent Predator Act (SVPA; Welfare & Institutions Code § 6600, et seq.). The judge hearing the petition granted the People's petition, agreeing that Quarles met the definition of an SVP and had him civilly committed, rather than released to the general public.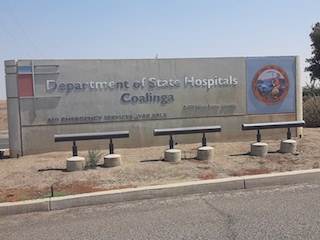 Coalinga State Hospital
In June, 2018, David M. Gill, a superior court judge determined that Quarles could be conditionally released into the community under CONREP (Conditional Release Program), which is administered by Liberty Healthcare Corporation.
The People immediately appealed this, filing a writ of mandamus to the Fourth Appellate District Court of Appeal, challenging this order of conditional release.
The matter then proceeded to trial in June, 2018.

At trial, Quarles argued that he should be conditionally released because of his improvement in prison and subsequently at CSH (Coalinga State Hospital), a mental institution near San Luis Obispo. He also became a devout Muslim, focused on overcoming his substance abuse problems.
Quarles testified and had a doctor testify that if released, Quarles would not pose a danger to the public. Other witnesses testified on his behalf.
The People had a doctor testify that Quarles was an SVP and suffers from a mental disorder that will lead to his recommitting sexually violent criminal behavior and therefore should not be released.
The judge then granted Quarles' petition for conditional release, acknowledging "[w]e are in murky waters here when we are trying to predict future behavior," but reluctantly, it seemed, acknowledged that Quarles carried his burden of proof by a preponderance of the evidence for release. The judge even said, "I think there is a substantial, well-founded risk of reoffending, but I think that risk can be adequately addressed in the CONREP program . . ."
The People immediately filed a motion for reconsideration. The People did so based on new facts – new information that it had learned that Quarles had failed two sexual history polygraph examinations and in response, ordered an updated evaluation of Quarles. The new review concluded Quarles could not be safely released "at this time."
However, the judge then denied the People's Motion for Reconsideration and ordered Quarles released on the CONREP program.
The People immediately appealed. The Fourth Appellate District reviewed the applicable case law on this issue, first explaining that the SVPA provides that, under certain circumstances, a person who has been civilly committed as an SVP can be conditionally released into the community under a program of outpatient supervision and treatment pursuant to Welfare & Institutions Code §§ 6608 – 6609.3.
The Appellate Court criticized Quarles' attorney for his argument that Quarles was entitled to be released when there is a "least restrictive alternative available" to continued treatment in a civil commitment, such as at Coalinga, provided Quarles showed his suitability for such a program.
The Appellate Court then reversed the trial court, saying such a basis for release cannot ignore Quarles' nature as a "serial rapist whose crimes were shockingly brutal and destructive . . . this is not a risk the superior court should place on the public." It continued, saying it had "too many concerns" that the superior court applied the incorrect legal standard, so the case was remanded to the trial court with instructions to vacate its order of Quarles' conditional release.
We present this summary to the reader to emphasize how difficult it is for an SVP to ever emerge from a civil commitment following a prison sentence. It can seem impossible and for someone like Quarles, probably will be impossible.
The citation for the Fourth Appellate District Court ruling discussed above is People v. Superior Court of San Diego (real party in interest Alvin Quarles) (4th App. Dist., 2020) 45 Cal. App. 5th 637, 258 Cal. Rptr. 3d 925.

For more information about SVP issues, please click on the following articles: