Sexually Violent Predator (SVP) Trial Verdict Reversed
About This Article Briefly: The jury verdict in a trial on a Sexually Violent Predator's release or confinement to a mental hospital is reversed because the judge ordered defendant to testify and the prosecution's expert testified to 13 instances of hearsay.

After a person has been convicted of a sexually violent offense against one or more victims and who has a mental disorder that makes it likely he (or she) will engage in further sexually violent criminal behavior, the person may be committed indefinitely to the Department of State Hospital (DSH). The person committed is characterized as a sexually violent predator (SVP) and the commitment is for an indeterminate term.
This is a nightmare for the family, as well as the SVP himself (or herself), as the end of the prison sentence is rendered illusionary or, for practical purpose, meaningless.
A person committed indefinitely to the DSH as an SVP is the entitled to yearly evaluations to consider whether the person "currently meets" the definition of an SVP and whether conditional release is in the best interest of the person. The yearly evaluations are a way of assuring an individual's continued confinement does not violate due process. See
Foucha v. Louisiana
(1992) 504 U.S. 71, 77, 86 (confinement of the mentally ill who are not dangerous violates due process).
Sidney Nathaniel Landau was convicted of molesting several prepubescent boys in 1981 and was sentenced to prison. At the time, Landau was 42 years old. In 2009, his prison term ended and he was committed to DSH as an SVP at age 70.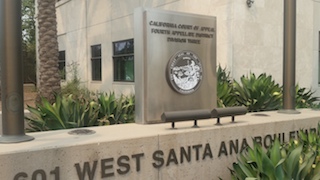 CA 4th Appellate District Division 3 Orange County
In 2010, just one year later, at his annual evaluation to consider if he was still an SVP and whether he could be evaluated for release, the examiner found that Landau was still a pedophile, but concluded that he was no longer dangerous and that treatment in a less restrictive setting was in his best interest. On August 16, 2010, Landau filed a petition in the superior court for his unconditional release under Welfare & Institutions Code §§ 6606 and 6608.
Landau then received a jury trial on his petition with the jury receiving the evidence and to make a decision on December 5, 2013. Thirteen days later, on December 18, 2013, the jury concluded that he remained an SVP within the meaning of Welfare & Institutions Code § 6600 and the judge recommitted him to the DSH.
Landau appealed the ruling because, he argued, he was denied equal protection when the judge required him to testify at trial for the District Attorney and that the judge erred when he allowed the District Attorney's expert to testify to "a massive amount of inadmissible hearsay" in violation of the Evidence Code and his right to confrontation.
The appeal was filed in the Fourth Appellate District. The appellate court reviewed the facts of the underlying conviction, which are horrific, as Landau's twenty-eight year prison term suggests. It then turned to the SVP trial in 2010, which took place in Orange County.
In that trial, the District Attorney called Landau as his last witness in the People's case-in-chief. Landau's attorney objected that Landau could not be forced to testify, but the judge overruled the objection and ordered Landau to take the stand.
Landau then testified that his treating physician suggested he receive testosterone injections in 2010 and that when he started getting these, his sex drive increased. His last testosterone injection was in 2013, just prior to trial. He described his masturbation habits and that when doing so, he fantasized about prepubescent boys. In other words, Landau provided exactly the testimony that a jury "needed" to find he was still a raging potential child molester.
Landau also testified how he had molested various young boys for twenty years prior to being convicted and sent to prison. He testified that he was never caught because he would properly "groom" the boys so they wouldn't tell the police after the molestation took place. In other words, he described how he could still commit the crimes again.
The appellate court found that while Landau's counsel objected at trial to his testifying, the trial court judge ruled correctly that the Sexually Violent Predator Act does not contain a right against self-incrimination. So his order that Landau had to testify was correct. However, on appeal, the Fourth Appellate District found this was a denial of equal protection to SVP's because even those asserting they are not guilty by reason of insanity (NGI) enjoy the right against self-incrimination.
Hudec v. Superior Court
(2015) 60 Cal. 9th 815,826. On this ground alone, the SVP Act is unconstitutional in this regard.
In addition, Landau argued, the prosecution expert improperly testified to hearsay statements. The appellate court reviewed the court record and agreed with Landau on this ground as well, finding that the People's expert, Dr. Park, improperly testified in thirteen instances to inadmissible hearsay, denying Landau of his right to cross-examine the witness making such statements.
As such, the verdict was reversed and the case sent back for trial again.

The citation for the Fourth Appellate District Court ruling discussed above is People v. Sidney Nathaniel Landau (4th App. Dist., 2016) 246 Cal.Rptr.4th 850.

For more information about sexually violent predator issues, please click on the following articles:
Contact us.