When Are Polygraph (Lie Detectors) Results Admissible?
Brief Synopsis: Polygraph (lie detector) results are admissible when both the prosecution and the defense stipulate to their admissibility at trial, a preliminary hearing or other hearing.

Generally speaking, polygraph test results are inadmissible in court, as they are not scientifically reliable enough for use when the stakes are so high as in court.
This is because it is well documented that certain people can pass the pass the test while lying and other who are telling the truth can fail the test. To appreciate this, one should understand that polygraph machines measure variations in one's breathing, pulse, sweating, and blood pressure to allegedly detect someone lying. The polygraph machine operator also may be financially motivated to provide the sought-after result. Nonetheless, they indeed are accurate 60% to 90% of the time, but these percentages are not high enough to considered "generally accepted" as scientifically reliable under Daubert-Frye (Daubert v. Merrell Dow Pharmaceuticals, Inc. (9th Cir., 1995) 43 F.3d 1311 and Frye v. United States (D.C. Cir., 1923) 293 F. 1013.
For this reason, it is also illegal for either side to make any reference to taking, offering to take or failure to take a polygraph examination. Evidence Code § 351.1. One cannot even refer to such a test for impeachment purposes by the prosecution. People v. McKinnon (2011) 52 Cal.4th 611. Defendant also cannot refer to such results (presumably exonerating) during the penalty phase of a capital case. People v. Lucas (2014) 60 Cal.4th 153, 308, overruled on other grounds in People v. Romero (2015) 62 Cal.4th 1. A defense offer to take a polygraph is itself inadmissible, even if police refuse the offer. People v. Espinoza (1992) 3 Cal.4th 806, 818.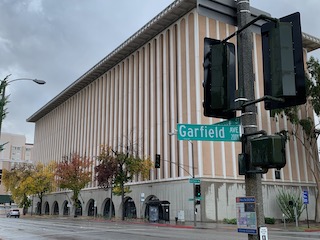 Pasadena Courthouse
However, if both the prosecution and the defense attorneys stipulate to admissibility of the test results, such test results can be admissible at trial, any pre-trial hearing or postconviction hearing. California Evidence Code § 351.1; In re Aontae D. (1994) 25 Cal.App.4th 167, 173; People v. Kegler (1987) 197 Cal.App.3d 72, 84. Practically speaking, we strain to believe the prosecution would ever so stipulate to result so of a polygraph test that were helpful to defendant which defendant sought to introduce and visa versa concerning any such results the prosecution would seek to introduce.
However, hypothetically, the two sides could agree before such a polygraph test to be bound by the results if the examiner and the machine were considered trustworthy enough by both the defense and the prosecution. The two sides also would have to agree that the witness submitting to the test was not capable to "gaming the test" to make a lie appear like the truth.
In such a test, there would have to be Miranda warnings given to the witness before questioning could begin. Miranda v. Arizona (1966) 383 U.S. 436, 86 S. Ct. 1602. The declarant would then have to waive his right to remain silent. The use of waiver forms signed by the defendant specifying that he or she is taking the test totally without threat or promise, including promise of immunity, was upheld by the California Supreme Court in People v. Ochoa (1998) 19 Cal.4th 353.

In People v. Rankins (1986) 178 Cal.App.3d 1163, the court upheld the introduction of defendant's statements made when confronted with polygraph test results despite an agreement that no questioning would go on outside the polygraph test. The appellate court held that questioning about unfavorable test results is part of the very nature of a polygraph exam. The court noted that defense counsel could have (and by implication, should have) instructed the client to refuse to answer questions after the polygraph machine was turned off.

We think allowing a defendant to submit to a law enforcement polygraph is unwise unless defense counsel has defendant submit to a defense polygraph first (and found truthful obviously) over a broad range of questions that police may ask. In fact, it may be malpractice or ineffective assistance of counsel to allow defendant to take a prosecution polygraph without having first taken a defense polygraph. See People v. Reeder (1976) 65 Cal.App.3d 235.
If defendant then does submit to such a police polygraph test, it should be only with the prior, written agreement from the prosecution that if defendant passes such a test, the case will be dismissed.
What we at Greg Hill & Associates have done in the past in certain domestic violence and sex offense cases is have our client submit to a polygraph and if the results are exonerating, we submit this to the police and the prosecution, requesting a dismissal. It has been effective in several such cases.
For more information about polygraph tests, please click on the following articles:
Contact us.