Can a Judge Require Polygraph Tests for Sex Offenders?
It may come as a shock to anyone facing a sex crime that even after a conviction, the digging into one's past seems to continue.
Brief Synopsis: A registered sex offender on parole or probation is required to participate in a "Sex Offender Management Program" that involves being asked questions about one's sexual history while hooked up to a polygraph. The offender may assert his or her Fifth Amendment right to remain silent, but that can be considered grounds for revoking parole or probation and only raises suspicion of other sex offenses taking place.

Indeed, since July 2012, under Penal Code § 290.09, California registered sex offenders on parole or probation have been required to participate in sex offender management programs. The legislation passed in 2012 as part of Chelsea's Law (A.B. 1844) codified a system under Penal Code § 1203.067 called the Containment Model, which requires collaboration and communication within a team composed of the sex offender treatment provider, parole or probation officer and polygraph examiner.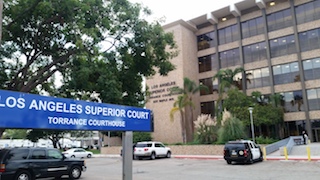 Torrance Courthouse
During the polygraph examination of probationers, examiners are instructed to do and ask the following:
1. Investigate "circumstances of the instant offense;"
2. Search for "additional or unreported offense behaviors" regarding the instant offense not reported by the victim;
3. "Investigate and resolve all prior alleged sex offenses" regardless of whether or not they were charged;
4. Require the probationer to complete a "written sexual history document;"
5. "[T]horoughly investigate the [probationer's] lifetime history of sexually victimizing others" including sexual contact with underage persons and relatives, use of violence in connection with a sexual act, or sexual offenses against incapacitated victims;
6. Investigate the probationer's "lifetime history of sexual deviancy" including voyeurism, indecent exposure, theft of undergarments, and sexual rubbing;
7. Investigate other occurrences of possession of child pornography, sexual contact with animals, prostitution, coerced sexual contacts, stalking, and masturbation in public places; and
8. "Investigate the possibility of a new offense while under supervision."
Naturally, one may ask whether the Fifth Amendment right against self-incrimination applies.
Similarly, is this requirement that one submit to polygraph examinations a fair choice for registered sex offenders who are eligible for probation or parole? After all, answers to a polygraph exam could only expose the individual to more time in custody? Indeed, there is an Arizona case,
State v. Eccles
(1994) 877 P.2d 799, where the court held that a Fifth Amendment waiver could not be a mandatory condition of probation. However, that case was not a California case.
The answers to these questions may be reassuring to some. The program does not require that offenders must agree to waive the right to invoke the Fifth Amendment when asked questions which might incriminate them on offenses other than the one for which they are on supervision. In fact, the intent behind the program was to better supervise a parolee or probationer. We would argue then that most of the questions listed for asking far exceed the scope of such supervisory concerns.
In this program, the person's right to remain silent is not waived insofar as questions which might incriminate the person on a new criminal offense which occurred prior to the conviction on the current offense for which the person is on probation or parole. If an offender invokes the Fifth Amendment and refuses to answer a question about the current supervision period, however, that is grounds for revocation.
It is also grounds for revocation if the offender admits prior to, during or after the polygraph that he committed a new crime since the supervision period started, or violated the terms and conditions of probation or parole.
The polygraph examiners are not mandated reporters, but they work with and report to members of the "multi-systemic containment team" who are mandated reporters. The polygraph examiners are required to disseminate a written report regarding all pertinent information, test questions and answers, and results to members of the community supervision team and "to the court, parole board or other releasing agency." Surely, the report will note the individual's assertion of the Fifth Amendment right to remain silent, raising suspicion of other criminal conduct.
These are the brutal realities facing a registered sex offender on parole or probation, underscoring the need from the moment charges are made for a rigorous, zealous defense so that such that such parole or probation conditions are avoided.
For more information about regulations related to sex offenders, please click on the following articles:
Orange County's Standard Sex Offender Probation Conditions, Imposed in Hundreds of Cases Since 2003, are Unconstitutional
Contact us.