What Must the Prosecution Prove to Show Violation of PC 69?
If one is charged with felony resisting arrest under Penal Code § 69, defendant must have caused some type of injury to a police officer. If the officer was not injured, defendant may instead be charged with obstructing or delaying arrest under Penal Code § 148(a)(1), a misdemeanor. This is the usual distinction between the two charges.

However, there are more requirements to each crime, in other ways, as the following reported decision from the Sixth Appellate District in San Jose explains.
The Gist of this Article: For a jury to find defendant violated Penal Code § 69, it must find that defendant knew the executive officer (including a police officer) was a police officer, as this article exemplifies.

On the evening of March 10, 2017, Randall Patrick Atkins was in a five or six-story parking structure at the campus of the University of California at Santa Cruz.

At the same time, Nathaniel Calhoun was a police officer working patrol with the Police Department of the University of California at Santa Cruz. He was wearing a police uniform with a badge and a belt and was driving a "fully marked Ford Crown Victoria police cruiser," that he described as a "typical patrol car" that said "UC Santa Cruz Police Department" on it and had a blue and red lights on top.
Just before 1:00 a.m., Calhoun was patrolling in the parking structure when he saw two skateboarders traveling toward him at a very high rate of speed. Mr. Atkins was one of the two men skateboarding. The skateboarders narrowly missed crashing into the patrol car. One of the skateboarders jumped off his board; the other continued down the ramp and "vanished from sight." Skateboarding is prohibited on the campus of UC Santa Cruz.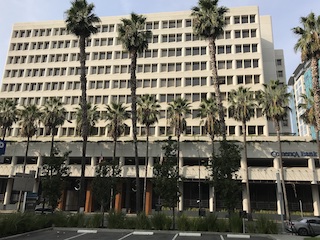 Sixth District Court of Appeal San Jose
Calhoun detained the man who had jumped off his skateboard and placed the skateboard on the hood of his patrol car. The man who had skateboarded away, later identified at Atkins, came back yelling that Calhoun had tried to hit the men with his patrol car. Atkins took the skateboard off Calhoun's car, started walking away, and "said something to the effect that [UC Santa Cruz] were rent-a-cops and he didn't need to listen to [them]."
Officer Calhoun then told Atkins to stop, but Atkins ignored Calhoun's command and continued to walk away. Calhoun then grabbed Atkins' arm, but Atkins jerked his body away and broke free. The other man and Atkins then ran out of the parking structure and got into Atkins' truck, which was parked in a parking stall.

Calhoun ran to the truck and stood behind it, blocking it from leaving. The engine of the truck went on and Atkins, who was in the driver's seat, rolling down his window and yelled that he "did nothing wrong and would be forced to run Calhoun over if he didn't get out of his way of his car." Calhoun viewed Atkins' statement as a credible threat and moved away. Atkins then drove away in his truck.
Calhoun got in his patrol car and followed the truck. Another UC Santa Cruz officer, Officer Flippo, arrived and stopped the truck. Calhoun approached Atkins and Atkins told Calhoun that he had no right to search his vehicle and that they were rent-a-cops. Calhoun told Atkins multiple times that he was a police officer.
Officer Flippo told Atkins that he was under arrest for "obstructing an officer." Calhoun and Flippo then pulled Atkins from the truck and "forced him to the ground." Atkins was physically resisting Calhoun and Flippo. Then a third officer arrived and they were able to handcuff Atkins. Atkins continued to tell the police that "he knew his rights" and they had no authority to arrest him.
Atkins was charged with, among other crimes, attempting to deter an executive officer and resisting an executive officer under Penal Code § 69.
The trial court judge instructed the jury that "the People need not prove beyond a reasonable doubt that Atkins knew the person whom he attempted to deter, was an executive officer." Neither defense counsel, surprisingly, nor the prosecution (as would be expected) objected to the final wording of the jury instructions.
Making matters worse, during deliberations, the jury sent a note to the judge asking with respect to the word "intent" whether "intent requires that the defendant believed Calhoun was an executive police officer?" The judge responded, "There is no requirement that Defendant believed Calhoun was an Executive Police Officer."

The jury then found Atkins guilty of violating Penal Code § 69.
After sentencing, Atkins appealed to the Sixth Appellate District, arguing that the judge erred when it answered the jury's question by stating "there is no requirement that Defendant believed Calhoun was an Executive Police Officer" and the error was prejudicial.
The Sixth Appellate Court agreed with Atkins, vacating the judgment and remanding the case back to the trial court for further proceedings. The appellate court held that defendant must know that the person he or she is attempting to deter is an executive officer. The court further held that the error was not harmless.

The citation for the Sixth Appellate District Court ruling discussed above is People v. Randall Patrick Atkins (6th App. Dist., 2019) 31 Cal.App.5th 963.

For more information about resisting, delaying and obstructing arrest, please click on the following articles: