What Is the P.A.T.H. Diversion Class? What Happens?
The P.A.T.H. (Promising Adults, Tomorrow's Hope) diversion class is a six-hour anti-recidivism class given on a Saturday at Goodwill Industries, 800 West Pacific Coast Highway, Long Beach.
The Gist of this Article: The P.A.T.H. diversion class out of Long Beach is an excellent program for a young adult (age 16 – 24) facing a minor misdemeanor to "earn a DA reject" by completing the class, if suggested first by the Long Beach City Prosecutor's Office. The six-hour class has a fee of $225. It teaches general life skills, employment advice and some basic job skills.

The class is part of a pre-filing diversion program offered by the Long Beach City Prosecutor's Office on first-time offenders charged with minor misdemeanors, including, but not limited to public intoxication, public urination (a violation of Long Beach Municipal Code § 9.25.010), shoplifting, trespassing, etc.
The class is supposed to be for those sixteen to twenty-four years of age only, although the upper age limit is somewhat flexible. In other words, if one is twenty-five or even twenty-six, P.A.T.H. may certainly still be an option.
The class cost is $225, but there are fee waivers available. One should be prepared to show pay stubs to establish what one's income for evaluation of a fee waiver.

The purpose of the class is to assist young adults, who have an alarmingly high unemployment rate, with employment and job skills, as well as general life skills. The six-hour class is intended to help with basis job skills that attendees may be lacking.
During the class, the attendee is also asked to prepare a self-assessment and a "Five-Year Plan" for him or herself in terms of setting forth his or her educational milestone goals, employment ambitions, family goals (if any) and any other achievements the person hopes to reach.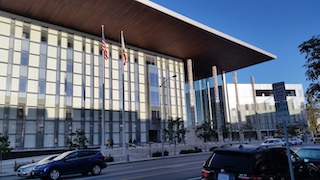 Long Beach Courthouse
Studies have shown that such young adults still have a developing brain. Graham v. Florida (2010) 130 S. Ct. 2011, a U.S. Supreme Court case setting aside a life sentence without eligibility for parole (LWOP) as unconstitutional cruel and unusual punishment, in violation of the Eighth Amendment ban on such punishment.

In arriving at this decision, the U.S. Supreme Court recognized scientific studies that demonstrated many young persons' judgement and decision-making skills continue to develop up until about age 25. Other studies have shown that young adults are more prone to peer pressure and are more prone to engage in impulsive behavior, often involving risk taking. Therefore, while a twenty-five-year old may be physically mature and not getting any taller past age eighteen or nineteen, his or her brain has not finished growing and developing.
Some would say that one's maturity and decision-making skills never stop improving, but studies have show that the most development occurs up to about age twenty-five.

The Long Beach City Prosecutor's Office recognizes the negative effect a conviction and being on probation can have on a young adult who is trying to enter the workforce, keep a job, etc. It is already extremely difficult for a young adult to afford to live on his or her own, but getting and keeping a job is the first step.

The juvenile court system, in contrast to the adult court, has rehabilitation as its primary goal. Punishment is not the primary goal. When a defendant enters adult court, rehabilitation is less of a priority. However, with a young adult charged with a violation of a minor offense, the consequences can be extremely damaging, we think. When a young person is placed on probation, even if only informal (summary) probation, that person will need to answer "yes" on any job application asking if the person is on probation or parole. This will most likely result in being denied employment. Likewise, if the employer finds out about one being on probation, even if informal or summary probation, the employer may terminate that employee out of fear that if he or she violates probation, the employee will not report to work.

With today's job market being so tough, anyone on probation or with a conviction is at a distinct disadvantage, no matter how impressive one's academic achievements are. This is especially so with younger job applicants who may not be perceived as mature or having a good work ethic. The P.A.T.H. program aims to prevent such a stigma on the employment applications of those charged with minor crimes, so it does not hold the person back from getting the job and hurting that person's climb toward being a contributing member of society.
For more information about diversion in general, please click on the following articles:
Contact us.