What is the Immigrant Victims of Crime Equity Act?
The Immigrant Victims of Crime Equity Act (Senate Bill 647), codified at Penal Code § 679.10, protects undocumented immigrants who have reported being victims of a violent or serious crime and who are applying for a U Nonimmigrant Visa ("U Visa"). It became effective on January 1, 2016. It protects the victim of a serious or violent crime from being deported if the victim is cooperative with prosecutors.
In a Nutshell: Particularly in domestic violence cases, the Immigrant Victims of Crime Equity Law is a motivating factor for an alleged victim to report a serious or violent crime to receive protection in applying for a U visa and ultimately become a U.S. citizen.

A serious or violent crime is not defined by in this law , i.e. those listed at Penal Code §§ 667.5(c) (violent crimes) or 1192.7(c) (serious crimes).
An immigration attorney is usually the first person to learn that an existing client was such a victim, or they may be contacted by the victim or a friend or family member of the victim. The immigration attorney should then liaison with the prosecuting agency, or the police, but he or she may also reach out to a defense attorney, who should be familiar with what a U-Visa is and whether the victim is facing deportation.
Most defense attorneys understand that if a material witness is deported (and therefore made unavailable for trial), dismissal of the criminal case is mandatory. People v. Mejia (1976) 57 Cal.App.3d 574, 579; but see People v. McNabb (1991) 228 Cal.App.3d 462 (a Mejia error is waived by a guilty plea). A witness is material, generally speaking, if his or her testimony is necessary for the prosecution or the defense to prove a defense.

Therefore, when a prosecutor becomes aware that a material witness is subject to possible deportation, the prosecutor must use due diligence to locate the witness if the witness has gone missing and to prevent deportation. People v. Roldan (2012) 205 Cal.App.4th 969 (failure to prevent deportation of a material witness to the defense may require reversal of a conviction); see also U.S. v. Leal-Del Carmen (9th Cir., 2012) 697 F.3d 964 (when the government knowingly deports a witness it knows could give exculpatory evidence, acts in bad faith, and causes prejudice, it violates the defendant's right to a fair trial and the constitutional right to present a defense).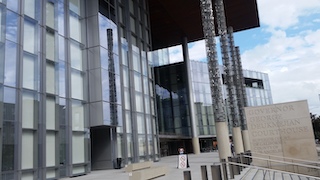 Long Beach Courthouse
A "U Visa" allows individuals who were helpful, are being helpful, or are likely to be helpful to the prosecution of the crime to remain in the United States without fear of deportation and ultimately to secure permanent lawful status. Such individuals may be victims of crime and may be material witnesses to the prosecution, but can also be material to the defense to establish a lesser degree of murder, i.e., or a lesser-included offense.
Penal Code § 679.10 requires California law enforcement agents and prosecutors to verify a witness' cooperation within 90 days, unless the certifying agency or official can demonstrate that the victim was uncooperative.

If the cooperative witness is in the process of being deported, the certifying agency must issue a Certification of Helpfulness within 14 days. If law enforcement or prosecutors demonstrate that the person is "unhelpful" or "uncooperative," they can refuse to sign the certification. Without the certification, the victim or complaining witness is unable to apply for a U Visa and the person is then at the risk of being deported.
The threshold inquiry is whether the victim of a crime qualifies for a U Visa based on the type of crime alleged to have been committed. 8 C.F.R. § 214.14(a)(9) lists the relevant crimes that may be violations of federal, state, or local law. The list of qualifying crimes or "any similar activities" is extensive and includes, but is not limited to, sex-related offenses, trafficking (in controlled substances), kidnapping, false imprisonment and abduction, blackmail and extortion, murder, manslaughter, and felonious assault, conspiracy, and solicitation to commit any of the above crimes. The term "any similar activity" refers to criminal offenses in which the nature and elements of the offenses are substantially similar to the statutorily enumerated list of criminal activities.

If a qualifying crime is alleged, then the complaining witness must meet four statutory requirements under 8 C.F.R. § 214.14(b). They are:
The person must have suffered substantial physical or mental abuse as a result of having been a victim of one of the statutorily enumerated offenses;
The person (or in the case of a child under the age of 16, the parent, guardian, or "next friend" of the person) possesses information concerning an enumerated offense;
The person (or in the case of a child under the age of 16, the parent, guardian, or "next friend") has been helpful, is being helpful, or is likely to be helpful to a federal, state or local law enforcement official, to a federal, state or local prosecutor, to a federal or state judge, to the Service, or to other federal, state of local authorities investigating or prosecuting an enumerated offense; and
The specified criminal activity violated the laws of the United States or occurred in the United States or the territories or possessions of the United States.
For more information about immigration and victim rights issues, please click on the following articles: