What Is the Community Caretaking Warrant Exception?
The Fourth Amendment of the United States Constitution, made applicable to the states through the Fourteenth Amendment, states that searches and seizures inside a home without a warrant are presumptively unreasonable. People v. Romeo (2015) 240 Cal.App.4th 931, 939, quoting Peyton v. New York (1980) 445 U.S. 573, 585, 586.
However, since the underlying principal of the Fourth Amendment is "reasonableness" of governmental intrusions into private property in searches, the warrant requirement is subject to certain exceptions. People v. Troyer (2011) 51 Cal.4th 599, 602. In this regard, searches by police are allowed without a warrant "when the circumstances make it reasonable, within the meaning of the Fourth Amendment, to dispense with the warrant requirement." Kentucky v. King (2011) 563 U.S. 452, 462. Indeed, police are often forced to make split-second decision in situations that are tense, uncertain and rapidly evolving. Id., at 466.
Why This Article Matters: The "Community Caretaking" exception to police getting a warrant is similar to the exigency exception insofar as police must reasonably believe that the safety of an individual is in imminent danger and police must act quickly to enter a home to protect and prevent such danger or to render emergency aid to someone.

It is against this general outline of Fourth Amendment law that Defendant Alan Rubio appealed his conviction through a plea bargain to possession of a controlled substance with a firearm, a violation of Health and Safety Code § 12305.
At approximately 10:40 p.m. on October 19, 2016, East Palo Alto Police Department Sergeant Clint Simmons received an alert on his "ShotSpotter" application that shots had been fired near 2400 Gonzaga Street. ShotSpotter triangulates the location of gunfire via microphones placed throughout the city. Simmons knew 2400 Gonzaga was located in a high-crime neighborhood known as "Da Vill." He later testified in court that he had responded to more murders within a block of that location than anywhere else in East Palo Alto.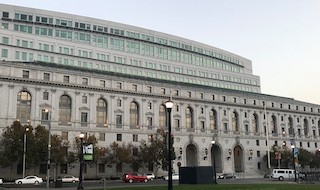 Court of Appeal First Appellate District San Francisco
Simmons and four other officers arrived at the scene and spoke with two people about whether they had heard gunshots nearby. These two people pointed to a boat in a driveway and said they saw flashes coming from the other side of the boat. Officers then approached the house and found a spent .45 caliber shell casing on the ground near the top of the driveway near the garage.
About a minute later, a man named Joshua Bazan walked out of the backyard of the house. Simmons recognized Bazan and knew he did not live at this home. As he came toward police, he started yelling obscenities at police and tried to fight the police. Officers arrested Bazan and put him in the patrol car.
After Bazan's arrest, Simmons found two more spent casings behind the open gate that Bazan had emerged from. Simmons then pounded loudly on a door attached to garage and announced the police presence. No one responded, but Simmons and his officers heard someone inside placing items next to the door, apparently trying to barricade the door.
As officers were doing this, police saw a man inside, later identified as Sergio Castillo, inside the garage and ordered him to open up the door to the garage. Castillo told police that the door at issue did not lead to the garage, but to a separate bedroom.
Officers then knocked on the front door to the main house and asked if anyone had been shot. Adan Rubio's father, Francisco Rubio, answered the door and said no. Francisco then let police search the inside of the house, according to the police.

Once inside the house, police asked who lived inside the garage and Francisco said his son, Adan Rubio, did. Police then asked Francisco for permission to search the garage and Francisco said "sure." As police were trying to get inside the garage, Adan Rubio exited the garage.
Adan Rubio approached the officers with his hands in his pockets, yelling for the officer to shoot him. Simmons repeatedly told Rubio to show his hands. As he did so, he threw a key ring into a kitchen sink. Officers then arrested Rubio.
Officers then attempted to use the key that Rubio had thrown out to enter the garage. The key did not work, so Simmons and another officer kicked open the door to the garage to see if anyone had been shot inside. They found that the room was indeed a living quarters and saw a .45 caliber Smith & Wesson handgun in open view. They also saw that the door they had tried to open earlier was indeed barricaded by furniture.
Officers then left and got a search warrant to search the residence and found more ammunition, more firearms and a plastic twist-off bindle in a shot glass with rock cocaine inside.
Adan Rubio was then charged and convicted of felony possession of a controlled substance with a firearm. Before being convicted, he filed a motion to suppress evidence that the judge denied, citing the emergency aid doctrine of the community caretaking exception to the Fourth Amendment. The judge then sentenced Rubio to three years of formal probation including nine months in county jail or a residential drug treatment facility.
On appeal to the First Appellate District in Sacramento, the First Appellate Court affirmed the trial court (People v. Adan Rubio (2019 DJDAR 6747)), explaining that under the community caretaking exception "circumstances short of a perceived emergency can justify a warrantless entry into a home" People v. Ray (1999) 21 Cal.4th 464, at 473. Police were authorized to enter to see if anyone inside might be injured, disabled or unable to obtain help and to determine if a burglary had taken place or was in progress.
Here, the First Appellate Court found, the totality of the circumstances supported such a warrantless entry that later led to a warrant and the search that found the drugs.
We present this summary to the reader because the community caretaking exception is commonly used in high-crime areas and in situations of domestic violence, leading to unexpected search and seizures of items not even associated with the original concern, but this can be legal.
The citation for the First Appellate District Court ruling discussed above is People v. Alan Rubio (1st App. Dist., 2019) 43 Cal.App.5th 342.

For more information about the warrant requirement under the Fourth Amendment, please click on the following articles:
Contact us.