What Is the Battered Woman's Syndrome in Domestic Violence?
If you or a loved one is facing a charge of domestic violence, the police, your attorney or the prosecutor may have mentioned that the victim displayed symptoms of the "Battered Woman Syndrome." What is this? Is it a defense?
The Reader's Digest Version: The "Battered Woman's Syndrome" is a sad emotional / psychological condition developed usually after long-term, serious domestic abuse (either physical and/or mental) wherein a woman will blame herself for the abuse and defend her husband, begging police not to arrest him.

Battered Woman Syndrome (BWS) is a mental disorder of learned helplessness that develops in victims of long-term domestic violence (either physical or psychological, or both) from serious, long term abuse. It is similar to post-traumatic stress disorder (PTSD). It was first recognized as a syndrome or mental condition in the 1970's.
It is quite commonly discussed, as domestic violence is depressingly common, especially in certain ethnic groups and in certain socio-economic groups. According to the Center for Disease Control and Prevention, as well as the National Institute of Justice, one in four women has experienced domestic violence during her lifetime. Such violence can be fatal, according to statistics that 30% of all murders of women are caused by a spouse or intimate partner. In contrast, 10% of all murders of men are caused by a spouse or intimate partner.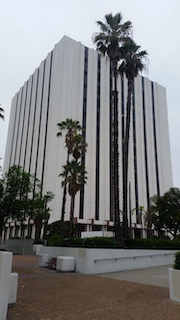 Compton Courthouse
It is relevant in domestic violence cases for prosecutors to disregard a victim's denial of abuse, for example, when a neighbor or child reports a domestic violence event and police arrive. The victim will deny there was any abuse and may even explain that she deserved the punch, kick or push resulting in injuries. The same woman may then call the police and/or prosecutor over and over begging the police and/or prosecutor to drop the case because her husband or boyfriend is a very good person and she misbehaved.
This is quite common in domestic cases we often see. Prosecutors will support such a theory when the wife is financially dependent on the husband, which is common is some arranged marriages we see that involve a young couple coming to the United States for work for the husband, but then the wife remains at home, often with a young child. The wife has nowhere to turn and no support system of friends or family in the United States.
It is also relevant as a defense in 39 of 50 states (as of 2000) to explain why a battered woman exploded in anger at her husband or boyfriend, often killing him, after suffering years or even decades of mental and/or physical abuse. Such a defense is premised on justification or excuse.
This defense is sometimes invoked by men in domestic violence cases, too. Increasingly, women are committing more and more domestic violence, statistics show.
Feminists detest the use of BWS as a defense for a woman because it suggests women are irrational sufferers of a mental disorder incapable of self-control or choosing a lawful response (such as men might) by just leaving the husband or requesting a divorce. Feminists will be quick to agree that there is a gender hierarchy in marriage and that women are lower than men on such a hierarchy.
Dr. Leanne Walker is known as "the Mother of BWS." She has done perhaps the most research on women's psychological response to abuse. In one of her most-well known studies, involving 400 victims of domestic abuse and interviews with each over six to eight hours, she has addressed why such victims do not simply leave the relationship. She has theorized that in long-term domestic violence situations, the couple engages in a cycle of abuse that is both predictable and repetitious, like the hands of a clock turning around and around.
First, there will be a tension-building phase where there will be minor arguments, verbal threats and emotional outbursts in which the abused spouse (this can be a man or woman, really) is hyper-vigilant to the abuser spouse's mood and happiness level and changes her behavior to decrease the stress and threats.
Second, there will be a battering incident, which can be serious when the batterer spouse erupts in anger and savagely hurts his wife or girlfriend.
Third and finally, there is the loving contrition stage wherein both spouses can't stop being affectionate to each other. The batterer spouse may be charming and buy flowers for the other spouse, take her on a vacation, etc., to show his remorse. The batterer spouse may even promise never to ever hurt his wife again, but then stage one begins again and the cycle predictably repeats itself.
Our office has seen BWS many times, even with males who are victims, but more often than not, prosecutors are eager to apply the label when it often does not fit.
For more information about domestic violence issues, please click on the following articles:
Contact us.