What Is Pre-Trial Diversion under Penal Code § 1001.1?
In Los Angeles County, judicial diversion under AB 2124 (Penal Code §§ 1001.94 to 1001.98) ended on December 31, 2017. When this happened, there were concerns that first-time defendants facing most misdemeanors would suffer the scaring effects of a criminal conviction that judicial diversion prevented.
That concern was appeased in large part by the widespread active use of pre-trial diversion under Penal Code §§ 1001.1 to 1001.9. These statutory provisions permit a judge to allow a delay in prosecution with an offer to terminate prosecution if defendant fulfills certain obligations set by the court, such as attending drug treatment classes, completing a shoplifting prevention class, attending anger management classes, paying restitution to a victim and / or performing community service (i.e. graffiti removal, trash pick-up, park maintenance, beach clean-up, etc.).
The Reader's Digest Version: Pre-trial diversion under Penal Code §§ 1001.1 to 1001.9 is being used more now that judicial diversion ended on December 31, 2017. However, its use is less active than judicial diversion was used, perhaps because Mental Disorder Diversion (also called Mental Health Diversion) became available under Penal Code § 1001.36 effective July, 2018.

To be eligible for this program, defendant must waive his or her Sixth Amendment right to a speedy trial and usually also the right to a jury trial
.
The attractive benefit of this program is that it is considered a "pre-plea" program insofar as defendant is not required to enter a plea of "no contest" or "guilty" to participate in the program. Penal Code § 1001.3.

This has significant benefits for one facing possible immigration consequences under federal immigration law, wherein even a plea (but no judgement) of no contest or guilty is deemed a confession. Judicial diversion under AB2124, for example, required a guilty or no contest plea to be eligible for the program.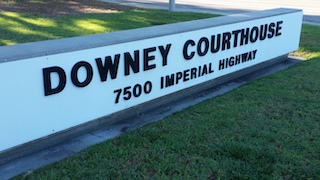 Downey Courthouse
Not all cases are eligible for diversion under Penal Code § 1001.1. Under Penal Code § 1001.2, it is stated that a prosecution for misdemeanor DUI under Vehicle Code § 23152 or § 23153, or any alcohol-related offense (possibly public intoxication under Penal Code § 647(f)), is not entitled to this program. Public intoxication, is should be noted, may be eligible instead for diversion under Prop 36.
The obligations crafted by the judge will vary by the type of case at issue. Quite often, the judge will ask the prosecutor is he or she discussed recommendations on this issue with defense counsel, so it is a good idea to have such a discussion prior to requesting this form of diversion.

For example, in a shoplifting case, if the amount at issue is fairly low (under $100), the judge may only require that the defendant complete a shoplifting prevention course (possibly even online), pay the civil recovery fee if demanded by the store and perform 20 hours of community service, as well as stay away from the store or mall for one year.

Similarly, if the defendant is charged with a drug offense that is a misdemeanor, the court may order that the individual complete a six-month outpatient treatment program or attend 52 Narcotics Anonymous (NA) meetings, stay out of trouble for a year and perform 40 hours of community service.
If the defendant fulfills all these requirements and stays out of trouble for year, the judge should grant the prosecution's motion to dismiss the complaint. The Department of Justice (DOJ) will always be able to see that the case was "diverted" under Penal Code § 1001.1, but under Penal Code § 1001.9, when a defendant successfully completes the program, the judge "shall" issue an order under Penal Code § 851.96 to seal the arrest with the DOJ. This means the record of the arrest at least will not be visible on one's Livescan, but it may still be visible to law enforcement, for example if one were to later apply for employment from a law enforcement agency. This can be of huge value to a defendant with an employer which periodically performs background checks using Livescan.
While diversion under Penal Code §§ 1001.1 to 1001.9 is certainly an option if the prosecution and the judge agree to this, defendant should not overlook the new mental disorder (also called mental health) diversion under Penal Code § 1001.36 and/or military diversion under Penal Code § 1001.80 (see also 1170.9) if the defendant is active duty or an armed forces veteran.
For more information about diversion, please click on the following articles:
Contact us.