What Is Collateral Estoppel and When Does It Apply?
You may have been in court and heard a judge or attorney talk about collateral estoppel. What is collateral estoppel? Was it mentioned in the context of the Fifth Amendment guaranty against double jeopardy, a probation violation or a Pitchess motion? Are there two criminal cases pending for one individual or one group of individuals in the same courthouse or different courthouses? This is how collateral estoppel most often arises.
In a Nutshell: Collateral estoppel is preclusion of an issue from because it has already been ruled upon with all the same parties involved and considering all the same facts in another case. It is a principal meant to prevent inconsistent rulings on the same issue when one judge already ruled on the issue and all parties participated in the first ruling.

Our office has successfully invoked the concept of collateral estoppel in the context of double jeopardy when our client was punished with sixty days in jail for a probation violation in Washington state (after his probation had been transferred there) and his case was transferred back to Los Angeles County for a second probation violation hearing. We argued that the second probation violation hearing was barred on grounds of collateral estoppel since the second hearing was for the same alleged conduct and the judge agreed, dismissing the second probation violation hearing.
Collateral estoppel is best understood as a legal bar or stop to having one issue decided one way in one action and another way in a second action when the same parties are involved. It is a principal meant to ensure consistency between rulings. Put another way, when issues are litigated in one action, meaning a judge makes a ruling and the same evidence and parties are involved, that ruling can apply to another action. This principal is called collateral estoppel, or issue preclusion.
Collateral estoppel is a broad concept. A narrower type of issue preclusion you also may have heard mentioned in court is res judicata. What does this mean? Res judicata is a Latin phrase meaning "it is already decided." Res judicata applies to judgements only, not all issues. Res judicata means that "a prior judgement is a bar in a new action on the same causes of action."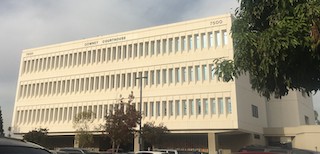 Downey Courthouse
Res judicata can mean that even in a new case with different causes of action, a prior judgment can have an effect or control the outcome in the new case due to issue preclusion (collateral estoppel). People v. Gephart (1979) 93 Cal.App.3d 989, 997.
Collateral estoppel is alleged more often in criminal cases than res judicata because it applies to issues that have previously been decided. See People v. Vogel (2007) 148 Cal.App.4th 131; People v. Gephart, supra.

For example, if a prior prosecution resulted in a verdict, a plea of a former judgment of conviction or acquittal is often raised. Penal Code §§ 1016(4) and 1017(3)-(4). If a defense attorney wishes to raise the defense of collateral estoppel or res judicata and the former proceeding did not result in either an acquittal or a conviction, defense counsel can raise the defense through filing a demurrer (under Penal Code § 1004(f)) or filing a motion to dismiss (see Lockwood v. Superior Court (1984) 160 Cal.App.3d 667, 670 (collateral estoppel defense raised at preliminary hearing and again in non-statutory motion to dismiss in superior court)).
Collateral estoppel applies only if the following threshold requirements are met (Lucido v. Superior Court (1990) 51 Cal.3d 335, 341; People v. Vizcarra (2015) 236 Cal.App.4th 429):
The issue sought to be precluded from re-litigation is identical to that decided in a former proceeding;
The issue was actually litigated in a former proceeding;
The issue was necessarily decided in a former proceeding (see, e.g., People v. Prock (2014) 225 Cal.App.4th 812, 818 (collateral estoppel did not bar prosecutor from arguing that defendant was guilty of second degree murder because he planned the killing, when acquittal of first degree murder was not a factual finding that defendant acted without planning or premeditation);
The decision of the former proceeding was final and on the merits (see People v. Burns (2011) 198 Cal.App.4th 726, 733); and
The party against whom the preclusion is sought is the same as, or was in privity with the party in the former proceeding.

A judge will still consider public policy principals of a defendant's right to a fair trial even if all these requirements are met. For example, a finding that defendant was not in violation of probation at a revocation hearing will not prevent a subsequent trial for an offense related to the same conduct. People v. Ochoa (2011) 191 Cal.App.4th 664; see also People v. Quarterman (2012) 202 Cal.App.4th 128). Likewise, the acquittal of one accomplice or co-conspirator does not bar conviction of another. Standefer v. U.S. (1980) 447 U.S. 10, 100 S. Ct. 199.
For more information about double jeopardy issues, please click on the following articles:
Contact us.