What Is Business & Professions Code § 2052? Punishment?
California Business & Professions Code § 2052 makes it a crime to engage in the unlicensed practice of medicine. This offense can be charged as a felony or a misdemeanor, depending upon the case facts (especially is someone is injured), the suspect's prior criminal history, if any, and the prosecutor's discretion.
Regardless of whether the crime is charged as a felony or a misdemeanor, the prosecution must prove that someone: 1) practiced, attempted to practice or advertised oneself as practicing any type of system for treating illness or the afflicted; 2) diagnosing, treating, operating on or prescribing for any physical or mental condition; and 3) engaging in a conspiracy to, or aiding and abetting, someone else to do these things.
The Reader's Digest Version: The unlicensed practice of medicine is codified as a crime at Business & Professions Code § 2052. It is a wobbler, meaning it can be charged as a felony or a misdemeanor, depending upon the case facts and the suspect's criminal history. The crime often takes place in immigrant communities. When the conduct is also charged with a more specific Penal Code section, that statute is usually used in charging, not 2052.

In today's day and age, with physical and mental health being so highly valued, this crime is committed with surprising frequency, yet it is not prosecuted too often. "Alternative medicine" is in vogue nowadays, especially in certain areas of Los Angeles.

For example, it would be a crime for a palm reader to advertise that he or she can treat one's anxiety disorder, or PTSD, through regular meetings. It would be a crime for a sobador (Hispanic massage therapist) to advertise himself or herself as being able to treat back pain unless the sobador was a licensed massage therapist or physical therapist by the State of California. It could also be a crime to own an unlicensed medical or adult use (or both) marijuana dispensary, even if the owner never saw "clients," as part of a conspiracy or as an aider and abettor to the operators of the clinic, as the linked article below describes.
The defenses to being charged with this offense are fairly straightforward. One may argue that he or she never practiced or attempted to practice medicine to treat an illness or bodily problem in someone. This may be belied by a video from an undercover police officer who participated in a sting operation wherein defendant did precisely this. The video may show our client diagnosing a "patient's" condition, perhaps even treating it. In significant cases, which one often hears about on the news, defendant may be caught operating on someone, i.e. performing dentistry.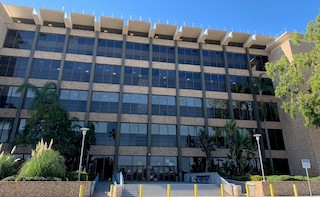 Torrance Courthouse
If one is charged with advertising oneself as offering a system to treat illness or a bodily problem, one's defense (if true) may be that the advertisement refers to someone else and not defendant.

If the prosecution alleges someone engaged in a conspiracy to commit the unlicensed practice of medicine, or aided and abetted this, perhaps by being the landlord, the client may present a lease wherein the tenant misrepresented the intended purpose of the business leasing space from the landlord.
Punishment for violation of section 2052 as a misdemeanor is up to a year in county jail and up to a $1,000 fine. If there are medical expenses that someone paid to defendant, it is likely that he or she would have to pay back the entire amount, even if the patient actually derived some benefit from defendant's treatment. This is so because defendant lacked a license to do what he or she engaged in under the representation that he or she was licensed and qualified to do so. There is no "quantum meruit" (benefit given) payment that defendant can retain.
Punishment for a felony violation of section 2052 is punishable by up to three years in state prison, which would probably mean county jail (this depends on the client's criminal history) and up to a fine of $10,000. Punishment would also include payment of restitution to any victims who had to have further corrective medical procedures to fix any injuries or damage defendant caused.

For both a felony and misdemeanor violation of § 2052, probation is something your attorney should seek to negotiate. Restitution, it should be noted, must be paid in full for one to later seek expungement of the conviction if a probationary sentence was negotiated.

Likewise, restitution must be paid in full for one to request reduction of the felony conviction to a misdemeanor.