What is a Writ of Coram Nobis? What is Required in It?
Summary in 50 Words or Less: A petition for writ of corum nobis asks the trial court to reconsider a verdict when there is some new fact that is relevant to the verdict and was not available at the time of trial even with reasonably diligent efforts by defendant to investigate or find this.

A petition for writ of error coram nobis, as provided at Penal Code § 1265(a), is often thought of as a motion to vacate a judgment. Many coram nobis writs deal with improperly obtained guilty pleas. It does this by a request for the judge to reconsider a verdict when:
Some fact existed that, without any fault or negligence by the defendant, was not presented to the court at or before trial and that if presented would have prevented the rendition of the judgment;
This newly discovered fact must not go to the merits of the issues tried; and
This fact must be one that could not in the exercise of due diligence have been discovered earlier.
People v. Shipman (1965) 62 Cal.2d 226, 230; see also People v. Vasilyan (2009) 174 Cal.App.4th 443, 453.
The standard for review appears to be de novo, not for an abuse of discretion. People v. Welch (1964) 61 Cal.2d 786, 794-795, People v. Brady (1973) 30 Cal.App.3d 81, 86; and People v. Kennedy (1953) 116 Cal.App.2d 273, 274. This means the court reviews the arguments made and the merits of the argument already made from the beginning, with a blank slate ("tabla rosa").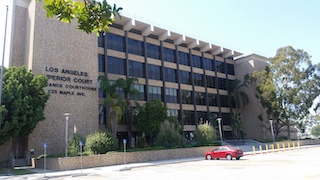 Torrance Courthouse
Such factual errors may include that defendant was insane, defendant was under the influence of drugs, defendant was a minor and did not have a guardian ad litem, or defendant pled guilty after being threatened. See, e.g; People v. Cortez (1970) 13 Cal.App.3d 317, 332 (district attorney erroneously promised that defendant would get mental health treatment after his guilty plea); People v. Welch, supra, at 786 (guilty plea in capital case vacated on discovery of defendant's massive brain damage); In re Azurin (2001) 87 Cal.App.4th 20 (coram nobis was appropriate vehicle for relief when defendant was not advised of immigration consequences of plea); People v. Esquibel (1975) 44 Cal.App.3d 591 (improperly obtained guilty plea).
The petition is not for challenging legal errors that may have taken place at trial.
The lack of effective aid of counsel, his misrepresentation of defendant, or failure to perform his duty also are not a basis for relief under a writ of error coram nobis." People v. Remling (4th Dist. 1956) 146 Cal.App.2d 476, 479.
However, a writ of error coram nobis may be used to challenge a prior conviction used to enhance a sentence if defendant's prior conviction resulted from a guilty plea induced by misstatement of the judge or prosecutor (duress or fraud) or significant new evidence come to light after the judgement. See People v. Goodrum (1991) 228 Cal.App.3d 397.

If the judgement has been affirmed on appeal, a writ of error coram nobis must be filed in the appellate court (and is called coram vobis). Penal Code § 1265(a). The writ of error coram vobis permits the appellate court to command a trial court to reconsider the decision in light of evidence discovered during the pendency of an appeal (Betz v. Pankow (1993) 16 Cal.App.4th 931, 941) or after the appeal is over.

A writ of error coram nobis is generally associated with a filing in the trial court to vacate a judgment that issued the judgment. People v. Welch, supra, at 790.
A writ of error coram nobis may be filed after the time for filing a motion for new trial, a motion to withdraw a plea or an appeal have lapsed. See, e.g., People v. Gallardo (2000) 77 Cal.App.4th 971; People v. Cortez (1970) 13 Cal.App.3d 317. However, the petition may be denied for undue delay in bringing it after knowing of the need and for delay in developing the facts. People v. Kim (2009) 45 Cal.4th 1078, 1098.
Although the grounds on which coram nobis are available are very limited, it is an important alternative because, unlike habeas corpus, coram nobis has no requirement that the petitioner still be in custody when the petition is filed. People v. Kim, supra, at 1104.

For more information about issues, please click on the following articles: