What is a Substantial Step for a Hobbs Act Robbery?
Mr. Monico Dominguez was convicted attempted robbery in violation of 18 U.S.C. §§ 1951(a) (the "Hobbs Act") after Dominguez aborted his planned robbery of the Garda Cash Logistics armored car facility in Santa Rosa, California by turning around en-route when he saw police activity near the Garda building.
Brief Synopsis: A substantial step for a Hobbs Act robbery requires that defendant intend to commit the crime and take steps that so beyond mere preparation, i.e., donning gear to commit the robbery, like a bullet-proof vest, and driving toward the target.

Mr. Dominguez was convicted of many other crimes, including a successful armed robbery of the same facility about a year earlier (in August 2011) wherein he and another thief made off with $900,000 in cash and two guns. During that heist, Dominguez and Milton Fierro used an AK-47 rifle and a handgun, masks and tied up two guards, ultimately getting access to a vault and the money.
After the first successful robbery, Dominguez talked to his friend, Kevin Jensen, about the theft and offered him $100,000 to help him with another Garda robbery, this time of a Garda armored car.
Jensen then found out that the FBI was offering a $100,000 reward for information about the previous year's robbery, so he contacted the FBI and became a confidential informant.
As planned by Dominguez, in August 2012, he and Jensen drove toward the Garda warehouse intending to hold up the guards manning an armored car. Dominguez was armed with a .357 revolver.
Jensen, however, had tipped off the FBI and they, with local law enforcement, staged a fake crime scene near the warehouse to make it difficult for Dominguez to get too close. Jensen then called Dominguez about the situation and Dominguez called off the robbery when he was about a block away and turned around. He was then arrested the following day and charged with the Hobbs Act robbery from 2011 and an attempted Hobbs Act of the armored car, as well as possession of a firearm in furtherance of both crimes, conspiracy, money laundering and structuring transactions.

Dominguez went to trial on the charges and was convicted on ten counts. The district court judge imposed a prison sentence totaling 384 months (32 years) in federal prison.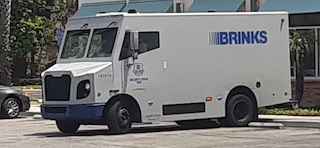 Brinks Truck
Dominguez appealed the conviction on many grounds, but this article will limit its scope to whether attempted robbery is a crime of violence under 18 U.S.C. § 924(c)(3), the federal Armed Career Criminal Act (ACCA), which carried with it a mandatory term of at least fifteen years in federal prison.
The U.S. Ninth Circuit Court of Appeals began its analysis by noting that a completed Hobbs Act robbery is a crime of violence under the ACCA. United States v. Mendez (9th Cir., 1993) 992 F.2d 1488, 1491.
The Ninth Circuit then distilled down the issue as being whether what Dominguez did was really an attempted robbery because when a substantive offense is a crime of violence, an attempt to commit that offense is a crime of violence. See United States v. Ingram (7th Cir., 2020) 947 F.3d 1021; United States v. St. Hubert (11th Cir., 2018) 909 F.3d 335; and Hill v. United States (7th Cir., 2017) 877 F.3d 717. As stated in St. Hubert an attempted Hobbs Act robbery is a crime of violence because its commission requires proof of both the specific intent to complete the crime of violence, and a substantial step actually (not theoretically) taken toward its completion.

The Eleventh Circuit, in St. Hubert, held that it did not matter that the substantial step be it donning gloves and a mask before walking into a bank with a gun, or buying legal chemicals with which to make a bomb – it not itself a violent act or even a crime. What matters is that the defendant specifically intended to commit a crime of violence and took a substantial step toward committing it.
The next issue was whether Dominguez's turning around his car a block away from the Garda facility was a substantial step because it if was not, then he could not be convicted of an attempted Hobbs robbery.

The Ninth Circuit noted that his actions went beyond mere preparation and strongly corroborated his criminal intent. He organized the attempt, geared up in dark clothing, dressed in body armor, packed weapons and drove toward the warehouse, even confirming the code to the lock on the warehouse where the armored car would be stored after the robbery. He was not tentative and unfocused. Moreover, he really never had a change of heart about the robbery. He only turned around because of the law enforcement presence.

Consequently, his conviction for an attempted Hobbs robbery was affirmed.

The citation for the United States Court of Appeals ruling for the Ninth District discussed above is United States v. Monico Dominguez (9th Cir., 2020) 954 F.3d 1251.

For more information about robbery, please click on the following articles: