What is a Conviction Affecting a Professional License?
A conviction within the meaning of the Business and Professions Code §§ 480(a)(1) and 490 that is sufficient to trigger discipline of one with a State of California professional license is "a plea or verdict of guilty or a conviction following a plea of nolo contendere." A nolo contendere plea is the same as a no contest plea. This section applies only to misdemeanors and felonies.

Except for specifically enumerated Vehicle Code violations, a misdemeanor reduced to an infraction under Penal Code § 17(d) is not a ground for the suspension, revocation or denial of a any license. Penal Code § 19.8. However, it should be noted that the medical license application instructs applicants to disclose citations and infractions in addition to felony and misdemeanor convictions.
The Gist of this Article: A conviction that affects a professional license can be any felony or a misdemeanor involving conduct that is "substantially related to the duties, qualifications or functions of the profession."

When a professional license is afforded diversion, deferred entry of judgment (DEJ) or Prop 36 post-conviction drug treatment – and completes diversion, DEJ or Prop 36 – the licensing agency may not deny a license or impose discipline based on the underlying offense.

However, there are certain exceptions, i.e., DEJ for a violation of Health & Safety Code § 11368 (use of a forged prescription) does not prevent a licensing agency from taking disciplinary action (Penal Code § 1000(d)).

It is also important to know that even if someone successfully completes Prop 36, disclosure is required for professional license applications (Penal Code § 1210.1(e)(3)). However, under § 1210.1(e)(3), such disclosure does not mean the conviction is grounds for denial of a license application or discipline, as the section states "a record pertaining to an arrest or conviction resulting in successful completion of a drug treatment program under this section may not, without defendant's consent, be used in any way that could result in the denial of any employment, benefit, license or certificate."
Otherwise, the Business and Professions Code provides that a licensing board my act on a conviction "when the time for appeal has elapsed, or the judgment of conviction has been affirmed on appeal, or when an order granting probation is made . . . irrespective of an order later made under 1203.4 [expungement], 1203.4a [expungement of an infraction], 1203.41 [expungement for those sent to jail for felonies] of the Penal Code."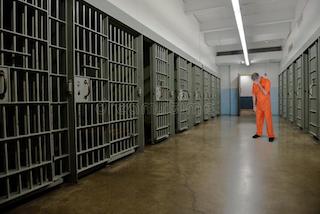 Prison
There are three exceptions to this general provision of waiting until the time for appeal has elapsed. First, for attorneys, Business & Professions Code § 6102(a) provides that attorneys can be suspended until the time for appeal has lapsed or until the judgment on appeal has been affirmed (or reversed) for any crime of moral turpitude. Teaching credentials, under Education Code § 44425, may be immediately suspended after a conviction for a sex offense pending appeal. Lastly, a medical doctor may be suspended automatically, under Business & Professions Code § 2236.1, immediately after a felony conviction that is substantially related to the qualifications, duties or functions of a physician.
The following list are examples of findings that a conviction was "substantially related" to the qualifications, functions or duties of a licensed profession:
Medi-Cal fraud by a dentist (Hanna v. Dental Bd. of Cal. (2012) 212 Cal.App.4th 759);
A physician's conviction for federal income tax evasion (Windham v. Board of Med. Quality Assur. (1980) 104 Cal.App.3d 461);
An attorney's repeated acts of alcohol-induced violence and possession of a concealed gun (In re Hickey (1990) 50 Cal.3d 571);
Child molestation by a lawyer (In re Lesansky (2001) 25 Cal.4th 11);
A real estate licensee's conviction for willful infliction of corporal injury on his cohabitant / mother of his child (Donley v. Davi (2009) 180 Cal.App.4th 447);
A real estate broker's conviction for violation of fire protection and prevention provisions of the building code (Robbins v. Davi (2009) 175 Cal.App.4th 118);
A real estate broker's conviction for possession of marijuana for sale involving transportation of a substantial amount of marijuana from Mexico to California by private plane (Golde v. Fox (1979) 98 Cal.App.3d 167); and
Child molestation by a real estate licensee (Jennings v. Karpe (1974) 36 Cal.App.3d 709).
The following are examples of cases in which courts found no substantial relationship justifying discipline or suspension, revocation or denial of a license:
A car dealer's misdemeanor conviction for annoying or molesting a child (Brewer v. DMV (1979) 93 Cal.App.3d 358);
A chiropractor's misdemeanor conviction for willfully residing in a house of ill repute (Cartwright v. Board of Chiropractic Exam'rs (1976) 16 Cal.3d 762);
A lawyer's conviction for acts of civil disobedience, coupled with his active participation in nine different fistfights over the years (Hallihan v. Committee of Bar Exam'rs (1966) 65 Cal.2d 447);
A real estate salesperson's conviction for misdemeanor unlawful intercourse with a minor (Donaldson v. Department of Real Estate (2005) 134 Cal.App.4th 948);
A real estate broker's misdemeanor conviction for making a false statement to obtain unemployment benefits (Pieri v. Fox (1979) 96 Cal.App.3d 802); and
A real estate broker's felony conviction for introducing parties to a drug deal (Brandt v. Fox (1979) 90 Cal.App.3d 737).

For more information about criminal cases affecting a professional license, please click on the following articles:
Contact us.