Theft of a Rental Car and Location Privacy Rights
The issue of police placing a GPS tracking device on a suspected drug dealer's car without a warrant raised constitutional privacy violation arguments. However, if the car is being driven on public roads and is visible to anyone else in public, is the Fourth Amendment's guarantee against an unlawful search without a warrant into an area where one has a reasonable expectation of privacy really violated?
A similar issue arose in the federal case of Jay Yang and his driving of a rental car being used in a crime days after the rental car was supposed to be returned.

Summary in 50 Words or Less: The Fourth Amendment is not violated if police use a photo of a car on public roads to find a car, especially when it is a rental car that was not returned and the search takes place after the return date.

The case arose in Las Vegas, Nevada and the U.S. Ninth Circuit Court of Appeals ruled on his privacy arguments. Its ruling, since California is part of the Ninth Circuit, is controlling to California cases.
Mr. Yang rented a GMC Yukon from Prestige Motors in Las Vegas, Nevada. He was supposed to return it on April 1, 2016, but did not.

Five days later, on April 6, 2016, the U.S. Postal Service Inspection Service received a report that mail theft was taking place at the Summerlin Post Office in Las Vegas. U.S. Postal Inspector Justin Steele reviewed video surveillance footage that showed a person engaging in "fishing," a method of stealing mail from a mailbox by lowering an object with adhesive or some other type of grasping mechanism into a mailbox and then retrieving mail from the box by pulling it out with this object.
The surveillance footage showed at 2:17 a.m. on April 5, 2016 that a slim Asian or white male exited a dark colored GMC Yukon and placed a fishing device into the collection box. Although the April 5th video showed the individual losing his fishing device in the collection box, video footage from the next three days showed the same individual using a fishing device to pull out mail.
The video did not capture a discernable license plate for the Yukon. On April 7, however, the same individual was seen fishing again, but this time, he got out of a Budget Rental truck. On April 9, the same Yukon was seen and its license plate was identified.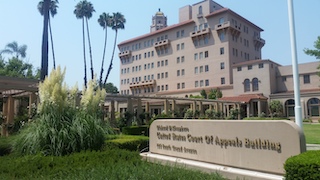 U.S. Ninth Circuit Court of Appeals Pasadena
The Postal Inspector then did a DMV records check for the Yukon and saw it was registered to Prestige Motors in Las Vegas. The same day, the Inspector visited Prestige Motors and found out that Jay Yang had rented the Yukon. The credit card used to rent the van was revealed to be stolen.
Prestige Motors then attempted to track the Yukon by activating a GPS unit on the car and to disable the car using a remote disabling device. However, Prestige learned that the GPS unit had been disabled and the remote disabling device did not work.

The Inspector also visited Budget Truck Rental and found out that the Budget Truck at issue was also rented by Jay Yang.
The Inspector then requested a vehicle detection report for the Yukon through a license plate location database called LEARN. The LEARN database was created and maintained by a private company called Vigilant Solutions. The LEARN database receives license plate images from digital cameras mounted on tow truck, repossession company and law enforcement vehicles.
The database, as of 2019, has over 6.5 million license plate scans and, according to its president, has four scans of every license plate on every car in the United States.
The LEARN database quickly identified the location of the Yukon in a locked and gated community in Las Vegas and police went there, getting access as police and finding not only the Yukon, but also the Budget Truck with fishing devices on the dashboard.
Police then obtained a search warrant and served it on the residence, finding stolen mail, fishing devices and a gun, as well as Jay Yang.

Yang was then charged in federal court with receiving stolen mail in violation of 18 U.S.C. § 1708 and being a felon in possession of a firearm, in violation of 18 U.S.C. §§ 922(g)(1) and 924(a)(2).
Yang filed a motion to suppress the evidence seized from his apartment and the statements he made to law enforcement on the basis that the search warrant relied upon illegally obtained information using ALPR technology and the LEARN system and that the Inspector's entrance into a gated community without a warrant was an illegal search as well.
The federal court denied the motion to suppress, explaining that the Yukon's license plate was only captured using images on public roads, no law enforcement officer placed a GPS device on his car and Yang did not have a reasonable expectation of privacy while driving on public roads.

The U.S. Ninth Circuit Court of Appeals then affirmed, analogizing the case to searches of a hotel room after a guest should have checked out. However, the court was deliberate in noting that "mere expiration of the rental period does not automatically end a lessee's expectation of privacy (United States v. Dorais (9th Cir., 2001) 241 F.3d 1124, 1129)). However, the rental contact for the car and the truck did notify Yang that vehicles not returned on time would be reported as stolen and investigation would commence, rather than merely charging a late fee. Thus, Yang had a lower expectation of privacy after the return date passed. Consequently, the motion to suppress denial was affirmed.

The citation for the U.S. Ninth Circuit Court of Appeals ruling discussed above is United States v. Jay Yang (9th Cir., 2020) 958 F. 3d 851.

For more information about the Fourth Amendment and one's travel history, please click on the following articles: