Warrantless Placement of GPS Tracker on Parolee's Car - OK?
In a Nutshell: Is the record of where someone drives their car a search and seizure? Does one have a reasonable expectation of privacy in such history if one drives always on public roads? If police put a GPS tracker on one's car to record this, is that lawful without a warrant? The following case said it was because the owner of the car was on parole, suggesting if he were not on parole it would be illegal.

It is well-understood that as a parolee, or even as someone on probation, that person may waive certain rights for the privilege of returning back to the community rather than remaining in prison or jail until the end of one's term. The most common right that is waived is one's Fourth Amendment right against unreasonable search and seizure. This is a "concession" by the parolee or the probationer to law enforcement's need to monitor or know what the person may have in his pockets, his car or his home to verify that the person has not relapsed into criminal conduct.
However, there are limits to such police management. This is especially true if police are using such power to search a parolee as a pretext to harass or annoy the parolee or probationer. People v. Bravo (1987) 43 Cal.3d. 600, 610, 238 Cal. Rptr. 282, 738 P.2d 336 (searches may not be undertaken for capricious reasons or due to personal animosity toward defendant). Searches must not be arbitrary, either. It must have some rehabilitative and reformative purpose or be for legitimate law enforcement purposes.

This bona-fide basis is also true insofar as courts have recognized new areas, particularly cell phones and using GPS to allow police to monitor the whereabouts of certain suspects, wherein a warrant may be required in certain circumstances with suspects who are not on probation or parole. In Riley v. California (2014) 573 U.S. 373, 386, for example, the United States Supreme Court held that the warrantless search of an arrestee's cell phone was unlawful because it was a significant privacy intrusion. However, Riley did not apply to parolees. United States v. Johnson (9th Cir. 2017) 875 F.3d 1265, at 1275.
Therefore, in light of Johnson, courts have struggled with whether it is lawful for law enforcement, without a warrant, to place a GPS tracker on a parolee's car to monitor the parolee's whereabouts. This would seem to be a significant privacy intrusion, but would it be permissible for a parolee without a warrant?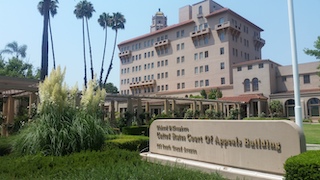 U.S. Ninth Circuit Court of Appeals Pasadena
This issue arose in the case of Kyle Korte in an appeal to the U.S. Court of Appeal for the Ninth Circuit in Pasadena (United States of America v. Kyle Jason Korte (2019 DJDAR 2156). Mr. Korte was on parole for bank robbery and as a condition of parole, had consented to searches "day or night, with or without a search warrant" of his person, residence and any property under his control.
In October, 2016, the Los Angeles Sheriff's Department began investigating a series of bank robberies while Korte was on parole. One attempted robbery took place on October 7, then another on October 16, and then again on October 27, he hit three banks. Working with the Federal Bureau of Investigation, the LASD began to suspect it was Mr. Korte robbing banks again.
On November 4, 2016, without a warrant or Korte's consent, the LASD placed a GPS tracking device on Korte's car and periodically monitored the vehicle's movements over the next six days. The same day, the FBI obtained a court order under the Stored Communications Act ("SCA"), 18 U.S.C. § 2703(d), to acquire Mr. Korte's historical cell site location information (CSLI). This information placed Korte's cell phone near three of the four banks at the time of the respective robberies.
The LASD then began to monitor Korte more closely and saw him parking in a bank parking lot. They saw him place something in his trunk and so they approached Korte and asked to search is trunk. In the trunk, they found the toy gun he had used to commit three of the recent bank robberies and the shirt he wore in the latest robbery. The LASD then arrested him.
A grand jury indicted Korte for one count of attempted bank robbery and three counts of bank robbery. In federal court, Korte moved to suppress the evidence found in his vehicle's trunk and the information derived from the GPS tracker, as well as his CSLI. The district court denied all three suppression motions, reasoning that Mr. Korte's parolee status permitted the warrantless search of this trunk and placement of the GPS tracker.
The case then went to trial and the jury returned a guilty verdict as to all four counts. The judge then sentenced Korte to 210 months in federal prison.
On appeal to the U.S. Ninth Circuit, the Ninth Circuit affirmed the rulings on the motions to suppress, finding that the use of the GPS tracker and getting CSLI data on Mr. Korte was permissible without a warrant due to his parolee status. The court cited to U.S. v. Johnson, supra, to extend such warrantless searches from cell phone data to GPS trackers and CSLI information as well.
The citation for the Ninth Circuit, U.S. Court of Appeal, ruling discussed above is United States of America v. Kyle Jason Korte (9th Cir., 2019) 918 F.3d 750.
Contact us.