What Evidence Sufficiently Shows Intent to Cause GBI?
As the reader of this article may be aware, a judicial finding of defendant's intent to cause great bodily injury (GBI) can disqualify one from resentencing under Proposition 36, the Three Strikes Reform Act.
The Gist of this Article: In reviewing a petition for resentencing under Prop 36, the judge may consider the circumstances of the crime at issue in deciding whether petition intended to cause great bodily injury (GBI) and therefore may be ineligible for resentencing of the "third strike" as a second strike instead, as the following case summary exemplifies.

How does a judge determine if defendant had the intent to cause great bodily harm?

If a jury found not true the special allegation that great bodily injury was inflicted, can a judge nonetheless find that defendant intended to cause great bodily injury? The answer is yes, but there must be certain facts that support such a finding.
The context of this analysis is important, so a bit of factual background is necessary first. On November 6, 2012, California voters passed the Three Strikes Reform Act to reduce the punishment to some third strike offenses that are neither violent nor serious and provided for discretionary resentencing in such cases for prisoners who are already serving sentences as a "Third Striker." People v. Johnson (2015) 61 Cal.4th 674, 679; Penal Code § 1170.26(b); People v. Perez (2018) 4 Cal.5th 1055, 1059.
However, not every inmate who is currently serving a third strike sentence for a nonserious, nonviolent felony is eligible for resentencing. Among other disqualifying factors, a petitioner is ineligible for resentencing if, "[d]uring the commission of the current offense, [he or she] used a firearm, was armed with a firearm or deadly weapon, or intended to cause great bodily injury to another person." People v. Estrada (2017) 3 Cal.5th 661, at 670.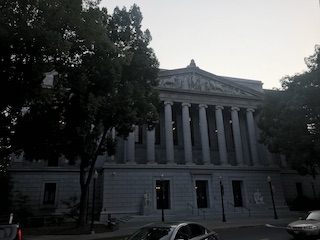 Court of Appeal Third Appellate District Sacramento
In determining Proposition 36 eligibility on a petition for recall and resentencing, a trial court makes findings of fact drawn from the entire record of the conviction and "is not limited by a review of the particular statutory offenses and enhancements of which petitioner was convicted." People v. Bradford (2014) 227 Cal.App.4th 1322, 1332.
It is against the background that Raynould Thomas sought resentencing from the downtown Los Angeles trial court judge (Judge William Ryan) for a conviction for a conviction for battery with serious bodily injury (Penal Code § 243(d)), but wherein the jury found not true an allegation under Penal Code § 12022.7(a) that Thomas inflicted great bodily injury on the victim. The jury found that Thomas had four prior strike convictions and the judge sentenced Thomas to an indeterminate sentence of 25 years to life under the Three Strikes Law.
The underlying facts were that Thomas and his girlfriend, in 2001, has spent the night at the apartment of their friend, Alton Chillious. The next day, Thomas asked Chillious if he could spend another night there, Chillious said no.

This apparently did not sit well with Thomas and he started raising his voice "and pacing the floor." As Chillious was removing his jacket from a closet, Thomas suddenly hit him hard on the left side of his jaw, knocking him into the closet door and then to the ground in pain.

While Chillious was still down, Thomas punched him again on the right side of his jaw. When Chillious felt his jaw, he could feel that a tooth had come loose.
As Chillious was laying on the ground, Thomas stood over him for a few minutes, still angry.
It merits mention that before Thomas hit Chillious, Chillious had not challenged Thomas to a fight.
Chillious then went to the hospital and it was discovered that his jaw was broken in two places. He underwent surgery, in which screws and plates were inserted into his jaw. His jaw was then wired shut. Over the next month, Chillious lost 20 pounds and the attack left him with permanent never damage.
The trial court judge denied Thomas' request for resentencing under Proposition 36, finding that despite the not true finding by the jury that Thomas caused great bodily injury, the judge found that Thomas intended to cause great bodily injury to the victim.
Thomas appealed this ruling to the Second Appellate District, which affirmed Judge Ryan. The Second Appellate District, sitting in downtown Los Angeles, inferred an intent to commit great bodily injury based on the evidence of the circumstances of the attack, including the manner in which the attack was done. It cited to People v. Phillips (1989) 208 Cal.App.2d 1120, at 1124 and People v. Guilford (2014) 228 Cal.App.4th 651 as cases wherein this type of analysis was proper despite the not true finding reached by the jury on causing great bodily injury.
Here, the Second Appellate District found it quite determinative that Thomas "cold-cocked" Chillious without any warning and then hit him a second time after Chillious had already fallen to the floor. Thomas then stood over Chillious for several minutes, apparently still very angry and then left. The appellate court found this proof of circumstances showing an intent to cause great bodily injury.
The citation for the Second Appellate District Court ruling discussed above is People v. Raynould Thomas (2d App. Dist., 2019) 39 Cal.App.5th 930.

For more information about great bodily injury, please click on the following articles:

Is a Three-Year Great Bodily Injury Sentence Enhancement Proper for a Dislocated Finger Sustained by Victim During a Robbery and Kidnapping?
Drug Dealer Convicted of Manslaughter Can Be Sentenced for Other Charge for Great Bodily Injury Enhancement