What Can I Do to Keep Out a Confession or an Admission?
In responding to the question posed in the title of this article, it is first important to understand that besides the issues triggered under the Fourth, Fifth, Sixth and Fourteenth Amendments, there is a difference between a confession and an admission. While both are inculpatory, meaning they can establish criminal guilt, they are usually offered in a naïve attempt to be exculpatory or to demonstrate cooperation with law enforcement, but in fact end up making guilt absolute.
Why This Article Matters: A confession is distinguishable from a mere admission and knowing the difference is important in evaluating evidentiary issues (especially hearsay and authentication), as well as constitutional violations involving the Fourth Amendment and Fifth Amendment mostly. To carefully and properly evaluate all issues, have the statement recorded and transcribed.
A confession is a defendant's voluntary and knowing statement that constitutes a complete and express acknowledgement of facts needed to establish defendant's guilt of the crime charged. People v. Morse (1969) 70 Cal.2d 711, 721. Assuming there is independent (other) evidence of the crime that satisfies corpus delicti requirements (physical proof of a crime), a confession is by definition sufficient evidence to sustain a guilty verdict if believed by the jury. A confession may not be believed, however, if defendant can credibly explain of what was meant when making the statement, or give an exculpatory meaning to the statement by putting it in a different context than initially understood.
If the statement by defendant contains facts that amount to a claim of mitigation, justification or excuse, or otherwise fails to admit every element of the crime, it is only an admission. See People v. McClary (1977) 20 Cal.3d 218; People v. Maynarich (1978) 83 Cal.App.3d 476, 481 (defendant admitted stabbing, but claimed it was unintentional and the result of being drunk). It is far less than a confession, in other words.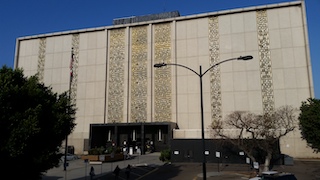 Norwalk Courthouse
Prosecutors, judges and even defense attorneys often mistakenly believe that a defendant's statement qualifies as an exception to the hearsay rule on if it contains an admission of guilt, but this is not true. Evidence Code § 1220 makes any party statement an exception to the hearsay rule if offered by the opposing party, but the statement must be relevant to be admitted. Evidence Code §§ 210, 350; People v. Carpenter (1999) 21 Cal.4th 1016, 1049. Relevance is usually obvious by what information is included in the statement, but § 1220's distinct two-step process should be followed, rather than combining both steps as is common.
Procedurally, such statements must be scrutinized to see if it was elicited in violation of the Fourth Amendment rules regarding search and seizure, reasonableness and warrants. Self-incrimination concerns are the most obvious issue under the Fifth Amendment. However, such a statement often also triggers Sixth Amendment right to counsel issues and Fourteenth Amendment issues relating to due process.
To further flush out the full array of issues, defense counsel should request a recording of the statement if it exists, as the recording may reveal police misconduct in eliciting the statement. Police will often describe a statement, for example, as a confession when in fact it is only an admission. The recording may also include other statements that provide context to the statement summarized, but the police report overlooks.
To be admissible, the statement must be relevant (Evidence Code § 350), properly authenticated (Evidence Code § 1400 – 1454) and come within some hearsay exception, usually Evidence Code § 1220. The statement must also have been obtained in a method that was not unconstitutional or otherwise illegal.
The most common arguments against admissibility of the statement are that defendant was not competent to make a voluntary statement,
Miranda
warnings were required but not given,
Miranda
warning were incorrectly given or an incorrect or incomplete waiver was obtained, the defendant's right to counsel was violated, the statement was obtained through mental or physical coercion, or the statement was elicited during an unlawful or prolonged detention, arrest or search.
For more information about evidentiary issues involving statements, please click on the following articles:
Confession Is Inadmissible When Probation Officer Promised Shorter Sentence If Probationer Waived Right to an Attorney
Defendant's Confession to Arson After Nine Hours of Police Questioning Is Admissible Despite No Miranda Warnings Because Defendant Always Free to Leave
Contact us.