When Is a Juvenile's Confession to Police Involuntary?
The use of an involuntary confession for any purpose in a delinquency proceeding violates a minor's rights under the Fourteenth Amendment to the U.S. Constitution.
Arizona v. Fulminenta
(1991) 499 U.S. 279.
Summary: Detective Use of "False Choice" Interrogation Technique of Juvenile Ruled Coercive; Confession Ruled Involuntary and Juvenile Adjudication Reversed.

However, determining whether a confession is involuntary or not is often difficult. The California Supreme has held that "the totality of the circumstances" surrounding the confession must be evaluated.
People v. Robertson
(1982) 33 Cal.3d 21, 39-40;
People v.Sanchez
(1969) 70 Cal.2d 562, 572. This includes the fact that a minor can indeed waive his constitutional rights.
People v. Lara
(1967) 67 Cal.2d 365, 390-391, but the minor's age, intelligence, education and ability to comprehend the meaning and effect of the confession must be considered as to whether it is a "knowing and intelligent" waiver of the minor's Fifth Amendment rights.
People v. Maestas
(1987) 194 Cal.App. 3d 1499, 1508.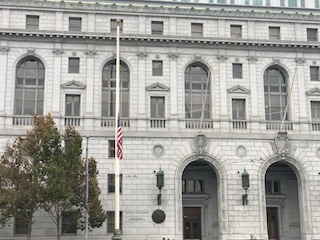 Court of Appeal Third Appellate District Sacramento
If the government wishes to introduce such a confession, it must show by a preponderance of the evidence that it was voluntary. Lego v. Twomey (1972) 404 U.S. 477, 489. The voluntariness depends on the characteristics of the accused and the details of the interrogation. Schneckloth v. Bustamonte (1973) 412 U.S. 218, 226. The judge can consider whether police conduct was coercive. Colorado v. Connelly (1986) 479 U.S. 157. "The exertion of any improper influence" by the police suffices. Hutto v. Ross (1976) 429 U.S. 28, 30.
These standards came into appellate review in the care of
People v. Elias V.
, a juvenile, on appeal (2015 DJDAR 6310). When he was thirteen, it was alleged that he committed a lewd and lascivious act upon a child, age 3, a violation of Penal Code § 288(a).
Elias V. and his friend, Hector T. lived in the same apartment complex. Elias and Hector often played video games together. Hector's sister was A.T., who was three years old.
One day, Elias and Hector were playing video games when A.T. came into the room and laid down near Elias, who was laying in a bed. Hector was laying on the floor. Hector's mom, Aurora, then came into the room and saw A.T. with her pants pulled half way down.
Aurora was horrified. She asked Elias what was going on and Elias told her that A.T. asked him to take off her pants to go to the bathroom. No one saw Elias touch A.T. in any inappropriate manner.
Aurora did not contact the police until seventeen days after alleged incident. This later became an issue because Elias's attorney claimed it was only after Aurora was served an unlawful detainer action to evict her and that Aurora contacted the police to halt the eviction. In response, Aurora claimed Elias's father supposedly talked to the landlord and encouraged him to evict Aurora and her family. Aurora was well known to be constantly drunk and loud.
Detective Buchignani then interrogated Elias about the case, but not until four months had passed. There were two more police officers present during the interrogation of the thirteen year old. The officers read Elias his
Miranda
rights, which Elias then waived.
Throughout the interview, in a small office at Elias's school, Buchignani repeatedly stated as a fact that Elias had touched A.T. in a sexual manner and that Elias needed help for his problem. Elias adamantly denied the repeated assertions that he had touched A.T. in an inappropriate manner at all.
Buchignani then suggested that maybe Elias touched A.T. "out of curiosity." Elias wanted the interview to end. After all, he was being held in a small office at his school, with three officers staring at him, and probably worried about what his peers were thinking was going on with him and the police. He then relented and agreed that he only touched her "out of curiosity."
At trial, Elias's attorney asked the judge to suppress this statement by Elias, arguing that it was involuntary and thus, inadmissible. The trial judge said no.
Elias's attorney then appealed to the First District Court of Appeal, which reversed the trial court. The court of appeal agreed that under the totality of the circumstances, the "false-choice" strategy employed by the detective was surely confusing for a thirteen year old. Moreover, the intense questioning of a young teenager in small office at school, by three detectives, no less, was "coercive" and made the statement involuntary. Thus, the adjudication against Elias (in juvenile court, a conviction is called an adjudication) was reversed.

The citation for the First Appellate District Court ruling discussed above is People v. Elias V. (In re Elias V.) (1st App. Dist., 2015) 237 Cal.App.4th 568.

For more information about the issues in this case, click on the following articles:
Confession is Inadmissible When Probation Officer Promised Shorter Sentence If Probation is Waived Right to An Attorney
Defendant's Confession to Arson After Nine Hours of Police Questioning is Admissible Despite No Miranda Warnings Because Defendant Always Free to Leave.
Contact us.