What Are Aggravating Factors in Sentencing? Examples?
"Aggravating factors" in sentencing are facts or circumstances about how the crime took place or about defendant that suggest the judge should sentence defendant to more punishment than the minimum or even mid-term allowed. Aggravating factors can include facts or circumstances that have a separate sentencing enhancement provided for by statute, i.e. under the Three Strikes Law, a prior violent felony, a prior prison sentence within the last five years or a high blood alcohol content in a DUI.
Brief Synopsis: Aggravating factors involve both facts about the crime and about defendant personally that suggest defendant should not be punished mildly. They include facts about how involved defendant was in the crime, as well as the vulnerability of the victim, if any, and the defendant's prior criminal history, gang involvement, age, cooperation with police (or lack thereof) and willingness to change.

The California Rules of Court, at Rule 4.421, lists factors in aggravation that a judge can consider in sentencing. It specifies that the judge can consider circumstances related to the crime itself and how it took place. These include, but are not limited to:
First, whether he crime involved great violence or bodily harm, or involved a high degree of cruelty. This obviously applies in a battery, assault with a deadly weapon, domestic violence, elder abuse, DUI and mayhem case, but it can also sadly be relevant in a sex offense.
Second, the judge can consider whether defendant was armed with or used a weapon during the commission of the crime. This also would be most commonly considered in a battery, domestic violence or sex case, but it certainly could be considered in a robbery case, attempted murder, murder, mayhem and elder abuse case.
Third, the judge can consider whether defendant induced others – including minors -- to participate in the commission of the crime. This is often an issue in any case involving gangs, drug sales, organized retail theft (a new crime in 2019), vandalism and even furnishing alcohol to a minor case.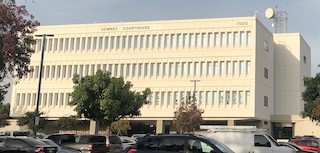 Downey Courthouse
Fourth, the judge can consider whether defendant threatened witnesses to the crime not to speak to the police or come to court. This may be an issue in a gang-related crime, criminal threats, or in domestic violence cases with defendant telling the victim not to cooperate with the police or to not come to court. It is actually a separate and distinct crime itself to threaten or intimidate a witness (Penal Code § 136.1(B)(1)), which can be charged as a felony or a misdemeanor.
Fifth, the judge can consider whether defendant took or destroyed something of high monetary value. This consideration naturally assumes that the defendant knew the high value of such an object or property before damaging it, i.e. in a vandalism case or spoliation of evidence case (Penal Code § 135).
Sixth, the judge can consider whether the crime involved a large quantity of contraband, i.e. in a receiving stolen property case, possession of child pornography, a drug sales case or sales of counterfeit items (Penal Code § 350) case. It could also apply to a felon in possession of a firearm, obviously if the felon had dozens of firearms and/or ammunition.
Seventh, the judge can consider whether the crime was a hate crime not punished by a hate crime sentencing enhancement. This can occur in almost any context when the prosecutor has a strong suspicion that the crime was committed by defendant based on the victim's race, ethnicity, religion or sexual preference, but there were insufficient facts at time of filing the case. This type of crime most commonly would be in a vandalism, battery, assault with a deadly weapon, mayhem, burglary, or, sadly, even a sex crime context.
The judge can then consider aggravating factors relating to defendant personally, which include, but are not limited to:
(1) Defendant engaged in violent conduct that indicates defendant is a serious danger to society. This may be a consideration when the crime was one of opportunity or impulse and defendant appears to have substance abuse issues that suggest he has poor impulse control.

(2) Defendant has prior convictions or prior convictions of increasing seriousness. This is common among young adults, especially those in gang-related crimes.

(3) Defendant was on probation or parole when the crime was committed, and/or

(4) Defendant's prior performance on probation or parole was unsatisfactory.

For more information about sentencing, please click on the following articles:
Defendant's Use of Booby Trap to Kill Detective Warrants Sentence Increase As Personal Use of Firearm Even If Defendant Gone When Trap Fires Gun
Contact us.