West Covina, Criminal Threats, 1170.9 Military Diversion
On a hot summer day in 2016, the Glendora Police arrested our client, age 67, for allegedly threatening his neighbor while he worked up the street at a Glendora Unified School District building.

The neighbor and a friend had driven by our client's home and slowed down to yell at our client's wife to fix their sprinkler, which had sprayed the neighbor's car and created water spots on it. The client's wife, also 67, was quite upset about this. She went inside the home and told our client.
Our client got in his car to go speak with the neighbor, who he knew worked up the street repairing busses for the school district. Our client asked around for where the neighbor was, but no one there was willing to help direct him to the neighbor. Finally, frustrated, our client allegedly muttered, "well, then, I'll just have to go get my gun and shoot him."
At that point, the alleged victim exited the school building and came out to the parking lot where our client was standing. The alleged victim told our client to leave and that they would talk about it later. Our client then left the property immediately without stating any further threat to the alleged victim.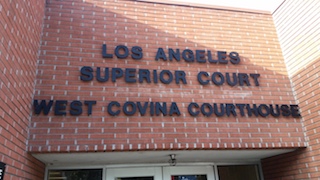 West Covina Court
The alleged victim then called the police. He told the police that he did not hear the threat, that that a secretary there relayed the threat to him, which prompted him to go meet our client face to face. This did not seem like conduct of someone in imminent fear for his safety. Our client then told him not to use swear words at his wife and that he would adjust his sprinkler's spray pattern.
Our client then left, but minutes later, police arrive at his house and he was arrested for criminal threats, a violation of Penal Code § 422(a), and transported him to the Glendora Police Department. Our client explained to police that he did not even own a firearm.
Our client is a U.S. Army veteran, with a Purple Heart for a series of wounds to his shoulder area suffered during combat in Vietnam. He is a 70% service-related disabled veteran with diagnoses of PTSD and bipolar disorder.
After being released from jail, he called Greg Hill & Associates and discuss his case with Greg Hill. This was in 2016, so at the time, military diversion under Penal Code § 1001.80 did not exist. However, diversion under Penal Code § 1170.9 did and the offense for which our client was charged, Penal Code § 422(a), is not excluded.
Greg then explained how the 1170.9 program works. It is neither amnesty; nor a hand out. Section 1170.9 is a "chin up bar" installed by the Legislature for a convicted veteran to reach for and pull himself/herself up to wellness. Through the program's strict eligibility process, veterans can complete an intensely supervised probation that involves less freedom and association, loss of privacy, public acknowledgement of responsibility and mandatory service to the public to atone for the crime. It allows the veteran to attain the goal of reentering the community as a law-abiding citizen.
The six criteria that determine if a veteran is eligible for Penal Code § 1170.9 are:
Was, or currently is, a member of the United States military.
Has a listed condition stemming from his or her service in the United States military ("listed condition" as used here refers to an experience or a condition listed in Subdivision (a): sexual trauma, traumatic brain injury, post-traumatic stress disorder, substance abuse, or mental health problems).
Committed the offense as a result of that listed condition.
There is a treatment program available to treat the defendant's listed condition.
The defendant agrees to participate in the treatment program.
The defendant is otherwise eligible for probation.

Here, our client served in the United States Army during Vietnam. The Veteran's Administration had declared that he is in treatment for PTSD and a bipolar disorder. He was diagnosed with combat-related PTSD prior to 1995, and has a 70% service-connected rating due to his military service.
Our client was taking several medications that require consistent monitoring and adjustments to ensure he is receiving the correct dosage. Prior to this incident, his doctor had reduced one of his medications significantly, causing our client to respond in an altered way from his normal behavior. Since then, his medication has been increased by his physician. Furthermore, the Greater Los Angeles Veteran's Healthcare System has a program that our client was eligible to enroll in and would treat his impulse control. He was willing and able to enroll in the program immediately.
Greg then presented these facts in a motion to the judge in the West Covina Court, who approved the motion, even stating that after our client completed 52 weeks of anger management classes and performed 100 hours of community service, she would reduce the felony to a misdemeanor.
The District Attorney in West Covina argued unsuccessfully to the judge that criminal threats was excluded from 1170.9 (which is plainly untrue) and Greg explained this to the judge. The District Attorney argued that our client really should go to prison for three years. The judge disagreed and granted the motion.
The client then did complete his 52 weeks of anger management classes and performed over 100 hours of community service. The felony was then reduced to a misdemeanor and when the client completed probation, the conviction was expunged.
For more information about military diversion and criminal threats, please click on the following articles:
Contact us.