Van Nuys, Sepulveda Boulevard, Prostitution, Client a Felon
Our client, age 52, worked in the meat department of a major supermarket chain. He often went to work at 2:30 or 3:00 a.m. to get everything ready for customers each day.
One day, he could not sleep due to the bright lights his neighbor had installed that were pointed into his house. Usually, he slept with no problem despite the lighting. This night, however, he tossed and turned, finally giving up and deciding to just leave for work early and drive around.
Summary: The following case result for a loitering for purposes of prostitution case exemplifies the value of never giving up. Our client was a convicted felon with a rap sheet longer than perhaps 98% of our clients, but we pushed for judicial diversion, which while denied by the judge, led to a resolution our client never would have dreamed of if we had taken the safe route in resolving the case. This helped our client preserve his job.

As he drove toward work, he pulled up to corner of Sepulveda Boulevard and Legwell. There was a very pretty lady standing at the corner making eye contact with him. Our client did not know she was a decoy working for the Los Angeles Police Department Vice Unit.
Our client rolled down his window and asked her if she needed a ride. She responded by saying, "I'm working." He then asked her, "What kind of work?"
She answered, "Well, you want a blow job?" He responded, "Sure." She said, "$40" and he said, "O.K."
She then instructed him to pull forward to an area where she could then meet with him. However, before he could do so, a police car pulled up behind him.
The police issued him a ticket for loitering for purposes of prostitution, a violation of Penal Code § 653.22.
He was shocked and signed the promise to appear in the Van Nuys courthouse about two months later.
He then called Greg Hill and explained what had happened. He was concerned about being punished more harshly than most people because he had six prior felony convictions, as well as a few misdemeanor convictions. He had served over ten years in state prison on the felonies, ranging from four years for first degree robbery to six years later for a separate residential burglary. However, now age 52, he was off parole and had been working at the supermarket for almost two years and doing well.
He had not had any conviction in over ten years.
Greg agreed that the prosecutor may not be light on the punishment in the plea bargain offered, but none of the client's prior convictions had anything to do with sex offenses or prostitution.
Greg explained that the client may not be qualified for judicial diversion due to having a prior felony, but that some attorneys interpreted in the language in Penal Code § 1001.98 to only disqualify someone if the felony was within ten years. Greg thought this interpretation was mistaken, but some well-regarded attorneys had commented that disqualification was ultimately up to the judge and his or her interpretation of the statute.
Greg also commented to the client that he expected the client actually would be charged with violating Penal Code § 647(b), solicitation of prostitution, as that indeed was what the client described as happening, not just loitering for this purpose.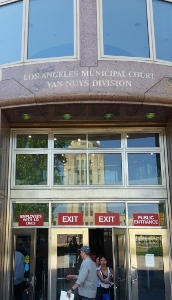 Van Nuys Superior Courthouse
Greg then appeared at the arraignment in the Van Nuys Superior Court. The client indeed was only charged with 653.22, not 647(b). Greg then spoke with the handling district attorney, whose offer was that the client enter a no contest plea to 653.22 and be placed on three years of summary probation, perform 30 days of community labor and attend an AIDS education class with an HIV test afterwards.
Greg was shocked at the severity of the plea bargain offered. In the past, such first-time prostitution offenders were asked to merely attend a prostitution education program (often the Prostitution Diversion Program, or PDP, or an alternative program that was less expensive) and the case would be dismissed. Now the prosecutor wanted 30 days of community labor?
Greg explained the plea bargain offered to the client and the client lamented that he most likely would lose his job with a new misdemeanor conviction.
Greg felt he had no choice but to file a motion for imposition of judicial diversion based on an honest, but conflicted, belief that the statute could be read to include, not exclude, our client for such a program.
Greg then prepared and filed the motion.
On the day for the hearing on the motion, Greg asked to speak to the judge in chambers with the prosecutor. Greg explained the basis for his motion and confided to the judge that he understood that the statute was ambiguous, but that his client merited a second chance, so judicial diversion would be fitting so our client would not lose his job.
The judge disagreed with the proposed interpretation, but suggested that the DA agree to put over sentencing for a year to allow the client to avoid a conviction and keep his job longer.
While this would only delay the conviction, it would permit the client to accumulate more time in the job and thus, termination may be less likely.
The client was happy with this suggestion and agreed to the judge's proposal. Greg was happy that he filed the motion after all, as it provided a way to have the judge take a closer look at the case and involve the judge more, rather than relying solely upon negotiation efforts with the prosecutor, who was inflexible.
For more information about prostitution issues, please click on the following articles:
AB 2124 – The New Pilot Program for Diversion of First-Time, Low Level Offenders in Los Angeles County Only
Contact us.