Under P.C. § 288.3, Must the Victim Truly Be a Minor?
Anthony Robert Korwin was a high school teacher in Imperial County. He posted an online classified advertisement in the "casual encounters" area seeking a younger female between the ages of 18 and 28, possibly for a "daddy complex." The advertisement asked for responses with the words "young and willing" and stating one's age.
Why This Article Matters: One can be convicted of contacting a minor with knowledge and intent to commit a sexual offense (Penal Code § 288.3) when the person defendant is contacting is an adult posing as a minor, even though defendant believed the adult was a minor. The crime is in defendant's intent and in the following case, acknowledged awareness that his act was a crime.

A police officer working in the child exploitation unit on an Internet task force responded to the advertisement by typing "Young and Willing 13." In the e-mail, the police officer typed "Probably too young, but you sound sweet. Thought I'd say hi anyways."
Korwin responded to this email, agreeing that she was too young, but saying they could chat. The undercover officer and Korwin continued to chat for four or five months. The undercover officer asked Korwin what was a "daddy complex." Korwin explained this to her and added, "if you were 18, we could have some legitimate fun." He asked her quite a few questions about sex and she kept the conversation going.
The two then exchanged photographs. Korwin sent her a picture of himself and she sent an "age-regressed photo" of another female police officer. Korwin then told her he was a high school teacher and had several crushes on students over the years, but never acted on them.
Eventually, Korwin suggested he could treat the girl to fast food and a soda. He said he could take some photographs of her and send them to a modeling agency. He also said he wanted to take naked photos of her or suggestive photos at a park. All along in his e-mails, he expressed concern about "getting caught."
They then finally agreed to meet at a fast food restaurant. Korwin instructed her what to wear and what to bring. He told her to bring an extra set of panties. He said she could change in the car on the way to the park.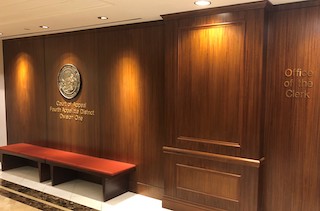 Fourth Appellate District Court of Appeal Division 1 San Diego
Korwin was arrested when he arrived at the meeting spot. A search of his car found condoms, male enhancement pills, a camera bag and the photo the agent sent him.
A jury convicted Korwin of attempting to commit a lewd act upon a child (Penal Code § 288(c)(1), contacting a minor with knowledge and intent to commit a sexual offense (Penal Code § 288.3(a), and meeting a minor for lewd purposes (Penal Code § 288.4(b)). The judge sentenced Korwin to three years in state prison, the middle term on 288.4(b) and stayed punishment on the other two counts under Penal Code § 654.
Korwin appealed his conviction to the Fourth Appellate District Court of Appeal in San Diego on contacting a minor with knowledge and intent to commit a sexual offense (Penal Code § 288.3(a)) because the agent was actually not a minor. He argued that his erroneous belief that he was contacting a minor does not meet the statutory requirements.

The Fourth Appellate District disagreed with Korwin's argument, stating that Penal Code § 288.3(a) prohibits anyone from contacting a minor or communicates with a minor, who knows or reasonably should know that the person is a minor, with the intent to commit a sexual offense. Consequently, Korwin's repeated messages to the decoy stating that her age barred him from doing certain things showed his knowledge and belief that she was a minor. Thus, by meeting with her and being found with certain items, his intent to meet a minor and commit a sexual offense was clear.
The appellate court held that the statute focused on making it a crime for the intent, not the actual facts of the crime. The fact that the woman or the decoy was not a minor is not relevant. The crime took place because Korwin contacted and communicated with the person, believing she was a minor. In fact, she told him she was 13 and, at first, he responded that the two could not do anything more than chat.
We present this case summary to the reader to illustrate how such statutes are interpreted. The real crime is the intent element in many sex offenses.
The citation for the Fourth Appellate District Court ruling discussed above is People v. Anthony Robert Korwin (4th App. Dist., 2019) 36 Cal.App.5th 682.

Contact us.