UCLA Police Arrest Client for Domestic Violence, No File
Our client, age 21, got in an argument with his girlfriend. His girlfriend lived within the area policed by the UCLA Police Department.
She lived with three other UCLA students, each which did not have a boyfriend and were very jealous of our client's girlfriend. Whenever our client would come over to his girlfriend's house, he had to give one hour's advance notice to the other girls. Each one of the other girls had opinions about whether our client was good for his girlfriend and gossiped constantly about what he said and how he looked. Indeed, our client was good-looking and a 4.0 student. He was also a bodybuilder who competed in body-building contests.
Without All the Details, What Happened: UCLA police arrest client for misdemeanor domestic violence based on three witness' accounts; arraignment set for Airport (LAX) Courthouse; no file decision by L.A. City Attorney.

During the argument between our client and his girlfriend, they took the argument outside to a porch that was only visible from a bedroom at the side of the house. All of the three other housemates were intensely listening to the conversation and called 911.
UCLA campus police arrived and the excited housemates each told the police that they saw our client push, hit and kick their roommate. They also told police that as our client did this, he told his girlfriend, "This is why women get beat up! You are so stupid!"
Our client's girlfriend told the police that our client had not hit, pushed or kicked her and had police take pictures of her arms and face. She insisted to the police that nothing more than an argument had taken place.
The police believed she was protecting her boyfriend and lying, so they arrested our client.

Our client's mom bailed out our client and insisted that her son would never do such a thing. This may have only made the police more certain that her son had committed domestic violence.
When police asked to do a standard follow-up interview of the so-called victim, our client's mom accompanied the girlfriend to the police station. This was probably noted by the police.
The client's mom then contacted Greg Hill & Associates about her son's case. She came to our office without her son, who had left out of the country to study abroad. Greg listened to the mom explain the facts of the case and how the three housemates of her son's girlfriend so disliked our client that they lied to police to eliminate our client from bothering them at their house. The client's mom told us that the case must be dismissed or else her son will be expelled from UCLA's graduate program.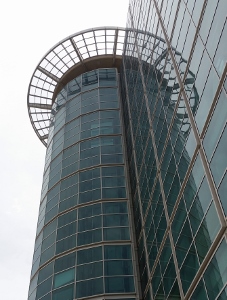 Airport Superior Courthouse

Greg promised to do everything he could and promptly sent out letters to the UCLA Police Department and the LA City Attorney's office demanding a copy of the police report, any audiotapes, any videotapes, color photographs take of the so-called victim and rap sheets of the alleged witnesses.
The UCLA quickly wrote back our office, acknowledging receipt of the request and advising that our request was being evaluated. About two weeks later, a very short report was produced, but it only stated the probable cause to arrest in general, boilerplate terms. The LA City Attorney's office did not respond.
At the arraignment, Greg Hill appeared with the client's mom and the client (in a domestic violence case, even if a misdemeanor, defendant must appear at the arraignment) only to find our client's name missing from the listing of parties with appearances for the day. He therefore proceeded to the LA City Attorney's office to check on the filing status and was pleasantly advised that the LA City Attorney's office had declined to file charges.
The client and his mom were very happy with the no file decision.
Greg Hill & Associates immediately proceeded with filing a Petition for Factual Innocence to seal and destroy the police report to erase all record of the incident for our client.
For more information about the issues involved in this case, click on the following articles:
Watch our Video about Domestic Violence by clicking
here
.
Contact us
.