Torrance, Shoplifting Jewelry at JCPenney, Case Dismissed
Our client, age 23, took six bracelets and two necklaces with her into the JCPenney fitting room with a sweater. Loss prevention was closely watching her on closed circuit television from above. After she emerged from the dressing room, she placed the sweater back where she found it, walked around the store for a few minutes and then walked out the front door of the store.
In a Nutshell: Torrance, client caught shoplifting $264 in jewelry from JCPenney, case dismissed after client performs 10 days of community service and pays the $419 booking fee to the City of Torrance.

Loss prevention personnel stopped her in the parking lot, just seconds before she could have opened her car door to leave. The Torrance Police Department was summoned to JCPenney, where they took custody of our client and transported her to the Torrance Police Station.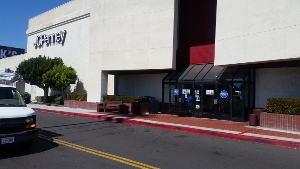 JCPenney Store at Del Amo Mall in Torrance


This is unusual for police to take custody of someone suspected of shoplifting, especially when the value of the items allegedly stolen are $264, as here. Often the Torrance police will come to the scene and simply issue the suspect a promise to appear in the Torrance Courthouse for an arraignment about five or six weeks later, which the suspect will sign as a promise to appear.
Our client was then booked at the Torrance Police Department. She was frightened by the whole experience because she could not speak a word of English. She was a U.S. citizen, but had only been in the United States a few years. Her entire family spoke no English. It was unclear how she became a U.S. citizen, as she was born and raised in Mexico until coming to the United States at age 19. She was not married to a U.S. citizen.
The client hired Greg Hill & Associates because Greg can speak Spanish and he calmed her down, explaining in Spanish everything that he would do and what would happen.
Greg Hill & Associates first had her complete an online shoplifting prevention course, which took well over the normal three hours because our staff had to translate everything in the class from English to Spanish for her on the computer in our office. In fact, it took almost six hours at our office, but we obtained the certificate of completion for court for negotiating on the case.
Greg Hill then appeared in court for the client, who was terrified she would go to jail despite repeated assurances from Greg Hill that this would not take place.
The Torrance City Prosecutor was quite upset at our client for the brazen way she stole and then, according to the prosecutor, "pretended she could not speak English." Greg Hill had to explain that our client truly could not speak English at all and described how our office staff had taken six hours to help the client through the shoplifting prevention course.
The first offer from the Torrance City Prosecutor was to plead to the Penal Code § 484(a) ("Petty Theft") charge and be placed on three years of informal, or summary, probation, contingent upon payment of a $300 fine to the Los Angeles Superior Court, the $419 booking fee to the City of Torrance and performance of ten days of court-approved community service.
Over several appearances, Greg Hill was able to negotiate a dismissal if our client did the ten days of court-approved community service only and paid the $419 booking fee. He explained how our client was attending night school to get her high school diploma, so she could then go onto college. Our client even wrote a letter in Spanish that Greg presented to the prosecutor, along with the client's report card to show that the client indeed was ambitious and having a conviction for a crime of dishonesty would erase all her hard work of attaining an education here.
Eventually, the prosecutor modified the plea bargain to allow such a dismissal and our client immediately performed the ten days of approved community service. She also quickly paid the booking fee, happy to avoid a conviction.
For more information about the issues in this theft offense case summary, click on the following articles:
For more information about theft and robbery crimes, please click
here
to watch our theft offenses video.
Contact us.