Torrance, Shoplifting at Walmart, AB2124 Diversion Granted
Our clients, ages eighteen and nineteen, were boyfriend and girlfriend. One was a senior in high school and a star athlete with a letter of acceptance to a prestigious PAC-12 school. The other was a high school graduate, finishing in the top ten percent of his class and then moving on to a local community college, with hopes of transferring to a four-year school later. Neither had a prior criminal history. Both had bright futures.
Summary: Shoplifting, Torrance Walmart, two client ages 18 and 19, $156 in items taken; judicial diversion granted by judge for both clients, avoiding a conviction that would hurt their future in many ways.

However, as is often the case, those with no need to shoplift do so for the challenge or thrill. Sometimes, it is a misguided curiosity to see how easy it is. Others shoplift out of economic necessity. Others do so for much more complex reasons.
Our two clients walked into Walmart in Torrance and decided to steal various make-up items and marking pens. The store's loss prevention department quickly noticed what was happening, as they were monitoring the two through video cameras from above. Our clients proceeded to methodically remove the bar codes from the items before dropping then into the female client's purse.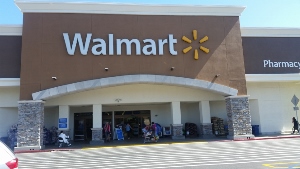 The clients lingered in the store, taking dozens of additional items while walking back and forth, up and down the aisles, dropping even more items into our female client's purse. This gave loss prevention plenty of time to wait to greet the couple once they decided to exit the store if they did not pay for the items..
Finally, our clients decided to leave and walked directly out the store's front doors, bypassing the cash registers. Within a few steps of walking just outside the front door, they were stopped by two loss prevention officers, waiting for them there. Our clients remarked later that it seemed like Walmart knew exactly what was happening.
The loss prevention employees brought the clients to the back of the store, where they were asked about the contents of the female client's purse. The contents were inventoried, which loss prevention found were valued at $156. Most had their bar code stickers removed.
The two were then asked many harassing questions, making our female client burst into tears. The Torrance Police Department was then called and our clients were transported to the Torrance Police Station, where they were booked and, several hours later, released once the police verified by computer that our clients were not sought in any other jurisdiction nationwide.
Both clients were jarred by the experience. About two weeks later, they called Greg Hill & Associates and met with Greg. The female client remained hysterical from the experience, worried that she would lose her acceptance to her dream school due to the crime and then be unable to gain admittance to any college.
Greg explained how Assembly Bill (AB) 2124, put into effect at Penal Code §§ 1001.94 to 1001.98, may be available for the judge to grant diversion to each client. Greg recommended, before the first court appearance, that each client enroll in and complete an online shoplifting prevention course through Tom Wilson Counseling Center, Logan Social Services or the National Association of Shoplifting Prevention. The female client promptly did so, the male client never did.
Greg then prepared and filed a Motion for Imposition of Judicial Diversion under Penal Code §§ 1001.94 to 1001.98. Greg included each client's resume and high school transcripts, as well as our female client's Certification of Completion of the Tom Wilson Counseling Center's Shoplifting Prevention Program.
The Torrance judge handling the case granted the motion as to each client, ordering each to complete 40 hours of approved community service, pay the City of Torrance Booking Fee, stipulate to restitution to Walmart for the price of any damaged goods, stay out of Walmart for a year and complete the online shoplifting prevention course (which for our female client was already fulfilled).
Both clients accepted the offer of diversion. Our female client was especially happy to have the opportunity to earn a dismissal in one year.
For more information about the issues in this case, click on the following articles:
Watch our video about theft offenses by clicking
here
.
Contact us.