Torrance, Shoplifting at Macy's, Case Dismissed on Motion
Our client, age 44 and with a great job with a major corporation, went into the Del Amo Macy's and tried on a pair of sunglasses with a price tag over $200. She liked them so much that she put them in her purse, intending to keep them for herself without buying them. She then saw a few boxes of expensive chocolate and did the same thing with the same intent.

Macy's loss prevention was watching her the entire time and became suspicious.
Summary in 50 Words or Less: Client shoplifted $356 in items from Macy's in Del Amo Fashion Center and is arrested by the Torrance Police Department. Case is ultimately dismissed on a Motion for Civil Compromise.
As our client walked out of the store, loss prevention stopped her just steps outside Macy's doors. They then took her to a back office in the basement, where they held her for four hours before officers from the Torrance Police Department came to take her to the station, where she was booked and held for several more hours while the police verified that no warrants for her existed anywhere in the United States.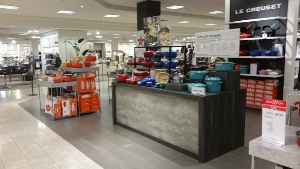 Macy's Department Store
The client was released the same day, but not until late in the evening. She was badly shaken up by the experience. She had no prior criminal history. Her six year old daughter and her husband were very worried about her because they could not reach her on her cell phone.
The client then called Greg Hill & Associates. Greg then met with the client and listened to her account of what happened. The client had no prior record and a steady job of over fifteen years with the same employer. It did not make much sense.
Greg recommended that the client take an online shoplifting prevention course through the National Association of Shoplifting Prevention, Tom Wilson Counseling or Logan Social Services and the client did so through the National Association of Shoplifting Prevention. She also provided the certificate of completion to Greg prior to the arraignment in the Torrance Superior Court.
At the arraignment, Greg noticed that the police report indicated the client had paid Macy's $425 loss prevention demand before even being taken to the Torrance Police Station. The client had not told Greg about this, most likely because she was so upset by the experience to remember it and because she did so at Macy's with the expectation that she would be released if she paid them.
Greg decided to file a Motion for Civil Compromise under Penal Code §§ 1377 and 1377, arguing that while under duress and coercion, she paid Macy's a fine with the expectation that no case would be filed, as they promised her. Indeed, no civil case for the recovery of loss prevention fees was filed, but our client understood and intended that her payment would bar a criminal case. Macy's loss prevention, well aware of this common misunderstanding, did nothing to clarify to our client that her payment had no effect whatsoever on the criminal case, but Macy's readily accepted the money with this misunderstanding.
Greg then argued that such payment constituted a civil compromise, as described under Penal Code section 1377 and that the judge should find this and dismiss the case. In preparing the motion, Greg asked the client to prepare a short essay concerning why shoplifting is illegal, which the client did.
Greg then filed and served the motion. The judge in the Torrance Superior Court granted the motion, noting the client's completion of the online shoplifting prevention course and her short essay.
The Torrance City Prosecutor was quite upset.
The client, however, was happy because she avoided possible termination due to a crime of dishonesty. She also avoided a plea bargain, wherein she would have pled to a misdemeanor violation of Penal Code § 484(a) (petty theft). The terms of probation, according to the last plea bargain offered, were payment of a $300 fine, plus penalties and assessments (a total payment of approximately $1,400), thirty six months of informal, or summary, probation and performance of five days of approved community service.
For more information about the issues in this theft offense case summary, click on the following articles:
For more information about theft and robbery crimes, please click
here
to watch our theft offenses video.
Contact us.