Torrance, Judicial Diversion on Assault, Battery & Vandalism
Our client, age 46, was dropping off his two children at their elementary school as he had done many times in the past. As he neared the last intersection before entering the school parking lot, he suddenly heard a loud banging on the right side of his car.
The client's children began to scream in fear, so our client immediately put on the brakes and turned his head to the right to see what was causing the noise. He saw the 73-year-old crossing guard, obviously upset because our client had apparently not noticed her. The crossing guard was trying to get our client's attention, yet it was past the time when he needed to yield to another car. In other words, the crossing guard was only acting out of frustration, perhaps emboldened because she was in a position of authority and had been ignored.
Our client tried to calm down his two children and drop them off without exacerbating their anxiety and without impeding traffic behind him also intent on dropping off their children. He therefore acknowledged the crossing guard's presence and moved forward.
After he dropped off his children, he decided to have a short chat with the crossing guard to apologize and to also ask her to use some other method to get his attention in the future. Our client also wanted to see the side of his car, which he suspected was damaged.
Our client thus parked and began walking toward the crossing guard. He yelled, "excuse me, excuse me" to get her attention. Before he could even get fifty feet from her, another parent jumped out of this car and ran up to our client, telling him he was not going to have words with the crossing guard. He also accused our client of being a dangerous driver. He then placed himself in front of our client as if to fight him.
Our client, who had no prior criminal history, immediately stopped and tried to explain his intentions, but before he could get in three words, another parent intervened and pushed our client aside. Our client then pushed the other parent back and realized very quickly that things were escalating far too fast. He also realized other parents were observing the fracas.
Our client thus decided to return to his car and forget about speaking to the crossing guard. As he got in his car, a mother of another child opened the client's passenger door and yelled, "He's trying to get away! Call 911! Someone call 911! I'm filming him trying to get away!"
Our client could not believe what was happening. He reached over toward the passenger seat of his car and grabbed the lady's cell phone, throwing it out his window.
He then drove off to work, only to receive a phone call a few hours later from a Torrance Police Officer asking him to come to the Torrance Police Department for questioning.
Our client was promptly arrested at the station for two counts of misdemeanor battery (Penal Code § 242), two counts of misdemeanor assault (Penal Code § 240), a count of misdemeanor vandalism (Penal Code § 594(a)) and one count of disturbing the peace (Penal Code § 415(1)).
The client posted bail and called a family friend that he knew was an attorney. However, the family friend quickly explained that the client faced over two years in jail and expressed little hope of a dismissal.
The client therefore called several Torrance area attorneys, eventually speaking to Greg Hill. He explained the facts in great detail to Greg and Greg explained that since none of the men involved claiming battery fell to the ground, it was possible that the Torrance judge handling misdemeanors would allow judicial diversion, wherein our client would be given the chance to earn a dismissal of the complaint.
The client then hired Greg Hill & Associates. Greg recommended that the client start on anger management classes before the arraignment to help Greg show that the client was serious about making sure this never happened again, despite the client feeling he was unfairly pigeon-holed as the aggressor.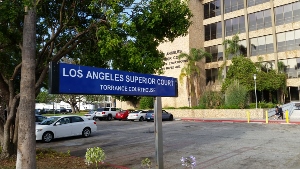 Torrance Superior Courthouse
At the arraignment, Greg requested judicial diversion for the client, but the Torrance City Prosecutor involved opposed it with great vigor, wondering aloud why a felony case was not filed instead. The Torrance judge hearing the matter, however, considered the facts deeply and was favorably persuaded the client wanted to change and accept responsibility because he had started the anger management classes already.
The judge thus granted the request for judicial diversion, giving him a year to complete 26 anger management classes, perform 40 hours of community service, stay away from the elementary school (he'd have to drop off his kids a block away to avoid any conflicts) and write letters of apology to each parent involved, as well as the school principal for the disruption. Lastly, he was required to pay for any damage to the cell phone he tossed out his car window.
The client was very happy with this because with even one conviction, he would lose his job, so this resolution allowed him to preserve his family's income, as his wife did not work.
For more information about vandalism, assault and battery issues, please click on the following articles:
Federal Conviction Reversed for Assault Because Federal Officer Not Aware Defendant Threw Rock at Him
Contact us.