Torrance, Ex-Boyfriend's Order Versus Our Client Denied
Our client, age 50, admitted she had a temper of sorts. She also admitted that she left seven or eight expletive-laced phone messages for her ex-boyfriend.
In a Nutshell: Torrance, ex-boyfriend's request for restraining order against our client negotiated off calendar, preventing ex-boyfriend from bragging about judge granting him a win.

This ex-boyfriend, age 62, filed a request for a restraining order against our client, alleging harassing phone calls, which our client admitted was indeed accurate. He also alleged other instances of our client stalking him by waiting outside his Lomita area home and other times, walking up to his home's gate and shaking the gate to make noise in the hope of getting his attention.
The couple had been on-again, off-again boyfriend and girlfriend for many years and, apparently, the boyfriend decided to finally end the relationship by seeking a restraining order against her. Apparently, he had tried to end the relationship several times before, but each time, she renewed it.
He was a retired police officer making well over $100,000 per year on his pension. Our client was unemployed, but receiving alimony from her former husband.
While the petition for a restraining order failed to allege any threat of future harassment or stalking, the obscene phone messages were of such concern to our client and our office that we appreciated how hearing such messages might influence a judge. We understood that the effect carried with it the risk that a judge would infer a threat of continued calls and that sympathy for the boyfriend would be hard to suppress.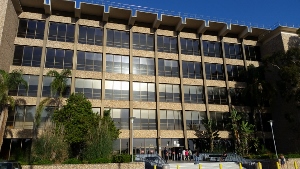 Torrance Superior Courthouse
Greg Hill from our office consequently proposed to the boyfriend's attorney that his client and our client agree to continue the hearing on the restraining order for six months to allow a cooling down period. This way, our client would not have a record on CLETS of having a restraining order entered against her, which she feared would affect her potential job for a local Fortune 500 company.
Our client also feared that once the restraining order was in place, her vindictive boyfriend would stage a confrontation with her as a pretext to calling the police to have our client arrested for violation of the restraining order. This would be a criminal case for violating Penal Code § 166(a)(4) and it was a misdemeanor.
Luckily, the boyfriend's attorney agreed to the six month continuance and the stipulation to continue was accepted by the Torrance Superior Court commissioner (now a judge) hearing the matter.
In the meantime the temporary restraining order entered against our client stayed in full force and effect, which prohibited her from coming within 100 yards of her ex-boyfriend or making any phone calls, sending any e-mails or writing him any letters or text messages. However, the temporary restraining order was not entered on the CLETS system, so her employer was not able to know it existed.
The agreement with the boyfriend's attorney was that if our client did not violate the temporary restraining order in any way during the six months, he would dismiss his petition for a permanent restraining order at the end of that time period.
Our client appreciated the continuance and the chance to prove herself as peaceful and beyond her prior behavior.
For more information about the issues in this case summary, click on the following articles:
Watch our video about restraining orders by clicking
here
.
Contact us.