Torrance, Client Age 67, Shoplifting at Macy's, Dismissed
Our client, age 67, was having some landscaping done at her house in San Pedro, but she needed to go to Macy's at the Del Amo Fashion Center as well.
In 50 Words or Less: Torrance, 67-year-old client arrested while walking out of Macy's without paying for two purses, case dismissed on motion for civil compromise.
While she was shopping for purses, her cell phone rang and she answered it. It was the landscaping company personnel, calling from her house and advising her that they were ahead of schedule. They told her they wanted to leave for the day. They asked that she come to the house to pay them before they left. The client told them that she was at least thirty minutes away, but the contractors said they would wait.
They needed to be paid.
Our client was so distracted by this phone call and the sense of urgency she felt to return home immediately that she forgot about the two purses on her shoulder and simply walked out of the store without paying for them. She needed to get home ASAP is all she could think.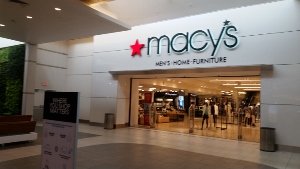 Loss prevention personnel from Macy's were monitoring our client through overhead video cameras and quickly rushed toward the exit, stopping our client within feet of the exit. Our client was so embarrassed and confused. She tried to explain that she did not realize what she was doing, as she was talking on the phone with her contractors, got worried that she would have them waiting and was distracted from her shopping.
Macy's did not care and took our sixty-seven year old client downstairs to their back office. They then held here there for five hours, even refusing to allow our client the opportunity to use the restroom or her cell phone to call the contractors, who expected her to arrive to be paid.
Finally, loss prevention at Macy's released her as the store was closing, well after dark. The client was furious at Macy's and embarrassed at the same time. She had no prior criminal history whatsoever, not even a parking ticket. The Torrance Police Department was never called to the store, so there really was no reason for loss prevention to hold our client as long as they did once they recovered the purses and took our client's name and address down.
About a week later, the client contacted Greg Hill & Associates. Greg met with the client, listened to her story and read a "Demand for Payment of Loss Prevention Fees" letter that our client received from an attorney representing Macy's.
Greg looked at the letter and instructed our client how to pay the civil demand. Greg then mailed the check with a cover letter, advising Macy's attorney that if they did not want to accept the check, which stated "Payment Made Pursuant to Penal Code §§ 1377 and 1378," to mail the check back. Macy's never did. They cashed the check as Greg anticipated. The client then gave Greg a copy of the cancelled check, both front and back.
Greg then filed a motion for civil compromise, showing the cancelled check as well as the cover letter to Macy's.

The Torrance judge hearing the case granted the motion and dismissed the case.

Our client was quite satisfied with this, as she avoided a plea to a misdemeanor. Had the client accepted the plea bargain last proposed, she would have had to pay a $300 fine (total payment to the court would have been approximately $1,400), plus perform ten days of community service and be placed on three years of informal, or summary, probation.
The client avoided all of this with the motion for civil compromise being granted. She was relieved that Greg was able to file the motion and have the judge dismiss the case, especially because she dreaded having to perform community service and feared someone might recognize her, which would be embarrassing to her.
For more information about the issues in this theft offense case summary, click on the following articles:
For more information about theft and robbery crimes, please click
here
to watch our theft offenses video.
Contact us.